We should all feel thankful to have this ongoing war of words between President Donald Trump and self-styled basketball wizard-king LaVar Ball in our lives this holiday season because, to be honest, it could have been so easily avoided had the protagonists possessed a modicum of common sense between them.
If LaVar's son, LiAngelo — the middle child of what Ball senior has publicly positioned as a family of future hoops stars (the eldest son, Lonzo, is the starting point guard for the Los Angeles Lakers) — had not decided to join two of his UCLA teammates in a shoplifting expedition while in China, Trump would have never had the occasion to bring up these kids' arrest with Chinese President Xi Jinping.
If none of that ever occurred, Trump would have never had the opportunity to demand on Twitter that the players thank him, drawing Père Ball into the fray himself. If Trump hadn't tweeted, Ball would have never publicly proclaimed his lack of gratitude, which means Trump wouldn't have subsequently added, "LaVar Ball, the father of LiAngelo, is unaccepting of what I did for his son and that shoplifting is no big deal. I should have left them in jail!"
If none of that digital cockfighting had happened, we never would have gotten to see Ball's off the rails performance on CNN Monday night. And we wouldn't have all the call-outs and clap-backs that are yet to be delivered unto us, the most happy rubberneckers.
What Clarence the Angel is trying to tell us is that we really did have a wonderful life.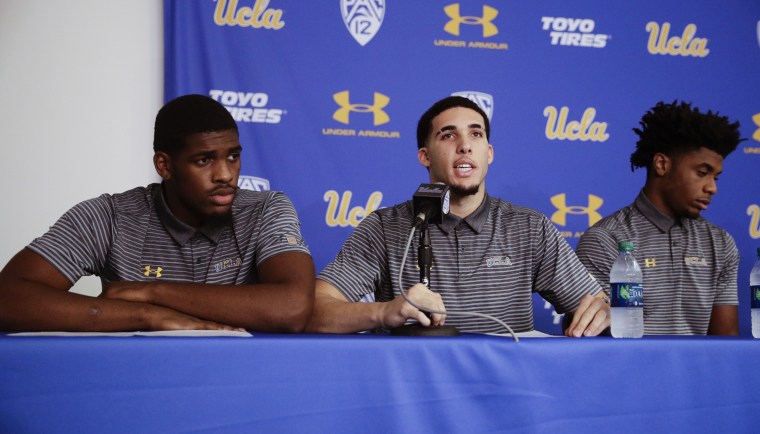 Still, I'm thankful: The wayward comedy routine that is the Trump administration has finally found the level of the room, and it's the president and LaVar Ball having a bad-blooded ontological debate over the meaning of gratitude.
In Ball, you see, Trump has finally drawn a truly worthy opponent, and perhaps his match. Both men are so alike in their lack of dignity, inveterate blowhards whose accomplishments you can't quite dismiss out of hand but whose rhetoric leaves you with the distinct feeling that they are overselling them beyond all reasonable proportion. Both seem to have an indefatigable energy for battle, and the same ability to just draw the media's cameras and klieg lights into their orbit.
And as he proved on CNN, Ball, like Trump, is completely incapable of enunciating a logical through-line or following a train of thought. They are both creatures of pure feedback, saying whatever it is they need to say to maintain an audience's rapt attention, without any regard for what they said before or what they'll say next.
Sadly, not everybody seems to want to be in on the joke. On Monday evening, just as the Trump-Ball folderol was starting to ripen into its fullest flavor, Fox News' Neil Cavuto took to the airwaves to try to scold this glorious quarrel out of existence by taking the president to task for his lack of seriousness, like President Merkin Muffley tone-policing the War Room. Over the course of a segment — titled, ironically, "Common Sense" — Cavuto admonished the president for using his bully pulpit as a "bazooka to respond to a pea-shooter," and for his pathetic demands for "gratitude bordering on groveling."
"Last time I checked, you are the president of the United States," he added. "Why don't you act like it?"
I don't know what part of this Cavuto hasn't figured out: Trump tweeting about how he should have left these UCLA players to rot in China because he received an insufficient amount of gratitude is everything that Trump promised to be from the get-go. Why there's still anyone hanging around in November 2017, pretending that some other Trump is possible is beyond me. That ship sailed a long time ago, into a vast ocean, blundering in a direction that takes it far away from, say, Puerto Rico.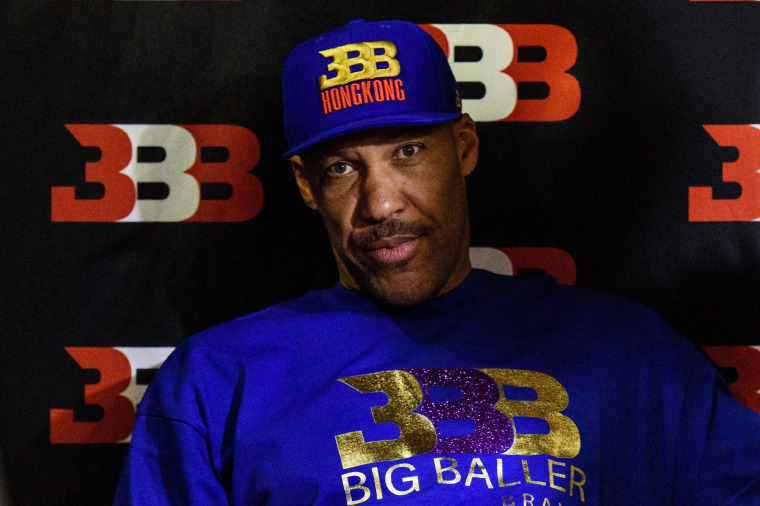 It shouldn't be a surprise that Trump behaves this way; we've had an ample amount of time to absorb who we truly is. Plus, all the president does is offer up the purest distillation of his essence on a near-constant basis. Trump proceeds from moment to moment, seeking nothing more than pure gratification, whether in the form of fast food or a Tic-Tac scented kiss or the demand for fealty. This is a guy who gathered his Cabinet together for a meeting in which he sought a garland of praise from everyone in the room. A man who mourns the end of his previous life, but blames everyone around him for the fact that he's found himself in a predicament in which he is on the hook for everything that happens in America and the world. Trump can't stop himself from constantly making news, because he can't live a day without being on television and then he blames the media for doing things like reporting on his doings.
Beyond that, his cruelty is, without a doubt, a feature of his presidency. If Cavuto thinks that Trump's tweets reveal a lack of humanity, he should perhaps log out of his company's website and undertake a deeper survey of Trump's actions. At the same time that Trump's war of words with LaVar Ball was transpiring, his administration ended a program that allowed 59,000 Haitians, displaced from the devastating earthquake that rocked that island nation back in 2010, to live and work in the United States. Senator Bill Nelson (D-Fla.) called the decision "unconscionable" and his fellow Floridian lawmaker, Rep. Ileana Ros-Lehtinen (R-Fla.) said that she can "personally attest that Haiti is not prepared to take back" these refugees. And that's just this week so far.
Trump's real power comes from his ineffable alpha-dog status.
That instant gratification and gratuitous cruelty are intrinsic to the current occupant of the Oval Office isn't some difficult thing to fathom. As David Roth noted, writing for the Baffler, Trump is a "blank, sucking nullity," and "the only salient factor in any decision he makes is that he absolutely does not care about the interests of the parties involved except as they reflect upon him." That's the start, and that's the end, and there's no real need for anyone to stand around, pretending that we need to do any further work figuring this out. We've solved for X with this guy, we can pack it in and send the armchair psychoanalysts home.
But if there's one thing worth learning about Trump as he spirals into further conflict with LaVar Ball, it is that all those folks who formed Trump's most eager fanbase — especially those angry young men trying to red-pill themselves into psychosexual tumescence through ardent Trump fandom — had a point. Trump's real power comes from his ineffable alpha-dog status.
No one really wants to talk about this, but most of Trump's mystique might have been shattered very early on had any of the opponents he'd insulted during those wild-eyed GOP primary debates had just walked over to the guy and punched his lights out. Instead, Trump exposed them all as Queensbury rules-hewing fops from some forgotten Molière comedy. If there's one thing that makes LaVar Ball a proper foil for Trump — someone who can keep all of us mindful of who and what our president truly is — it's that Ball isn't about to concede alpha status. And he can go round-for-round, forever, if need be, selling sons and shoes while he does it.
None of this is going to make the world a better place, of course. But if the Ball-Trump fooferaw can burn off enough of the president's anger to keep us out of a nuclear conflict, it will all have been worth it. So let us give thanks for the way the pure products of America have finally gone crazy — at last for our benefit.
Jason Linkins is a political columnist who served as the editor of Eat The Press at the Huffington Post.