Like clockwork, it's time (again) for a new movie adaptation of "Little Women." The novel by Louisa May Alcott came out in 1868, with the second half (originally entitled "Good Wives," but mostly treated like "Little Women Part II") following in 1869. Two more novels followed in the 1870s and 1880s, "Little Men" and "Jo's Boys." But "Little Men" rarely made it to either the big or small screen, and "Jo's Boys" has never been adapted. Instead, production houses have focused on the first two books, remaking them for each generation: 1917, 1933, 1949, 1978, 1994 and now 2019, this time directed by Greta Gerwig. If the first trailer is anything to go by, Gerwig's interpretation may be the most feminist — and equal among the sisters — version yet.
Production houses have focused on the first two books, remaking them for each generation: 1917, 1933, 1949, 1978, 1994 and now 2019, this time directed by Greta Gerwig.
"Little Women" is one of the earliest "young adult" series ever written, although "YA" as a mainstream genre would not exist for over a century. Alcott's beloved classic tells the story of the four March sisters, Meg, Jo, Beth and Amy, living in genteel poverty in New England while their father is away fighting slavery in the Civil War. The sisters are all teenagers, aged 12-16, and, with no brothers, are considered very unfortunate indeed.
But the March girls, and matriarch Marmee, see themselves as blessed, despite what their father's wealthy sister, Aunt March, would tell them. This being the 1860s, the book is written with an openly Christian tilt, with many references to John Bunyan's Protestant tome "The Pilgrim's Progress." Even still, "Little Women" is primarily a story about the life and evolution of four young women.
The first movie adaptation of "Little Women" in 1917, the silent film era, was made by and for a British audience. An American one followed a year later, but neither survived and are now considered "lost films." The earliest version that still survives, then, is 1933's "Little Women," which starred Katharine Hepburn in the leading role of Alcott's avatar Jo. It is perhaps the most faithful adaption, which means Jo is no modern feminist even as she does occasionally rage against the patriarchal world she finds herself trapped in.
That version also treats the novel's characters as equals, "but some are more equal than others." Jo's search for both a career and a husband is the story's main focus, and the other sisters peel away as the story goes on, leaving out Meg's growing pains as a wife and mother, treating Amy's marriage to Jo's male best friend, Laurie, as more of a thing that happens to Jo and depicting Beth's death as the standard "consumptive heroine" trope. (Beth's death is always a trope. Poor Beth.) It's a startling contrast to the 1949 film, which is the only one in which the casting of Amy trumps everyone else's. She's played by Elizabeth Taylor, though Jo is technically co-billed with June Allyson. It will surprise few that not only does Taylor sashay away with the film, but, given her marriage to the rich Laurie, she is treated as the March sister whose dream does come true.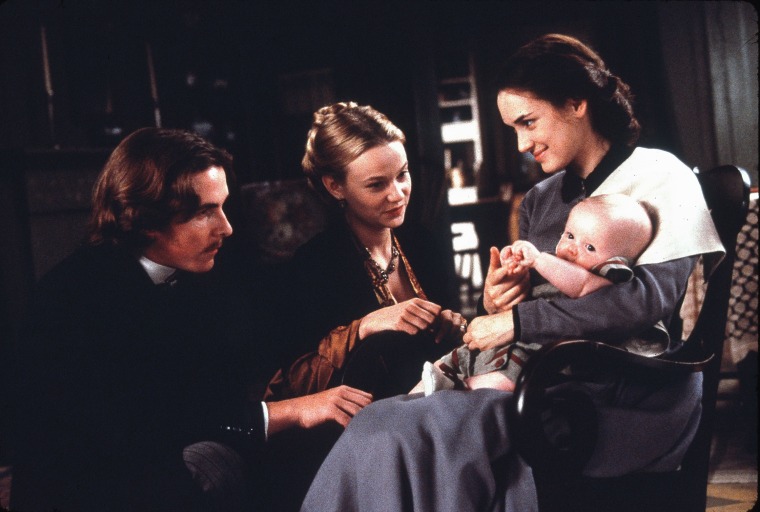 As befitting the times, the 1978 version was a TV movie adaptation, with a fighting attempt to period appropriateness. But the crocheted blankets and hippie flower crowns give the entire thing a deep 1970s sensibility, as does the proto-feminist leanings Jo espouses, mostly for the first time. Those feminist leanings aren't fully realized, though, until the 1994 adaptation, the first of the "Little Women" movies to land a best actress nomination, this time for Winona Ryder's take on Jo March. (The 1933 and 1949 versions won Oscars, but for things like adapted screenplay and art direction.)
It was also the first version to be directed by a woman, Gillian Armstrong. But at the risk of bringing down every fellow GenX woman on my head, it also moved the furthest from the books, which by then were over a hundred years old. Jo is far more feminist than Alcott could have imagined, and Amy is more of a rival than a sister. At least Beth's trope finally changes, and instead of consumption, her death is merely a "fridging" to spur Jo's character on in life and marriage. Poor Beth.
The 2019 remake suggests that the millennial (or perhaps Gen Z) version may attempt to come full circle and give this generation something no one has seen yet: a film where all four sisters are equal. Jo is still unmistakably the lead. She's the first face seen in the trailer, her hopes and dreams front and center, and she's played by three-time Oscar nominee Saoirse Ronan, one of Gerwig's favorites.
But then there's Meg. In so many adaptations, Meg, like Beth, is merely a foil for Jo to look good against, and who disappears once married, with all of her experiences as a mother cut as uninteresting. But in this case, Meg is played by someone who is every inch Ronan's equal, Emma Watson. She may not have the Oscar gold, but with eight "Harry Potter" films and Disney's "Beauty and the Beast" to her name, she's got the biggest box-office superstar cred of the cast by orders of magnitude.
As for the younger sisters, Beth, as played by Eliza Scanlen, last seen in "Sharp Objects," has a real chance at being her own character, or at least not a trope for once. And Amy is played by Florence Pugh, whose turns in "King Lear" and "Fighting With My Family" were just a warmup for her jump to Marvel's A-list by this time next year.
It took over a century, but finally "Little Women" may be ready to treat all of Alcott's girls like fully fledged characters, each a woman worthy of an inner life in their own right. Now that would be a "Little Women" for the ages.