I have a genuine admiration for New York City mayors, whether or not I share their politics. Perhaps it is because I believe so much in the city's historic mission as a wellspring of opportunity. Or, maybe out of respect for the people themselves, who at one time or another elected a particular individual to do the job. So many of Gotham's ambitious leaders came to the task with a genuine determination to make the city a better place for all who live here.
That is why the astounding decline of Rudolf Giuliani is so tragic to watch. The man who began his career as a star prosecutor in the U.S. Attorney's Office has aligned himself with a president who has no regard for the law and holds a deep disdain for men and women in law enforcement. The chief executive who left City Hall as "America's Mayor" in the wake of the World Trade Center catastrophe is now a regular object of ridicule on the evening news. Not to mention his floundering performance as an attorney.
It is a troubling spectacle to witness, especially for New Yorkers. Perhaps nothing marks his fall from grace more profoundly than the events of this Memorial Day, when Giuliani, a notoriously avid Yankee fan, was greeted at the stadium with angry boos from the home crowd.
Nothing marks his fall from grace more profoundly than this Memorial Day, when Giuliani, a notoriously avid Yankee fan, was greeted with angry boos from the home crowd.
The decline was gradual and self-imposed. Most of us first heard about Giuliani when he took on the mob as a federal prosecutor in the 1980s. He literally risked his life. His rescue of the Fulton Fish Market and the private carting industry from mob control was nothing short of heroic. His fights against corruption in city government and on Wall Street were exemplary.
Giuliani denied Mayor David Dinkins a second term in 1993 when he convinced voters he could bring down historic crime rates in a city that seemed to be spinning out of control. The 1993 mayoral election was the closest since 1905. In 1997, Giuliani was reelected with close to 58% of the vote. Depending on whom you ask, his overall record as mayor gets mixed reviews; but that's true for all former mayors.
As mayor, Giuliani supported gun control, gay rights and open immigration. Tellingly, Giuliani, a Republican, was elected with the backing of lifelong Democrats, like former Mayor Ed Koch, former Congressman and Puerto Rican icon Herman Badillo, and Robert F. Wagner Jr., son of the late mayor and grandson of the New Deal senator who helped Franklin Roosevelt build a social safety net during the Great Depression. Upon entering City Hall, two of Giuliani's four deputy mayors were registered Democrats.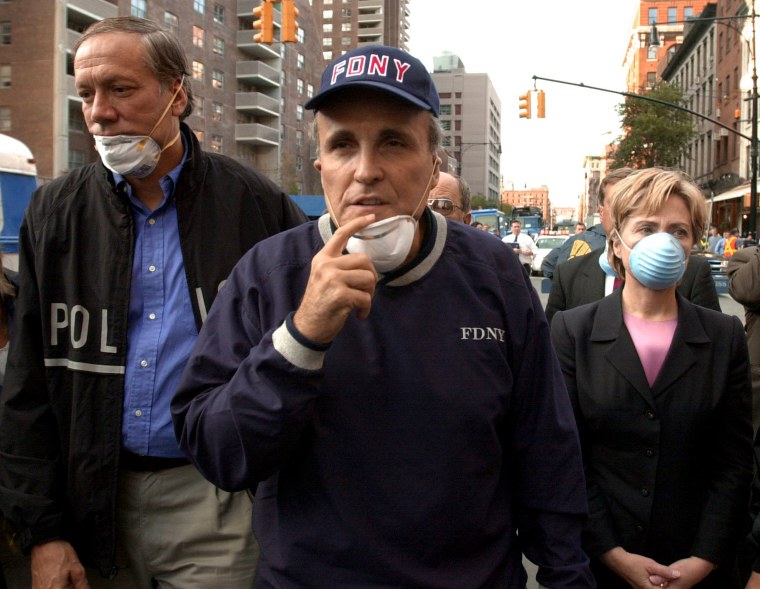 The political crossovers said as much about the changing nature of the Democratic Party as it did about Rudy Giuliani. When George Pataki challenged Governor Mario Cuomo in 1998, Giuliani broke ranks with his party to endorse the liberal Democrat. When President Bill Clinton ran into trouble getting his crime bill through Congress, it was the celebrity former prosecutor from New York who helped him gain Republican support. Giuliani and Clinton also shared a common determination to "end welfare as we know it" and move people from public support to gainful employment. The policy, unfortunately, also contributed to a rising tide of homelessness.
Giuliani began his first term in office with a $2 billion budget deficit. By the end of his second term, he was referring to New York as "Comeback City." While no friend of municipal unions, he managed to restore city jobs that had been lost since the austere years of the Koch administration.
Rudy had always brandished a hard edge when it came to policy. It was especially visible when he dealt with the city school system. He was so frustrated with its poor performance and lame bureaucracy that he forced two school chancellors to resign. The Democrat-controlled state legislature pledged to never give Giuliani the control over schools that he coveted, but his high profile criticism of the ambling system paved the way for the enactment of mayoral control under Mayor Michael Bloomberg.
Giuliani's tough guy image served him well during his final days in office. But that same tough guy persona eventually turned on him.
It was in Giuliani's most triumphant sphere of policy that he displayed his most significant blind spot. Crime came tumbling down for sure, just as he had promised. However, the "broken windows" approach pioneered by his police commissioner, Bill Bratton, had a downside. Tough enforcement against minor offences like possessing small amounts of marijuana led to more arrests and incarceration. A disproportionate number of the young men put away were African American and Latino, causing justifiable resentment in minority communities. Even though Giuliani promised that depressed communities would be the main beneficiaries of falling crime, many residents of those neighborhoods felt that the war against crime was a war against them. But there was no turning back for the tough-minded mayor who set out to bring down street crime the same way he had the Mafia.
Giuliani's tough guy image served him well during his final days in office, when he guided the city through the most devastating attack ever to occur on American soil. But that same tough guy persona eventually turned on him.
The decline was first apparent on a national stage during the Republican Convention of 2008, when a sneering Giuliani berated then-candidate Barack Obama for his service as a community organizer in Chicago, a calling for activists who work to improve the lives of struggling people. Giuliani's post-mayoral image was permanently emblazoned on the nation's memory during the Republican Convention of 2016 when, his face distorted with anger, he came forward to sing the praises of Donald Trump as America's new savior.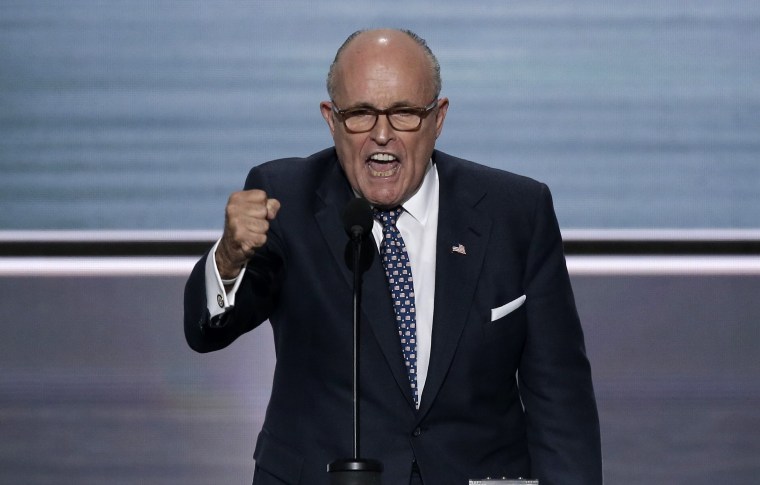 What else can be said? At first, Trump disappointed Giuliani by refusing him a coveted cabinet position. But as he waited in the wings, the streetwise former mayor either ignored or dismissed all the signs indicating that this president lacked integrity. He should have recognized the intrigue, the deceit, the lawlessness, and, ultimately, the indictments that surrounded the Trump White House. He should have seen that those who enter its orbit in a blaze of glory usually leave in a pile of ashes.
Giuliani jumped in anyway, leaving his conscience and reputation behind. Few will recall anything he achieved in his previous career. The last memory they will have of the man who conquered New York is that of a misguided politico and a mediocre lawyer.
Joseph P. Viteritti is the Thomas Hunter Professor of Public Policy at Hunter College, and author of "The Pragmatist: Bill de Blasio's Quest to Save the Soul of New York" (Oxford).