For the last week, political junkies have been transfixed by the federal criminal trial of Paul Manafort, President Donald Trump's former campaign chairman. It's the first of special counsel Robert Mueller's prosecutions to go to trial and, despite its rather dry focus on tax evasion and bank fraud, it's been a reliable source of click-worthy developments: $15,000 ostrich jackets! Ukrainian oligarchs! Rick Gates confessing to crimes and an affair on the stand! Every day brings new drama.
Judge T.S. Ellis, the senior federal judge presiding over the trial, has made it even more cinematic. Ellis is plain-spoken and forceful and doesn't hesitate to criticize the prosecutors. The news has been filled with stories of his rebukes, including interrupting the prosecutors' opening statements to remind them that Manafort's being wealthy isn't a crime, berating them for introducing exhibits too slowly, demanding that they move faster, narrowing the evidence they're allowed to present and accusing a prosecutor of "tearing up" during a tense exchange. He even takes shots at the prosecution's witnesses, as when he told Rick Gates that Manafort couldn't have kept too close an eye on his money if Gates was able to steal some of it.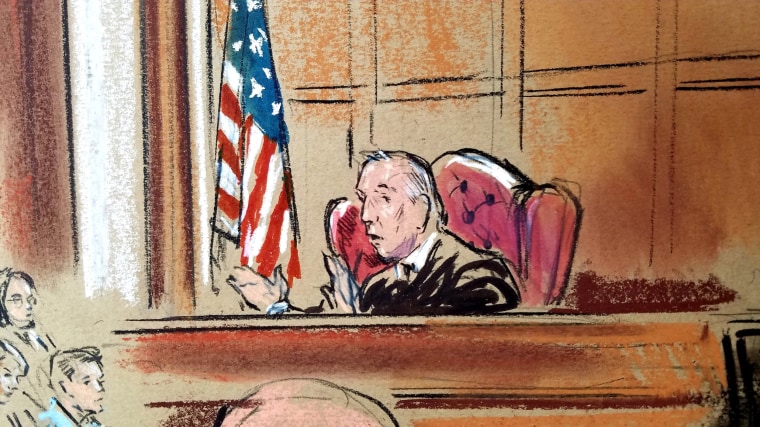 Trump partisans have gloated at the spectacle, with some observers concluding that the judge is trying to torpedo the special counsel's case, or that he's signaling that he may make key rulings in Manafort's favor. Others have tried to portray Ellis' conduct as extreme or unusually harsh.
But his actions are not unusual, and they don't point to a likely outcome: Judicial intemperance is common and, for better or worse, dealing with it is part of a litigator's job. Trial lawyers know that judicial grumbling is not a reliable predictor of results. It's often just sound and fury signifying nothing.
It was, after all, only three months ago that Ellis, hearing Manafort's motion to dismiss the charges against him, broadly criticized the prosecution, questioned Mueller's power to bring the case and speculated that Mueller was only pursuing Manafort in order to coerce him to cooperate against Trump. Spectators rejoiced or despaired, depending on their bias; Trump himself praised Ellis' insight and apparent support. A month later, Ellis issued a careful written ruling denying Manafort's motion and accepting most of Mueller's arguments. That's not unusual; it's routine.
In fact, judges often snipe more at the side they expect to win. Even a simple criminal trial requires a judge to make dozens of discretionary decisions like what evidence to admit or exclude, how long to let the parties take with witnesses and the scope of permissible argument. Judges routinely cut the weaker side all of the breaks, hoping to make a bulletproof record for appeal when that side loses. Riding prosecutors and limiting their evidence doesn't necessarily signal that Ellis thinks they're in the wrong — it may signal that he thinks they're likely to convict Manafort, and he wants to make the result as clean and error-free as possible.
Federal judges are appointed for life, and they surely know it. Impeachments or lesser punishments for bad behavior are extraordinarily rare. (So, for that matter, is openly negative feedback or constructive criticism.) They're faced with crushing workloads and a parade of obstreperous lawyers of wildly varying ability. Judges who have presided over hundreds of trials can also develop strong views about exactly how cases should be tried, and some like Ellis strive to try litigants' cases for them.
Plus, most important, they're human.
That combination of factors leads some judges to adopt an abrupt, autocratic and even belittling air with the attorneys before them. I still vividly remember the prominent federal judge who, 20 years ago, mocked me for passing out during a hard-fought case — I have a bad habit of not eating or drinking during trial — and telling me that my secretary could have prosecuted the case better than I did. But he hammered the defendant at sentencing.
None of this excuses high-handed judicial behavior, but it does put it in context. Like a drill sergeant screaming at recruits, being yelled at by judges is a rite of passage for trial lawyers, and we get over it and even secretly relish it. To paraphrase Churchill, there is nothing so exhilarating as to be shouted at by a federal judge without result.
So don't pity us — and whatever you do, don't fall for the flood of breathless news reports confidently predicting how a case will come out because of a federal judge's noisy dyspepsia. It's mostly theater.
Ken White, a former federal prosecutor, is a criminal defense attorney, and First Amendment Litigator at Brown White & Osborn LLP in Los Angeles. His podcast "Make No Law" explores the history of the First Amendment.