I happen to like Christmas music, but the genre is dominated by the favorite artists of a given era singing the same songs I've already heard sung several times by dozens of other artists. I can listen to anyone sing "The Christmas Song" be it SWV, Toni Braxton, Fantasia, Christina Aguilera, my drunk uncle after too many sips of Crown Royal or your tipsy auntie that you posted on Instagram Live.
Very few artists have been willing to try and branch out into new holiday material, and those that do are not especially successful. Yes, I might bop to Destiny's Child's "8 Days of Christmas," but it sounds every bit of 2001 and I'm just going to turn on "Kitty Kat" to cleanse my aural palette.
In "The Key of C," writer Chris Dickinson reviewed what were, in 1994, the newly Christmas-centered album releases of the year. The list included the likes of Tony Bennett, Trisha Yearwood, Neil Diamond and Mariah Carey. The piece was delightfully shady throughout, but he did convey a common sentiment about holiday releases.
"For better or worse, a lot of recording artists feel the need to take the plunge into the Christmas fray," Dickinson noted. "It probably seems like a good idea — fans get a stocking stuffer, while the artist gets a breather from having to come up with an album of original material."
Dickinson's point (and a valid one) was that very few artists were capable of releasing holiday material on par with classics associated with the likes of Bing Crosby, Johnny Mathis or Nat King Cole. If anything, a holiday album was a cash grab — notably for well-established artists, not for those still poppin'.
This all likely why Carey herself was so reluctant to do a Christmas album when originally presented with the idea to do a holiday project.
As she explained last year to Billboard, "I felt like it was a little bit too early in my career to be doing a Christmas album. And then — I decided to do it." More recently, during a Genius Level interview focused on her work as a songwriter, Carey repeated this line — though she did add the addendum of by complimenting her ex-husband and former label head, Tommy Mottola, for being correct in his insistence she record a holiday album. (For those aware of their tumultuous history, saying anything nice about him was no easy feat.)
Dickinson was not particularly fond of Carey's album, but had a noted disdain for Merry Christmas' lead single, "All I Want For Christmas Is You." Dickinson argued that Carey sounded "generic" on the song and went on to write, "I imagine this wall-of-sound pop tune is supposed to evoke vintage Ronnie Spector, but instead Carey sounds like a bush-league Petula Clark."
One wonders whether anyone making a dig at Mariah Carey's voice in the 1990s could do so with a straight face, but even Walter Afanasieff, the song's co-writer and co-producer, questioned Carey's choice for arrangement. Speaking with Business Insider in 2013, Afanasieff said, "My first reaction was, 'That sounds like someone doing voice scales… Are you sure that's what you want?'"
Afanasieff got in formation, but what mostly tickles me about anyone questioning Mariah Carey is that she was Mariah Carey. If anyone were capable of doing the implausible — creating a holiday classic — it would have been Mariah Carey. (Yes, even in 1994.)
Almost 25 years after its release, "All I Want For Christmas Is You" is not only her biggest selling single ever, it outpaces holiday staples such as "Feliz Navidad" and "Jingle Bell Rock." In 1994, Carey was quoted saying that in recording the song, she meant for it to be "fun." Fun it is, but the song truly encapsulates what has made Mariah Carey such an enduring hitmaker.
But people should have known: By 1994, Carey had already amassed eight No. 1 singles in four years — seven of which she wrote herself. And Carey has been vehement in noting her songwriting capabilities throughout her almost 30 year career, likely because people — even those who call themselves ardent fans — still question just how much of a hand she truly has had in crafting her material.
Carey may have developed a reputation of being a "diva," but not enough attention is paid to how truly excellent she is at capturing sentiment in song. That's why both relatives two decades my junior and I can all claim to have heard "Hero" at our graduations. It's why many of us can say we've heard "One Sweet Day" at a funeral.
Mariah Carey is a standard bearer. And everything that makes Mariah Carey's singles perform so well for so long — catchy lyrics, stellar arrangement — are found on "All I Want For Christmas Is You."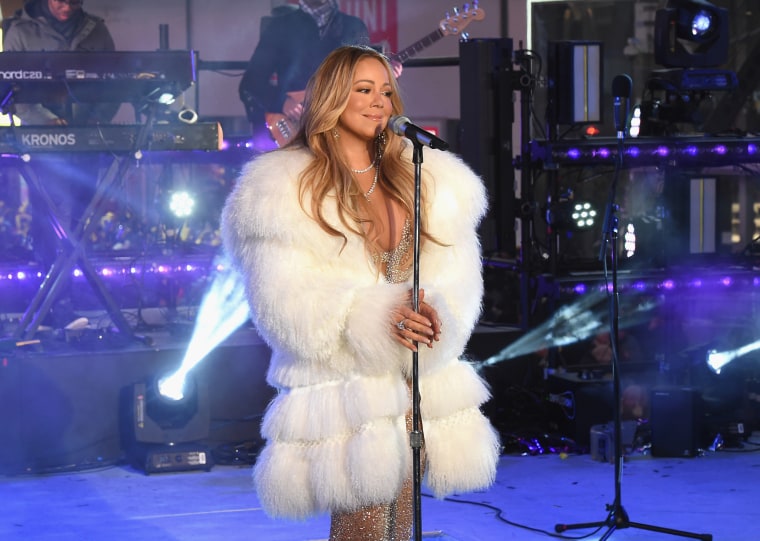 In a separate interview, co-producer Afanasieff explained his original concerns: "Going into an original Christmas song, you gotta be really, really smart to know all the landmines you're going to be stepping on. If a smart writer writes a song — and just boldly goes into the stereotype of jingle, and mistle[toe], frosty and Rudolph and Santa — ugh, God, it just becomes a mess."
In other words, Mariah the songwriter just got it and she got it on the first try.
And it's not just her voice either: While her mammoth record sales and extensive list of No. 1 singles are often touted as achievements, Carey plays a significant role behind the scenes in making her music so transcendent. A Mariah Carey cover of "Silent Night" is fine, but nothing compares to the Mariah Carey-penned "All I Want For Christmas Is You."
We love everybody — as Mimi would say — but there is no real modern equivalent to her success with "All I Want For Christmas Is You" (or her overall success). If there's any gift I could give to Mariah Carey this Christmas, it would be her getting the shine she deserves about the strength of her pen. (And another No. 1 single, just for ego's cushion.)