Irene Nkosi of Pretoria, South Africa, was 16 when she first became a parent. She was later the victim of a horrific rape for which her attacker was never jailed. When her daughter was 6 years old, she became pregnant again. That's when she discovered shocking news: She was HIV positive.
What would that mean for her and how could she protect her new baby from infection? The nurse didn't have time to educate her on HIV. Irene was terrified that neither she nor her baby would survive.
When she told her family about the diagnosis, instead of comforting and supporting her, they isolated her and called her names. Worse still, her baby died at 8 months old after being neglected at a day care center because of Irene's HIV status.
These are the very real challenges that face women diagnosed with HIV around the world.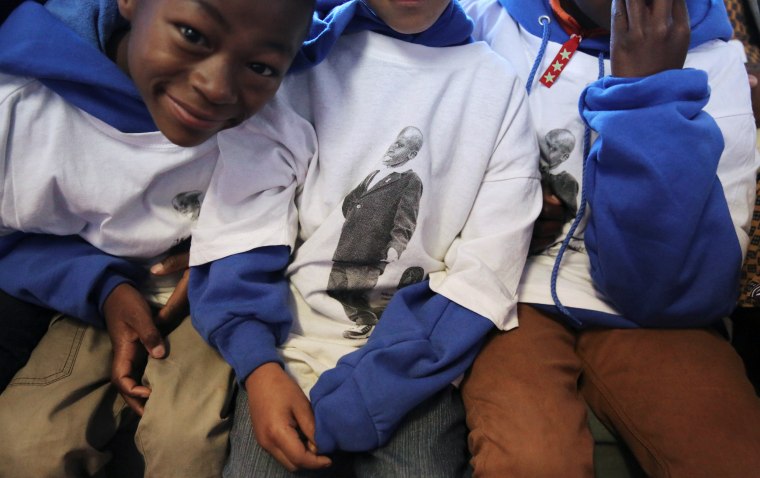 For Irene, an eventual visit to a mothers2mothers clinic, which helps women living with HIV, helped her turn her life around. The training and support she received there restored her self-esteem and helped her educate her family on HIV in a way that allayed their fears.
Today, mothers2mothers employs more than 1,700 Mentor Mothers like Irene, in hundreds of health facilities and communities in seven countries in sub-Saharan Africa. Known as m2m, our Mentor Mother Model has been proven to dramatically improve health outcomes among women and babies.
Since being founded in 2001, m2m has almost entirely eliminated mother-to-child transmission of HIV among our clients, with nearly 98 percent of babies born in the program testing negative at the final 18-month HIV test.
Mothers like Irene are game changers. They are employed to educate their communities about HIV and help other HIV-positive mothers overcome the challenges of living with the virus — experiences they know firsthand all too well.
And it was exactly their extraordinary bravery and spirit that compelled me to become involved in the organization.
In February of 2004, the death of my best friend Karen sparked a sea change in my life. During the two weeks she was in the hospital after complications from routine shoulder surgery, her brother Mitch Besser, an OB/GYN volunteering in South Africa, told me about the work he was doing to educate pregnant women on how to prevent the transmission of HIV to their babies. The goal was to end pediatric AIDS. With Karen's death, I sank into depression and he invited me to come see the work.
The first day in Cape Town, I accompanied Mitch on hospital rounds and fell head over heels in love with the women who were working for this cause. One after another, they told stories of tragedy, heartbreak and hopelessness. Yet none of them gave in. They sang, they laughed, they endured — and they gave me hope.
Mothers like Irene educate their communities about HIV and help other HIV-positive mothers overcome the challenges of living with the virus.
That very night, I decided I wanted to work with Mitch to turn m2m into an organization worthy of the African women that needed it so desperately. Two months later, my husband, teenage daughters, and two dogs gave up our lives in Los Angeles to move 10,000 miles to South Africa.
At that time, pediatric AIDS had almost entirely been eliminated in the U.S., yet 160,00 children under the age of 15 were infected in 2016, mostly in sub-Saharan Africa. The Mentor Mothers that m2m trained were achieving extraordinary results. Not only were they educating and supporting HIV-positive women to access lifesaving treatment, they were professionalized and financially independent, becoming role models in their communities and reducing stigma by example. Mentor Mothers also provided much needed support to medical staff at critically understaffed health centers. They became a third tier of medical care, forming trusted relationships with clients.
For inspiring women like Irene, the change was dramatic. She got married and felt confident and happy during her third pregnancy because she knew exactly what she needed to do to protect her baby from infection and stay healthy. Her daughter, now age 4, is HIV negative.
"Finally, the little girls in my family have the love that was missing in my life when I was their age," she said. "They have a mother who they can be proud of — a woman who was once a victim but who is now a survivor."
Although Irene and I grew up worlds apart, we share an incredibly important bond — by saving babies' and mothers' lives and creating healthy families, we built hope in our own lives. As we helped others access critical healthcare and treatment, we added to the joy in our own hearts.
Robin Smalley is an award-winning career television producer and director. After realizing that the legacy she wanted to leave had nothing to do with entertainment, she became the Executive Director of The Media Project before co-founding mothers2mothers (m2m), an Africa-based, global NGO.
To learn more about mothers2mothers, please visit m2m.org