The great joke about baseball is that, for all its talk of teamwork and comradery and everyone moving in the same direction in pursuit of the same goal, it is the most individual sport there is outside of golf and tennis. The main things a player can do to help their teammates during actual gameplay are stealing signs and making sure you don't run into the wall (or each other) chasing a ball. The game is, at its core, one man against another. The pitcher is trying to get the hitter out; the hitter is trying to get on base. Everyone else is just watching.
Team or not, they're alone out there. And perhaps no Major League player understands this truth more acutely this season than New York Mets pitcher Jacob deGrom.
The New York ace has been one of the best pitchers in baseball since entering the league in 2014. He won Rookie of the Year that year, and the next season he helped lead the Mets to their first World Series appearance in 15 years. But he has saved his masterwork for this season. He currently has a 1.68 earned run average (ERA), which would be the second-lowest qualifying ERA in baseball since 1995 if that's his ERA at the end of the season; he also leads the league in Fielding Independent Pitching, a sabermetric statistic that isolates what a pitcher actually has control over (meaning it excludes balls put in to play). He has also given up less than one home run every 18 innings, the best rate in baseball as well. He is a fantastic pitcher who is having the best season of his career. It's amazing to watch.
Unfortunately, deGrom has picked a terrible season to have a career year. Because Jacob deGrom pitches for the New York Mets. And the Mets are lousy.
Unfortunately, deGrom has picked a terrible season to have a career year. Because Jacob deGrom pitches for the New York Mets. And the Mets are lousy. Now, the Mets are usually lousy; they've only made the playoffs twice this decade. And well, they're the Mets. I get it. But what is flabbergasting about the Mets this year is that they're terrible in the precise ways that counteract the genius of the best player they've had on the roster in years. Not to mention the fact that the Mets organization has not only had a difficult time bringing in great players, it's had a hard time keeping them. It is as if the team exists to make his life difficult. This might be an individual game. But the team sure can screw it up for you if they're so inclined.
In the case of the Mets, they couldn't make it harder for deGrom if they were trying. The team has one of the worst offenses in baseball, a problem surpassed only by how bad their defense is. When you add in the team's massive bullpen woes, which has led to deGrom leaving several games with the lead and watching lesser teammates lose it, it's a perfect storm: deGrom keeps winning games for his team so they can turn around and lose them.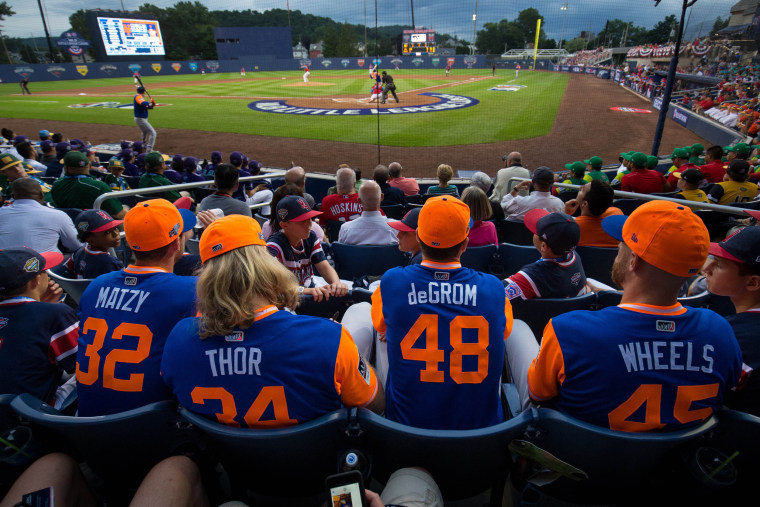 Indeed, deGrom has only earned eight wins in his 27 starts this year. There are plenty of reasons why a pitcher's win total is a flawed metric — and one that, generally, the sport of baseball has trended away from. But it still means a lot to starting pitchers like deGrom, who not only grew up with the win as an important stat, but who also use it as a tool in contract negotiations. Rick Porcello, a pitcher for the first-place Boston Red Sox, has an ERA nearly three times as large as deGrom's. He also has nearly twice as many wins. Zach Godley, a pitcher for the Arizona Diamondbacks, has been, according to ERA-plus (which is a ballpark, adjusted statistic widely considered one of the best actual ways to measure pitcher performance), a below-average pitcher this season. As of Monday morning, Sept. 10, Godley has 14 wins to deGrom's eight.
With the end of the season approaching, the Mets are out of playoff contention, but deGrom still has a reason to want to win: the Cy Young Award. By nearly every measure, deGrom has been the best pitcher in the National League this year, and the Cy Young, unlike the Most Valuable Player award, is not supposed to be connected to team performance. In a fair, just world — or even just a vacuum — deGrom would win hands down. But can voters really vote for a starting pitcher who doesn't reach 10 wins? It has never happened before.
ESPN's Cy Young Predictor, which uses past voting patterns to guess who will win this year, not only doesn't have deGrom winning… it doesn't even have him finishing second or third in the voting. (He is sixth, behind Kyle Freeland, Miles Mikolas and Jon Lester, somehow.) The Mets are no longer just costing their star wins; they could be costing him the crowning achievement of his career. The game really is just one man against the other. But it helps to at least have your guys on your side.