I was just shy of 10 weeks pregnant when my husband and I were given the awful news: Our baby had tested positive for a rare chromosomal condition. Our doctors told us that 99 percent of pregnancies with this syndrome end in miscarriage or stillbirth.
Having made it to my second trimester now, I know I have already beaten many of the odds. But with every day that passes, I can't help but wonder: Should I plan on her arrival, or resign myself to the fact that I'm a ticking time bomb who could lose my baby at any moment? The agony of the unknown can be crippling.
All of these expectations of what a mother-to-be should be make it difficult for women to share their struggles with mental illness.
I keep myself busy so as to not think about her. I steer clear of the app that tells me she is the size of a lemon and developing taste buds. I waver on whether to say her name out loud. At some moments, that feels like the best way to honor her, but at others it makes it too real to be bearable.
On Mother's Day, there is no way I can avoid these thoughts. For many expectant mothers, the holiday prompts them to joyfully reflect on the hopes they have for their future child. The advertisements of Mother's Day deals showcasing happy children embracing their moms leave them excited for all that lies ahead and the memories they will soon be building. But there are also women, like me, who are brought to tears.
This can be true for those with the healthiest of fetuses. Approximately 1 in 7 pregnant women suffer from depression during pregnancy, higher than its prevalence among women generally. While postpartum depression has become a familiar concept, it is largely unknown that this condition begins before birth in an estimated 25 percent of cases, and there is virtually no attention to women's psychological needs when she is seen by her obstetrician ahead of her due date. This needs to change.
As a society, we desperately desire our pregnant women to be self-sacrificing, glowing and eagerly anticipating their bundles of joy. But this ideal image denies the reality of the many pregnant women who experience anxiety and depression. Ecstatic announcements from expectant parents on social media can add to the sense of guilt for not living up to society's expectations and compound the shame for their perceived failure. And all of these expectations of what a mother-to-be should be make it difficult for women to share their struggles with mental illness.
The silence around depression during pregnancy adds to the lack of awareness about the phenomenon, making it less likely that women will consider it as an explanation for their symptoms. The situation is further complicated by the fact that indicators of depression, such as a change in mood, appetite or energy level, are essentially the same as symptoms of pregnancy, increasing the risk that doctors and patients will dismiss warning signs.
Diagnosing and treating depression early in pregnancy is particularly critical because of the potential adverse effects on the fetus.
Unlike the term "postpartum depression," there's no commonly known phrase to describe depression during pregnancy. It is difficult to break the stigma of pregnancy depression and ensure that all who suffer from it get treatment when we don't discuss it or adopt a widely used term — so we must do both.
Diagnosing and treating depression early in pregnancy is particularly critical because of the potential adverse effects on the fetus, such as a premature birth, low birth weight or even developmental problems including slowed learning or emotional unresponsiveness.
A prompt diagnosis can also help prevent postpartum depression, which, according to a study published in the British Medical Journal and publicized by the Harvard Medical School, starts during pregnancy a quarter of the time. At the very least, getting treatment can help relieve the immediate symptoms.
The United States already has woeful maternal health outcomes compared to our peers in the developed world. In the U.S., black women are two to three times more likely to die from pregnancy complications than their white counterparts, regardless of their level of education or exposure to poverty. This shocking discrepancy is partly attributed to the toxic stress of pervasive racism that black women experience. When we neglect the mental health of pregnant women, they are more likely to die, often along with their babies.
Conversely, if diagnosed early and treated properly, the benefits of this care extend far beyond improving the well-being of the woman and her fetus. The cascading effects can positively impact a woman's relationship with her partner, her other children and her career.
Relative to many American women, I have received outstanding medical treatment. However, even with these resources, I have not received holistic care that integrates mental health with maternal health.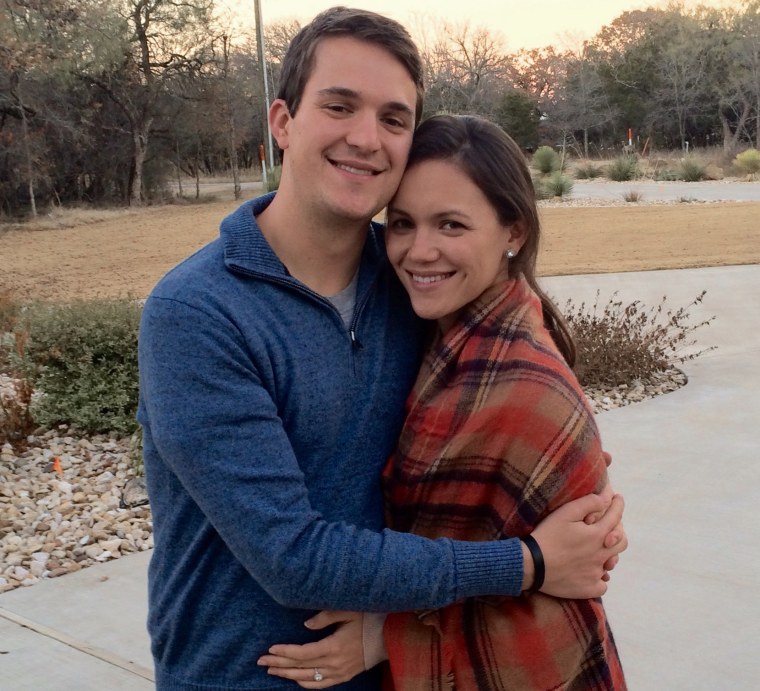 When the nurse gave me the news about my daughter's condition, she didn't recommend counseling or refer me to someone who might be able to help me process my fear and grief. Being left to navigate these emotions alone and seek my own treatment have only added to my stress, and made it harder to process my feelings of shame.
I can't help but note that, in 34 states, doctors are legally required to provide me with counseling before an abortion, but there is no mandate to provide me with counseling support in any stage of a healthy pregnancy, even when I carry a child that has a 1 percent chance of surviving. Modern American medicine needs to do a better job of bridging the gap between the physical and mental treatment that pregnant women receive, and we need to destigmatize mental illness during pregnancy so that women can get the help they need.
SIGN UP FOR THE THINK WEEKLY NEWSLETTER HERE
My baby is still growing inside of me, and the bump is becoming more apparent as the weeks pass. During my pregnancy with my first child, I happily received frequent attention from well-intentioned people who wanted to acknowledge their curiosity and delight. But what do I say during this pregnancy to the polite grocery clerk when he asks me my due date, or if I know my baby's gender? Do I burden him with the devastating truth?
No. I will play the role of the glowing mother who can't wait to meet her bundle of joy. And then I'll walk away.