Six years ago this week, I spent 45 minutes walking down the Embarcadero in San Francisco with Warriors point guard Stephen Curry. His daughter Riley was 10 months old at the time, and he pushed her down the street in a stroller; we talked quietly so we did not wake her. (Every new parent knows how tenderly such rare occurrences of a daytime nap outside must be treated.) I was a new dad myself, and most of our interview was just a conversation between two very tired fathers about how just how drastically our worlds had changed in a very short period of time.
Of course, Curry's life was about to change even more. Suffice it to say, that specific May in 2013 — right after the Warriors made a surprise run in the Western Conference Playoffs before losing to the Spurs, and right before he made six straight All-Star teams, won two MVPs, three championships and basically revolutionized the entire sport — was the last time you could get Curry to just randomly meet up with a reporter he didn't know for an hour. The soon-to-be-superstar was so green then that he spent a solid portion of that hour lobbying me to include a link to his wife's cooking blog.
As Curry begins his fifth consecutive NBA Finals this week, this time against the Toronto Raptors, it is worth taking stock of his particular place in the sporting landscape.
As Curry begins his fifth consecutive NBA Finals this week, this time against the Toronto Raptors, it is worth taking stock of his particular place in the sporting landscape. On the court, he has changed the game in a way few ever have, with his otherworldly shooting ability opening up all sorts of offensive possibilities. But what's perhaps just as impressive is how he has managed to do all of this while not alienating fans in the way so many other dynastic superstars have — from Tom Brady to Alex Rodriguez to Cristiano Ronaldo.
Stephen Curry may be one of the most successful and well-known athletes in the world, but he's also the player every kid pretends to be in their backyard. He's a truly dominant athlete who somehow has never been the focus of the social media hate most superstars accept as simply coming with the territory. Teammate Kevin Durant is eye-poppingly brilliant on both sides of the court. But plenty of people hate him. Not as many hate Steph.
Curry has also done this without pulling the all-things-to-all-people generic public persona of a Derek Jeter or a Tiger Woods. He's a doting and progressive father who is a role model to parents everywhere. When a 9-year-old girl wrote him a letter asking why his Under Armour Icon Curry 5 sneakers were not available for girls, he worked with her to design a line for young women. And he has always been active politically, working with President Barack Obama on an anti-malaria initiative and being very goofy with Michelle Obama and some turnips.
He's also been an outspoken opponent of President Donald Trump. Curry is widely considered to be the primary reason the Warriors haven't visited the White House after any of their championships since Trump was elected; Trump famously rescinded the team's invitation after Curry said in an interview: "I don't want to go. That's the nucleus of my belief. If it was just me, it would be a pretty short conversation." (Even Durant joined in after that, saying, "I don't respect who's in office right now.") This led to the immortal LeBron James tweet calling the president of the United States "U Bum," an insult that, amazingly, Trump still hasn't responded to.
And yet, for all his outspokenness, ESPN ranked Curry the ninth-most popular athlete in the world earlier this year and the second most-popular American, behind James. And while some fans have tired of the Warriors dynasty, their vitriol always seems to be directed at Durant and Draymond Green rather than Curry.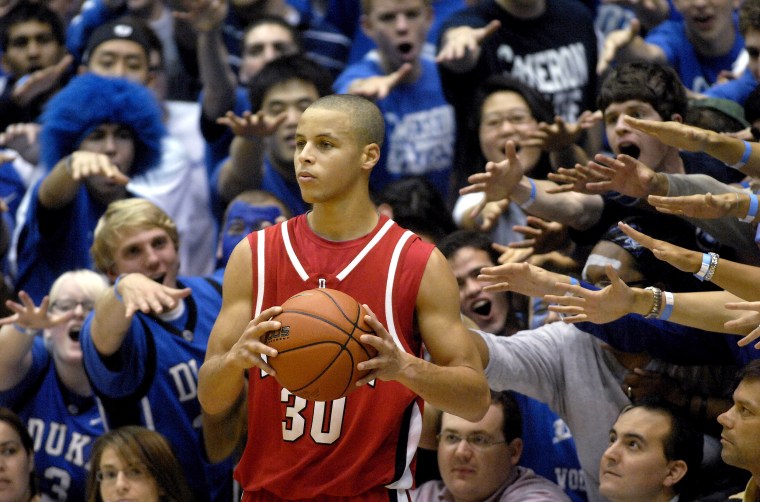 There's something about him that still makes him easy to root for. He's the underrecruited, undersized, underdrafted kid from Davidson, even though he's also one of the greatest players ever. One could argue that he has never been more beloved than he is right now, after exploding in these playoffs in the wake of Durant's injury. Curry creating and scoring like crazy has fans nostalgic for the pre-Durant days, when the Warriors were new and refreshing. The Warriors with Durant are a superteam you cheer against. The Warriors with Curry are something different.
I can't help but think Curry's ability to dance between the raindrops isn't rooted in that same modesty and affability I saw six years ago. His main complaint about fame wasn't that people went after him on social media; it was that he and his wife couldn't go to the California Pizza Kitchen on Fridays anymore. He found it funny that the mayor of San Francisco called him "Steve." He admitted that he and his family "aren't city people." I mean, imagine LeBron saying that, or Ronaldo. But Curry remains beloved because he remains relatable. He still feels like one of us. Even when he isn't.
The Toronto Raptors, and their long-suffering, warm-hearted devotees, are the fan favorites this NBA Finals, and with good reason: We all love cheering for a team that's never been there before. But if (when?) the Warriors end up winning again, it's unlikely that we're going to see fans take their frustration out on Curry. To be as hugely popular and successful as Curry is and still suffer nearly no backlash would seem impossible in this day and age. But by now, Stephen Curry has made us grow accustomed to the impossible.