The NBA Finals have a problem. Ratings for the annual seven-game series are crashing heading into what could be the deciding fifth game tonight between the Golden State Warriors and the Toronto Raptors. But who's to blame?
The Warriors are a humorously devilish Disney character of a team, sleepwalking their way to yet another championship appearance. NBA fans yawn collectively in response. On the other hand, the Toronto Raptors have never appeared in an NBA Final before. It's a first-time appearance for a team with perhaps too much modesty and a star who is often cast — however unfairly and dehumanizing — as an emotionless "cyborg."
It's a lopsided storyline in a lopsided league. Who has helped to balance all of that throughout this NBA playoffs season?
Drake.
It's a lopsided storyline in a lopsided league. What has helped to balance all of that throughout this NBA playoffs season? Drake.
First, a little bit of context. The Golden State Warriors' loss last week dimmed their championship hopes significantly. But adding insult to injury, it was possibly the last game ever played at the team's Oracle Arena in Oakland. The team is in the middle of a move to the new Chase Center in San Francisco, another of the continent's increasingly unrecognizable coastal cities. Where once stood a vibrant port that declined decades ago, it is now disfigured and replaced by glittery real estate ventures. San Francisco's gorgeous piers are accompanied by the biblical gravity of a sinking tower and NIMBY opposition to a proposed homeless shelter, lest they come in view of the tourists nearby.
The painfully symbolic leap across the bay brings to mind the daily monotonous agony of words such as "gentrification," "disruption," "tech-bro," and other hallmarks of contemporary Silicon Valley culture. The Warriors are an algorithm with sneakers that has everyone figured out. They seem invincible. They don't play angry. They smile as they leisurely destroy their rivals.
In the other corner, the story improves a bit. The Toronto Raptors are bringing a touch of credibility to this whole "world champion" racket that North American sports have been for a century or so. Their star player, Kawhi Leonard, doesn't speak much and has a goofy laugh. Can he possibly counter the endless grins and constant jawing of a team that casually expects to devour the easy prey of the Eastern Conference?
That has yet to be seen. But the man doing a significant portion of the devouring this year isn't on the court at all. Toronto rapper Drake has been monopolizing the courtside scene and the headlines for weeks. He pokes, and prods, and cajoles, and gloats. He waves goodbye to a star player fouling out. He scowls at every Warriors on-court victory display. He engages in direct confrontations with opposing players. They respond, which only adds to his growing power. He's making people who don't care about sports at all care about sports, willing to suddenly stop the feed if there is pop star drama as opposed to another box score.
Sure Drake may be annoying. You may not like his personality or even his music. But the more headlines Drake steals, the better. It's better for the Raptors. They have someone to do their trash-talking for them and leave them to their studies. It's better for the Warriors. They now have a foil that will earn the ire of even their detractors. It's better for the NBA and its fans. There's a new plot. And it's not the same LeBron vs. Team X that has been slowly suffocating the sport ever since 2007.
The lack of plurality in the NBA is a known hindrance to furthering the popularity of the sport, especially in cities that never seem to get to co-host the finals, such as Memphis, Phoenix and Atlanta.
In fact, since 1999, only eight different teams out of the NBA's 30 have won in the finals. The Larry O'Brien championship trophy has been handed out 15 times to only four different teams in that same period: the San Antonio Spurs, the Los Angeles Lakers, the Miami Heat and of course, the Golden State Warriors. The Warriors are making their fifth-straight appearance in the finals. Even die-hard basketball fans are getting bored.
When 75 percent of the winners over a staggering 20-year period belong to only 13 percent of the entire league, it's hard for some fans to keep interest. Should the Warriors find a way to win again this year, the ratio will become even worse. Drake's antics in a way represent the rage of the fan from the small market and the second-tier city, which is most places. This is Toronto's chance — and they may not be here again for a long time. Who are we to judge the city, and its biggest supporter, from making the most of it?
Professional sports at its best is about drama. The same victors year in and year out make for poor theater. But Drake's antics replenish a little of what's been lost. Criticized by some as being a "soft" rapper, he is shouting across the court at what has been characterized as a "soft" team with "soft" players. Drake's disgust at his nemeses as they elegantly move in front of him is the stuff of great mythology with a slight tweak: This neo-Narcissus hates his own image. That he has been called out for having tattoos of both Golden State's Steph Curry and Kevin Durant's jersey numbers only adds to the love/hate intrigue.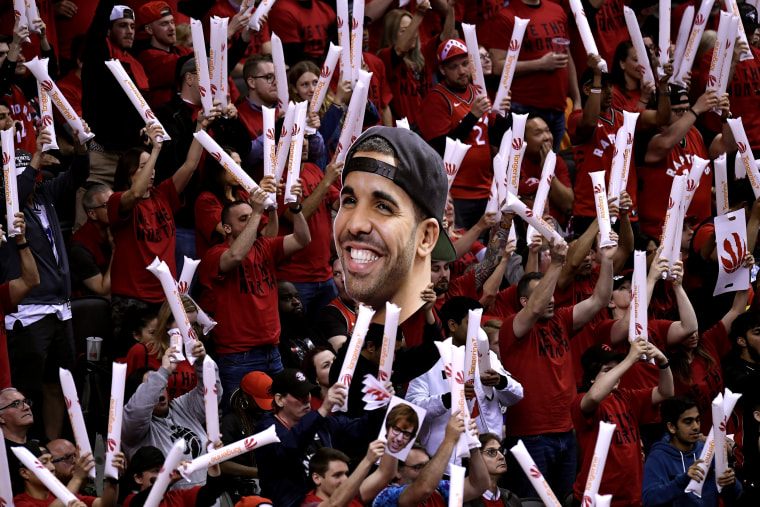 Drake hardly seems to differentiate between life and fantasy, which could explain some of his absurd behavior. He is as likely to pay tribute to a fictional character like Arya Stark as he is to his own mother in an award acceptance speech.
In Game 3 of the NBA Finals at Oracle Arena in Oakland, Drake was missing. It was a noticeable absence. The once-fierce Jay Z was glued to his seat with all the bliss of a happily married billionaire in a baseball cap. He's a former majority owner of a basketball team nowhere near making the NBA Finals. He's just hoping everyone has a good time. Come back for the next game, Drake. And for the game after that, if there is one. The people don't need you simply trolling on Instagram from the safety of your own home. The NBA — and its fans — need you on the court.