The Oscar nominations are out for the 91st annual Academy Awards, and the best picture category is full of historic firsts. From "Black Panther" to Lady Gaga being the first person to be nominated for best actress and best original song in the same year for "A Star Is Born," there's lots of history to go around.
But perhaps the most interesting story this year is the best picture nod for Netflix's "Roma." The subtitled drama dominated the nominations this week with ten, including nods for best picture, best director, best actress, best supporting actress, best foreign language film and best original screenplay.
SIGN UP FOR THE THINK WEEKLY NEWSLETTER HERE
This is the first time a film that debuted on Netflix has been nominated for best picture. But "Roma's" nominations haul is also notable for bringing some much-needed diversity to the 2019 line-up. Far from a fluke, however, Netflix has quickly become an unlikely champion for films directed and starring underrepresented voices with interesting and diverse perspectives.
This is the first time a film that debuted on Netflix has been nominated for best picture. But "Roma's" nominations haul is also notable for bringing some much-needed diversity to the 2019 line-up.
It was only February of 2013 when the streaming service released its first in-house production, "House of Cards." It took a little longer for the company to jump seriously into the film game, but it was the inevitable next step after a series of well-received TV shows.
The movie industry, on the other hand, saw Netflix as a threat. Some film festivals, such as Cannes, not only booed Netflix's entries, but changed the rules to block the service from showing films. Netflix finally gave up trying to get into Cannes last year, and it's not clear if it will be back.
Meanwhile, critics have split on how Netflix movies should be watched, a controversy that again highlights Hollywood's lingering hostility. While Netflix's CEO Ted Sarandos said viewers would love watching "Roma" on either the big screen or on one's phone, other critics argued viewers should pony up to see it on the big screen in order to get the full effect of the film's cinematography. Even director Alfonso Cuaron said the only way to get the complete experience was to see it in the theater. Meanwhile, AMC Theaters and Regal Cinemas refused to show it at the Oscar nominations showcase, a yearly event held ahead of the Oscars for audiences to catch up on the nominated films, because it didn't honor the 90-day window between big screen and small screen release.
Netflix has taken these hurdles in stride. "Roma" is the third film the service has mounted an all-in Oscar campaign for. In 2016, it was "Beasts of No Nation," which failed to garner any nominations, but whose snub also fueled part of the outrage driving the #OscarsSoWhite hashtag that year. Last year, it was "Mudbound," which landed four nominations, including the historic double nomination for Mary J. Blige — for best supporting actress and best original song — as well as for Dee Rees, the first black woman ever nominated for best adapted screenplay, and Rachel Morrison, the first woman to ever be nominated for best cinematography in Oscar history.
Notice a pattern? All three of the films marketed by Netflix as prestige entries on the awards circuit have one thing in common: They're not directed by white men. "Beasts of No Nation," a story about child soldiers in Africa, was directed by Cary Joji Fukunaga and starred Idris Elba and Abraham Attach. "Mudbound," directed by Dee Rees, was a World War II period piece set in the rural American south. "Roma" is not only directed by Mexican film director Alfonso Cuaron, but stars two Mexican actresses, Yalitza Aparicio and Marina de Tavira, and is completely in Spanish and Mixtec. It is a semi-autobiographical film for Cuaron, focusing on Cleo (Aparicio) a domestic worker to a middle-class family.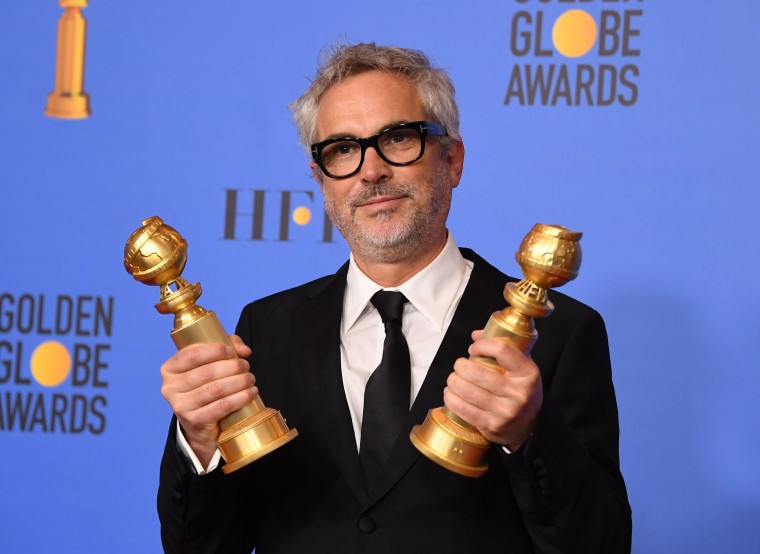 While the streaming service has not specifically said that it's trying to highlight diverse casts and perspectives, but the pattern is hard to miss, especially when representation is such an issue right now both in front of and behind the camera. This year, the aforementioned "Black Panther" and Spike Lee's "BlacKkKlansman" have been recognized by the academy as well.
But in terms of production houses vying for Oscar gold, such films are still outliers for major players like Disney and Focus Features (the distributers behind "Black Panther" and "BlacKkKlansman respectively). Focus Features' other nominated film this year? "Mary, Queen of Scots." Disney's major awards season release was "Mary Poppins Returns." Meanwhile, the film that took home the top prize at the Producers Guild Awards, a bellwether for taking home best picture, is "Green Book," a story with a multi-racial cast but a white director, and which has been criticized for what some see as whitewashing race relations during Jim Crow.
Netflix wouldn't invest in films like "Mudbound" or "Roma" unless it knew there was an audience for them.
So why is Netflix different? One might call it an ingeniously cynical sales ploy, offering up diverse films with the expectation that academy voters will pick them in order to seem open minded. But that's not how a business like Netflix works. The company is famously driven by analytics, both in measuring success, and in how content is offered up to subscribers. In short, Netflix wouldn't invest in films like "Mudbound" or "Roma" unless it knew there was an audience for them. Unlike the film industry, which seems to have little internal incentive to make fewer films by white men — especially if they continue to succeed — unless pressured by outside forces like Time's Up, Netflix's business model, which the industry derides, suggests distributing films with differing perspectives is good for everyone.
And so far, this seems to be true. Netflix still faces more challenges than a traditional film distributor. And yet, here is "Roma," with a best picture nod. Moreover, it's notable that Netflix isn't highlighting the diversity of "Roma" in promotional materials, using the class and familial struggles as its main selling point for critics. (Especially since Netflix doesn't have the greatest reputation in that department, it could use the good press.) And this year's PR campaign has aimed specifically at the domestic worker subject matter angle, using the film's success as a form of raising awareness, something you don't see a lot of Oscar contenders even think to do.
Whether or not "Roma" will be able to win in February remains to be seen. But any Netflix statuettes in major categories will send a message to the film industry: Maybe Hollywood should take a cue from the streaming service it loves to hate and consider putting more money behind more films like "Roma."