The best game of an otherwise mostly uninspiring, listless NFL regular season was a thrilling, back-and-forth battle on Dec. 10, 2017 between the Philadelphia Eagles and the Los Angeles Rams.
Two of the NFC's best teams and most exciting offenses took turns electrifying the LA Coliseum crowd, with Rams running back Todd Gurley rushing for two touchdowns and Eagles quarterback Carson Wentz matching him play for play before eventually leading the Eagles to a game-winning touchdown. It was a crowning achievement for Wentz, a second-year player leading a beloved NFL franchise to a critical road win. In the process, the young quarterback established his team as a Super Bowl contender and cemented his own status as a league MVP candidate.
Then, even as Eagles fans were celebrating their victory, the news broke: Wentz had torn his ACL and would miss the rest of the season. It was a sickening — if familiar — announcement for fans this year. In Texas, Houston's rookie phenom DeShaun Watson, shortly after electrifying the league with a 402-yard, four-touchdown performance against the stout Seahawks defense, tore his ACL in practice and was also out for the rest of his season.
Just when you were getting excited about what Watson and Wentz could do, they were gone. And it wasn't just young stars, either: Ask Green Bay Packers veteran Aaron Rodgers, whose season was just getting going when he broke his collarbone. The story of the 2017-18 NFL season was one of injuries. But then again, they all are.
The story of the 2017-18 NFL season was one of injuries. But then again, they all are.
And these are just the minor injuries — these ones heal. In a game against the Cincinnati Bengals in December, Pittsburgh Steelers linebacker Ryan Shazier suffered a horrific spinal injury that left him unable to move his legs. After hitting a Bengals player, he immediately grabbed his spine, rolled over, clinched his hands to make sure they had feeling and then lay back, fully aware what awaited him. He has since undergone spinal surgery and made several appearances at Steelers games, providing the league with an inspirational gloss for the tragic fact that it is possible Shazier will never fully recover.
Injuries that cause paralysis are rare; the NFL hasn't had a player seriously paralyzed by a hit in game play since the Buffalo Bills' Kevin Everett was paralyzed more than a decade ago. (Everett has since recovered the use of his hands and legs.) But Shazier's spinal cord injury is actually more common than you think — a Cleveland Browns team doctor called it "not rare," even though Shazier's is unusually severe.
However, the most existential threat to professional football is our increasingly sophisticated understanding of what concussions do to a players' brain. And it's not just the big helmet-to-helmet hits, which the NFL has attempted to prevent with varying success. (Patriots star tight end Rob Gronkowski suffered a concussion in the AFC Championship Game less than two weeks ago, but magically has been declared mostly healed and cleared to play in the Super Bowl.) The true horrors may come from the sub-concussive hits, the ones that don't show any immediate symptoms but wreak cognitive havoc over time.
The most existential threat to professional football is our increasing understanding of what concussions do to a players' brain.
"The cumulative head impacts or sub-concussive hits may be more important than concussions," Peter Kiernan, a research assistant at Boston University's CTE Center, which just last year put out a definitive sub-concussive study, told the Boston University News Service. This is perhaps the most terrifying discovery about CTE: You can get it without anyone knowing that anything has happened to you at all. You can get it simply by doing your job the way you've been taught to do it.
A number of studies have shown parents — particularly higher-income parents — increasingly hesitant to let their children play football at any level. (That higher-income families don't want their kids to play, but are still watching football in droves, has its own bitter resonance; they won't let their kids injure themselves, but they'd be delighted to watch yours.)
This reluctance from parents makes sense, of course. Thus, the NFL is being damaged on two different fronts, injury-wise. Long term, the game is looking increasingly catastrophic to its players' brains, giving it the veneer of something barbaric. And short term, the game is being played at such high levels of speed and violence that it can't even keep its superstar players healthy long enough for us to enjoy watching them. So while we may be able to temporarily put the hidden long-term effects of the game out of our minds, on-field injuries have made the bodily risks of the sport impossible to miss.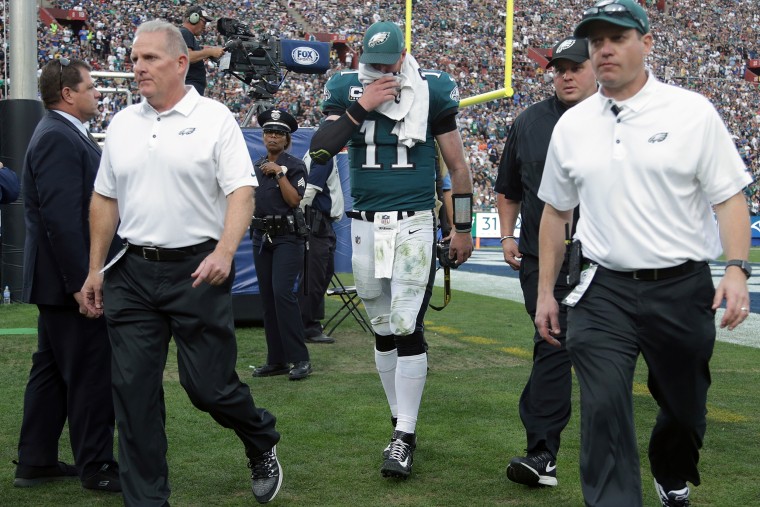 This violence and danger is slowly but surely becoming the primary NFL narrative. The "will-they-kneel-or-will-they-stand?" narrative is a one-time distraction, as were the president's tweets about the league earlier this year. But the fundamental worry for the NFL remains its sports' inherent brutality, a brutality that's just exacerbated by the incredible athleticism (and thus increased volatility) of the game at its highest levels.
As disturbing as watching Shazier's injury was, over time the game is actually much more dangerous than that singular moment. And every year, it becomes a little more difficult to banish that thought to the back of our brains.
For all the talk of a dull NFL regular season, the postseason has been thrilling. This weekend, the Super Bowl pits the hated Tom Brady and the hated Bill Belichick and the hated Patriots against the underdog Eagles — now with a backup quarterback — and their lunatic fans. It will hopefully be compelling and magnetic to watch.
If the Super Bowl is compelling, it will provide a welcome respite for the NFL's PR teams. But these distractions won't last forever. And when the games do stop, the chorus of questions and fears about what this sport does to its gladiators will inevitably rise up again. And even in this game, Gronkowski's and Wentz's injuries will dominate the pre-game discussion.
Eventually, this noise may become too loud to ignore. Not yet, and not for everybody. But some day, and maybe someday soon.
Will Leitch is a contributing editor at New York magazine, contributor to Sports Illustrated and the founder of Deadspin.