Amid Nicolas Cage's self-proclaimed quest to make at least 150 movies in his career, Variety announced May 4 that Cage landed what will surely become another defining role in it: that of the Tiger King.
Following the absolute mania of the Netflix docuseries, "Tiger King: Murder, Mayhem and Madness" — Nielsen data reported that it reached an astounding 34.3 million unique viewers in the first 10 days — Cage will be stepping into the work boots of Joe Schreibvogel, a.k.a. Joe Exotic, in his first series regular role.
The yet-to-be-named eight-episode series will reportedly be based on Leif Reigstad's Texas Monthly article, "Joe Exotic: A Dark Journey Into the World of a Man Gone Wild," and begin following the events of Netflix's "Tiger King," but before Exotic's 2018 arrest for a murder-for-hire plot against his business rival, Carole Baskin. The show will thus chronicle what occurred after Exotic lost his Greater Wynnewood Exotic Animal Park (also known as G.W. Zoo in Oklahoma) to his former business partner, Jeff Lowe, and moved to Florida with his husband, Dillon Passage, in an effort to reinvent himself.
For Cage — someone who is also seemingly unmoved by respectability politics who has had his own mini-collection of exotic animals, including a pair of king cobras and pet octopus — the role seems like a perfect fit.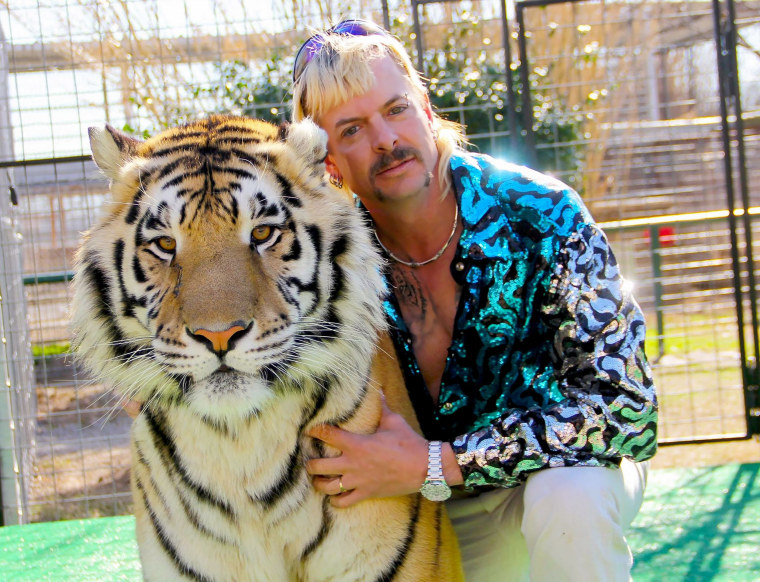 Though he's the nephew of legendary director Francis Ford Coppola, Cage long ago defined himself separate from his Hollywood family and into a mythic legend of his own design. He once blew his entire $150 million fortune making immense purchases, including a couple of castles and a Tyrannosaurus rex skeleton. A huge Elvis Presley fan, he married and then divorced Lisa Marie Presley in 107 days; a comic book fan, he named his youngest son Kal-El. Recently, he had a quickie Vegas marriage and filed for annulment almost after four days (but settled for a divorce instead). Despite it all, Cage has always managed to do the one thing that's kept him buzzing in Hollywood — the work.
Often making headlines without any social media presence, his persona (both on and off the screen) echoes movie stars and famous figures of the '80s and '90s. And he is one of those rare modern actors that has one foot in the past and another in the future; the present seems to elude him.
Cage has appeared in nearly 20 movies in the past two years alone — an astounding number, considering his methods of acting and the complete way he leans into his work. His tireless work ethic and extensive filmography have catapulted him onto the main stage of popular culture.
And his previous films have undoubtedly prepared him to play Joe Exotic. From the flowing locks that defined him as Army sergeant and parolee Cameron Poe in "Con Air" to his lawlessness and campiness the decade prior as H.I. McDunnough in "Raising Arizona," there does not seem to be an actor alive more perfect for carrying the aura of an eccentric gun-wielding zookeeper.
Still, though "Con Air" and "Raising Arizona" have elements that the Academy Award winner might sink his teeth into, his role as Sailor Ripley in the Palme d'Or winner, "Wild At Heart" might be his Exotic true muse. The late film critic Roger Ebert called the David Lynch film "lurid melodrama, soap opera, exploitation, put-on, and self-satire." This exudes everything Joe Exotic is and what "Tiger King" fans will be desperate to see Cage play up on the small screen.
Plus the "Ghost Rider" actor also finds insight from some of nature's most mystical creatures. "Animals are fun places to get inspiration," he explained to The New York Times. "I thought Heath Ledger was doing some reptilian stuff as the Joker, with the tongue darting out all the time."
Cage is also willing to take unpopular risks with his choice in roles and, as a result, some of the actor's past projects — like 1988's "Vampire's Kiss" — which were panned at the time are enjoying a resurgence. "I think time is a friend," Cage told the Times in 2019. "Many of my movies that were mocked are enjoying a renaissance. So I'm hopeful that time will be on my side."
Despite his (presumed) eccentricities, Cage makes no apologies. "I can't pretend to know what people think or want to think about me," he said during that same 2019 interview. "I'm not Stravinsky, I'm not Van Gogh, I'm not Monk, but these people were not understood, and my favorite artists were misunderstood." Instead, Cage continues to live life on his terms, without regard to social norms.
With its extensive eight episodes already widely devoured by viewers on Netflix, audiences will be looking for a fresh perspective on the tale in another outing. Watching Cage dive into the showman's mental psyche could very well do the trick. "Nicolas Cage is the ideal star for this project," series executive producer Paul Young told Entertainment Weekly. "He'll bring out the humanity of Joe Exotic."
From where we're sitting, transforming Cage into the Tiger King is inspired. However, the real test will be how well this Imagine Television Studios and CBS Television Studios-produced series casts Exotic's arch-nemesis, Baskin.
Comedian Kate McKinnon has already signed on the dotted line to become the tiger-obsessed Big Cat Rescue CEO Baskin — but for an entirely different series, based on the six-episode Wondery podcast, titled "Joe Exotic."
With these two projects in the works, there will be more than enough Tiger King (and Queen) going around to satisfy all of you cool cats and kittens.