In space, no one can hear you die — other than a telepath. But bringing one along isn't such a great idea either, at least not according to "Nightflyers," the newest series from Syfy that premiered on Sunday, December 2. Based on the George R.R. Martin novella from early in his career, the show marks the channel's latest attempt to return to its original science-fiction roots. The result is a solidly done saga that takes Martin's brand of nihilistic realism and applies it to the world of science fiction. Unfortunately, the ratings for the series' first season suggest the "Game of Thrones" writer isn't going to strike gold twice.
In space, no one can hear you die — other than a telepath. But bringing one along isn't such a great idea either.
Launched in 1992, the Sci-Fi Channel rebranded as the cutesier Syfy, ostensibly for trademark reasons, in 2009. But the name change also came with an attitude change. More violent, niche series like "Battlestar Galactica" and most of the "Stargate" franchise spinoffs slowly disappeared in favor of lighter, fluffier shows like "Eureka" and "Face Off."
Unfortunately, the rebrand also came at the worst possible time, as fantasy and science fiction exploded into the mainstream. Many channels took advantage of this sci-fi boom — except the one network supposedly created expressly for that purpose. Over the last couple of years, the channel has "rebooted" itself with shows like "The Expanse" and "Killjoys," but these have only drawn in small but passionate fanbases, and none has taken off the way "The Walking Dead" or "Doctor Who" did on rival cable channels, to say nothing of HBO's "Game of Thrones."
With a lot on the line, "Nightflyers" is going for broke. The Hollywood Reporter claims it is the most expensive show the channel has ever done to date, and was so pricey that Syfy brought in Netflix as a partner. That's not to say it's anywhere near the budget of say, a "Game of Thrones" episode, but it does rival big screen depictions of space.
Fortunately, while other channels tried to pick apart and replicate differing parts of "Game of Thrones, with varying degrees of success, Syfy has dug into what really makes Martin's story tick: Taking well-worn fantasy tropes and replacing the Pollyannaish idealism with a misanthropic pessimism.
This is always why "Game of Thrones" worked — because it took the fantasy tropes everyone recognized and imagined what human failings would turn them into: Fools, monsters and abuse survivors. "Nightflyers" does the same thing with its main characters, subverting classic science-fiction stereotypes like the childlike robot female and the mild-mannered, empathetic telepath.
For example, the benevolent captain character, Roy Eris (David Ajala), is no wise leader but rather a Howard Hughes-like recluse who only appears as a holographic projection to spy on the crew from his private deck. The gene-enhanced, man-made character Melantha Jhirl (Jodie Turner-Smith), is a woman with appetites that somewhat terrify her fellow crew members. And the telepathic character Thale (Sam Strike), is a damaged kid who has been traumatized by having to hear all the terrible things strangers and friends think of him. Meanwhile, both of the ostensible heroes Karl D'Branin (Eoin Macken) and Dr. Agatha Matheson (Gretchen Mol) have closely guarded secrets of their own.
The mission for the Nightflyer team is to intercept an alien race in order to see about a technology swap. But these aliens, called volcryn, are not like their soundalikes, the benevolent Vulcans who made first contact with Earth in "Star Trek." These aliens have also been ignoring Earth's entreaties for years, and when the Nightflyer ship prepares to meet up with them, the first thing the volcryn do is to change course, as if to flee.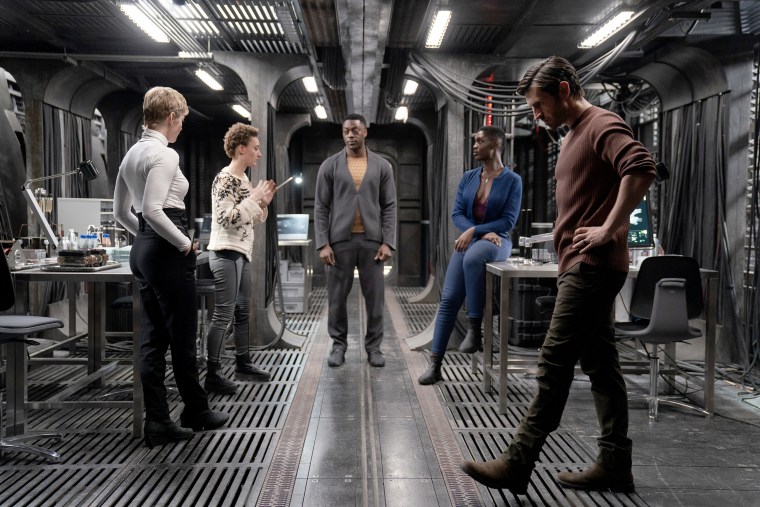 These difficulties are compounded by a malevolent force that attacks the Nightflyer even before the ship enters "the void" of interstellar space travel. This twist ups the horror factor — and Martin's patented body count. As the crew begins to disappear, the story becomes a bit of a whodunit as the remaining cast tries to figure out who or what is behind this mysterious, murderous phenomenon. Martin marveled recently at how the show cleverly found ways to increase the number of crew on the ship, the better to kill more of them off over what will hopefully be multiple seasons.
There's only one small problem in Syfy's otherwise smart plan: The network may have reached too far back in Martin's oeuvre for it to work. When "Nightflyers" arrived on bookshelves in 1981, the idea of mixing science fiction with horror was still new and novel. "Alien" had come out in 1979, but the sequel would not arrive until 1986. Nowadays, this sort of hybrid story is everywhere, from "Annihilation" in the theaters to "Origin" on YouTube Red. Call it "The John Carter Problem," where a story which helped spawn an entire genre gets an adaptation long after the thunder of what it created has been stolen.
Syfy hoped audiences would tune in because of Martin's name. But traditional TV ratings haven't been good. The premiere brought in 620,000 thousand viewers, less than the season three premiere of "The Expanse," which Syfy canceled due to low ratings. (It was rescued by Amazon.) The ratings haven't improved episode to episode either. This may have something to do with the non-traditional airing schedule. Syfy is using an old-school miniseries format, releasing one new episode a night over a two-week period. By episode two, the numbers had already tumbled to 410,000, lower than the average for "Killjoys" season four.
Still, the network believes it can succeed with a multi-platform push, the numbers of which aren't in yet. Syfy has been advertising the show as something akin to a month-long, bingeable special event, with the goal of attracting fans not captured by linear viewing statistics.
And even if the series doesn't on during its broadcast run, the show could get a second life on Netflix. The budgetary partnership between Syfy and the streaming service means the ten-episode season will arrive just in time for those looking for an alternative to joyous holiday fare. In the void of space, there are few winners but a lot of death. Happy Christmas.