If anyone is shocked by Nike's move to include former San Francisco 49ers quarterback, philanthropist and activist Colin Kaepernick in the 30th anniversary of their "Just Do It" campaign, you simply haven't been paying attention to Nike.
Recently Nike publicly supported one of its marquee athletes, Serena Williams, in a debacle with French Open officials who banned her catsuit with targeted compression from future tournaments as "disrespectful" to the sport of tennis. Nike posted Serena's "Just do it" anniversary ad early with the caption, "You can take the superhero out of her costume, but you can never take away her superpowers."
And, in 2016, Nike's CEO Mark Parker issued a company-wide memo labeling "discrimination in any form and racial injustice" as "destructive forces," ending the letter with the declaration that "#blacklivesmatter," despite the controversy that phrase can engender in more socially conservative circles.
But wait, there's more!
Nike, where over 50 percent of its employees are minority , has put together a Black History Month collection for almost every year since 2005 (except for 2009), emblazoning shoes in black, greens, reds and golds and writing words like "equality" on the sides, snaps, and tags.
Nike also annually puts out a collection for LGBT Pride, with supportive and uplifting phrases and words in rainbow colors — often with the word "Equality" written across a hat or a t-shirt. They recently debuted an entire additional collection called "Be True," dedicated to supporting and unifying the LGBT community. (Converse, also a Nike brand, released a Pride collection this year with sneakers in every shade of the rainbow.)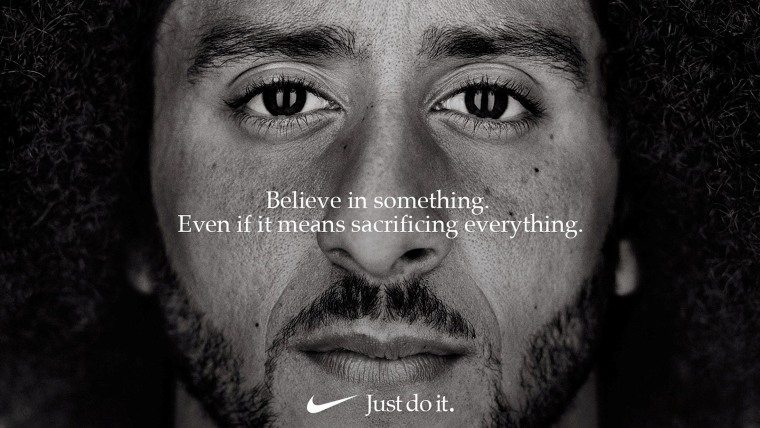 Kaepernick, meanwhile, is appearing in a series of ads alongside athletes like Odell Beckham Jr., Lacey Baker and Lebron James. In his, Kaepernick's face, in black and white, appears with the quote, "Believe in something. Even if it means sacrificing everything." Below, next to Nike's infamous checkmark logo, the 30 year old slogan appears: "Just do it."
Kaepernick's history with the company started in 2011, when Nike scooped him up and signed him as a sponsored athlete. His football career, however, came to an untimely end following the 2016 season, after he chose to kneel In the presence of the U.S. flag during the national anthem performance before his games.
When asked about the choice back then, he replied, "I am not going to stand up to show pride in a flag for a country that oppresses black people and people of color. To me, this is bigger than football and it would be selfish on my part to look the other way."
Kaepernick has been clear about his stance. And Nike has been increasingly clear about its position on these issues as well.
But still, almost on cue, those who oppose the right of football players to protest during the national anthem or don't support their cause began an odd sort of protest of their own. Social media has become rife with photos of people cutting the Nike check marks off their socks, shorts, t-shirts and other Nike items they've previously purchased. Furthermore, people who clearly haven't bought a pair of Nike sneakers in years are now burning their dilapidated shoes, because they say they cannot support a brand that "forces them to choose between my favorite shoes and my country."
Is it reasonable to question the motives of a company for this? Absolutely. Nike has, thus far, received an estimated $43 million worth of public relations thanks to this decision. But their stock slid on Monday and #NikeBoycott and #JustBurnIt were trending on Twitter. And the viral tweets are spreading, giving people the idea that burning, destroying and trashing otherwise good Nike products is a smart idea.
If there's one thing we know, it's that people bond through the things they wear — or, in our increasingly partisan society, they things they boycott. But what we wear is a passive message to the people we encounter: This is who I am, this is what I enjoy, this is what I believe in, this is what matters to me. And sometimes, brands pick up on that message and supply people with the tools they need to convey the message more clearly.
That's why people enjoy buying items that represent and reflect the goals and causes that matter to them. Wearing kicks that say "equality" across the sides lets people know where your head and heart are and, when you find someone else in a shirt with "equality" written in a rainbow of colors across the front, it's a breath of fresh air. In a politically charged climate like what we have today, it's nice to find someone who doesn't believe that the status quo of oppression is the only way for society to function.
But, if you want to bond with other people who resent the idea that someone would publicly protest a system that supports the infringement of human rights, maybe you make a public point of buying Adidas or New Balance. Maybe you cut the Nike logos off your socks and shorts, and walk around looking like a friend of Edward Scissorhands to broadcast your pride in police brutality.
But when I see a person walking around with a hole where a checkmark logo used to be, I know they're signaling something to me, too. And it's nothing to be proud of.