After a gunman used an assault weapon to kill more than two dozen parishioners in a Texas church, just weeks after the deadliest mass shooting in modern American history, President Donald Trump declared it was too soon to talk about guns. House Speaker Paul Ryan, R-Wis., said it was time for prayers, and Senate Majority Leader Mitch McConnell, R-Ky., offered condolences. Advocates for stronger gun laws, in turn, urged Congress to find the courage to stand up to the gun lobby.
This Congress likely won't heed that call because the National Rifle Association opposes new gun laws — despite bluffing an initial willingness to compromise after the Las Vegas massacre.
But even more alarming than the gun lobby's chokehold on Congress — and covered far less frequently — is the NRA's growing clout in shaping the federal judiciary under Trump.
The gun lobby said it spent $1 million to confirm Trump's Supreme Court nominee, Neil Gorsuch. Now the NRA has its sights set on the lower federal courts. McConnell is leading a huge push to fill the record-breaking number of federal court vacancies created by his obstruction of President Barack Obama's nominees — and the gun lobby is reaping a windfall.
Because these judges will have life tenure and decide cases for decades to come, the NRA's influence over the courts could last far beyond this Congress or Trump's presidency.
McConnell is leading a huge push to fill federal court vacancies — and the gun-lobby is reaping a windfall.
Last month, the NRA's flagship publication endorsed four nominees who "stand for gun rights." Since then, the Senate confirmed one for a seat on the 10th Circuit Court of Appeals; the Senate Judiciary Committee approved two on strict party-line votes; and the fourth had a confirmation hearing last week.
More NRA-approved judges are in the pipeline.
Take Brett Talley, a candidate for the federal trial court in Alabama, whose nomination is expected to reach the Senate floor this week. Talley graduated law school only in 2007, so he lacks the American Bar Association-recommended minimum of 12 years of legal experience. His Senate paperwork shows political experience writing speeches and op-eds for Sen. Rob Portman, R-Ohio, and Mitt Romney, the 2012 GOP presidential nominee. It also shows Talley has never held judicial office or tried a case. But he does enjoy writing horror fiction and participating in the Tuscaloosa Paranormal Research Group — both highlighted on Talley's resume.
If Talley's CV lacks the breadth of legal experience typical of many past nominees, it passes the gun lobby test with flying colors. A month after 20 first-graders were killed at Sandy Hook Elementary School in Connecticut in 2012, Talley wrote that we were learning "the wrong lesson from Newtown." Retailing the good-guy-with-a-gun rhetoric, he called for public school teachers to carry guns. Later, in a post on his personal blog, Talley issued a "call to arms." Democrats, he wrote, planned "the greatest attack on our constitutional freedoms in our lifetime." In response, Talley pledged his "support to the NRA; financially, politically and intellectually."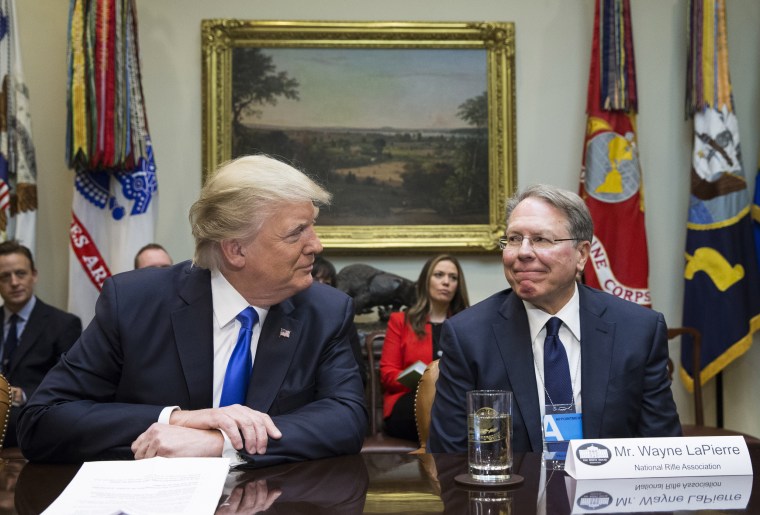 To be sure, not everyone Trump has nominated to the bench has explicitly pledged intellectual fealty to the NRA. But the pattern is troubling, and reflects a long history of gun lobby attempts to capture the courts.
Tax records and campaign filings show the NRA "has funneled millions of dollars to a front group that spends its money electing judges" in state races, writes Billy Corriher at the Center for American Progress. Meanwhile, the Brennan Center for Justice at New York University Law School has documented NRA-funded efforts to buy state supreme court justices that go back nearly two decades. (Full disclosure, I was senior counsel at the Brennan Center from 2008 to 2013.)
What is unprecedented is how much sway the NRA now holds over who is confirmed for life-tenured seats on the federal bench.
What is unprecedented is how much sway the NRA now holds over who is nominated and confirmed for life-tenured seats on the federal bench.
That is a recipe for an extraordinarily conservative judiciary likely to hand down dangerous rulings in gun cases across the spectrum. The NRA is asking the courts to say it is unconstitutional for state or local governments to stop civilians from carrying openly visible guns on crowded city streets across the country. The gun lobby has argued that it violates the Second Amendment to mandate criminal background checks on gun sales; that it is unconstitutional to protect kids from gun accidents by requiring guns to be stored safely; and that it was "illegitimate" and "corrupt" for judges to enforce laws prohibiting convicted domestic abusers from possessing firearms.
To date, most courts have recognized that public safety regulations have always coexisted with gun rights and rejected the most extreme NRA positions. Even Justice Antonin Scalia, a staunch defender of gun rights, understood that the Second Amendment was "not unlimited." Republican judges like Frank Easterbrook and J. Harvie Wilkinson III have explained that nothing in the U.S. Constitution prevents governments from experimenting with solutions to address the very real problem of American gun violence.
It is one thing if the current Congress lacks the courage to tackle domestic gun violence. It would be another thing altogether for the judicial branch to say the Second Amendment prevents legislators from banning bump stocks, regulating the assault weapons used in Las Vegas and Texas, or otherwise addressing the gun violence that claimed 38,000 lives last year.
As Wilkinson, who is on the U.S. Court of Appeals for the Fourth Circuit, wrote, if courts cripple the ability of our elected representatives to tackle gun violence, it would "deliver a body blow to democracy as we have known it since the very founding of this nation." If Trump's new judges elevate the Second Amendment above all other rights, it would wreak incalculable damage to public safety.
It is hard to know what is more troubling — that some of Trump's judicial nominees seem not to understand this, or that the Senate GOP majority, in its rush to pack the courts, seems not to care.
CORRECTION (Nov. 7, 11:00 a.m.): An earlier version of this article misstated the years when the author worked at the Brennan Center. He worked there from 2008 to 2013.
Adam Skaggs is chief counsel at the Giffords Law Center to Prevent Gun Violence. He previously led the Fair Courts project at the Brennan Center for Justice at New York University Law School.