All of Quentin Tarantino's movies are about how much he loves movies — and "Once Upon a Time in Hollywood" is no exception. A mélange of pulp styles, obscure and less obscure references and Hollywood legend, it's a virtuoso effort to write himself into history.
It's also, unfortunately, an almost three-hour long reminder of Tarantino's glaring blind spots. For all his self-reflection and self-dramatization, there are things about the movies the director refuses to see, or to put on screen. Without them, "Once Upon a Time in Hollywood" is less a fairy tale than a false alibi.
For all his self-reflection and self-dramatization, there are things about the movies the director refuses to see, or to put on screen.
The movie is set in 1969. The bulk of the plot leisurely follows the career of aging action star Rick Dalton (Leonardo DiCaprio) and his stuntman, driver and best friend, Cliff Booth (Brad Pitt). Dalton happens to live next door to Sharon Tate (Margot Robbie). In real life, Tate was murdered by members of a commune led by Charles Manson. The film ends with a fictionalized version of Tate's final night, in which Dalton and Booth play leading roles.
Most of the movie is less about its slow-moving plot than it is a chance for Tarantino to perform a series of homages to film styles he loves. There are lengthy scenes of Dalton — old, alcoholic, but still with a spark — playing a mustachioed Western bad man, not unlike the one DiCaprio played in Tarantino's "Django Unchained." A shorter sequence has excerpts from one of Dalton's World War II films, unleashing a flame thrower on the Axis high command in a deliberate nod to Tarantino's own "Inglourious Basterds." We also see Dalton playing a spaghetti Western cowboy, a villain in an FBI drama, taking the place of Steve McQueen in another war film and (post credits) performing in a period cigarette ad.
This is all good fun, and delightfully watchable, even at 160 minutes. But it's also uncomfortably vacuous. In his best movies, Tarantino comments on, or reworks, his source material. "Inglourious Basterds," for example, raises questions about what it means that American anti-fascist films are so similar to Nazi cinema. "Pulp Fiction" bends and twists pulp narratives to see if they can avoid the same violent end.
"Once Upon a Time in Hollywood," though, is so caught up in its mythmaking that it starts to feel hollow and uncanny, like you're watching "Invasion of the Body Snatchers." That's most evident in the film's portrayal of Sharon Tate. You'd think that part of the point of a film like this would be to remind us that Tate was a human being, not just a famous murder victim. But Tarantino treats her as nothing more than a pretty image. She has little dialogue, instead spending most of her time on screen grooving to records while the camera watches. The most personal glimpse of her we get is when she goes into a small movie theater to watch herself perform with Dean Martin in "The Wrecking Crew." Even Sharon Tate is watching a flatter version of Sharon Tate.
"Once Upon a Time in Hollywood," though, is so caught up in its mythmaking that it starts to feel hollow and uncanny, like you're watching "Invasion of the Body Snatchers."
The insistence that the Hollywood you see is the Hollywood you get is partly an elegiac wish. Tarantino wants to remake reality, like Hollywood does, and turn it into something better. It's an understandable impulse. If "Once Upon a Time in Hollywood" were truer to life, it would likely be an intolerable film.
But Tarantino's fantasies in this case aren't just covering up someone else's ugly history. They're covering up his own. At one point, Dalton jokingly says that the filmmakers can do anything they want to his stunt double — drop him off a building, or set him on fire, if that's what they need to do to get the shot done. It's a joke. But, unfortunately, as we learned in a 2018 New York Times interview with Uma Thurman, directors do sometimes disregard their actor's well-being. Tarantino forced Thurman to do a driving stunt in "Kill Bill: Volume 2" she thought wasn't safe. She was right; the car crashed, and she ended up being hospitalized.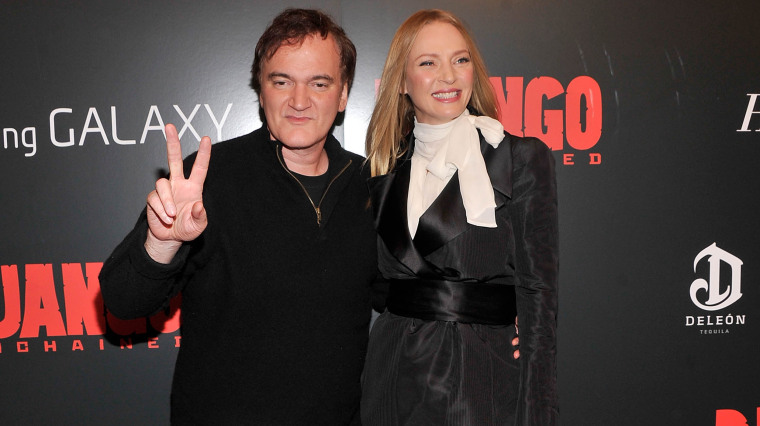 Thurman's interview was mostly about another man who abused her in Hollywood, though: Harvey Weinstein. Weinstein produced Tarantino's early films. He's also been accused of harassing and sexually assaulting dozens — if not hundreds — of women in addition to Thurman.
But in Tarantino's film, you'd never know sexual harassment and workplace safety were problems in Hollywood. There are no handsy men pressuring actresses for sex. The character of Roman Polanski (Rafał Zawierucha), Sharon Tate's husband, is just a nice guy genius, despite the fact that in the years since her death he's been accused of a number of sexual assaults of underage girls, and he pleaded guilty to charges that he raped a 13-year-old. (Tarantino defended Polanski and smeared his victim in a 2003 interview. He has since apologized.)
The only unreasonable person of power in Tarantino's film isn't a predatory man, but a female stunt coordinator. She is mean to Booth because he murdered his wife and got away with it. Booth's history of violence is waved away with a flashback of his wife being a jerk. His history of violence against women is treated as a punchline — or as an inspiring prelude, since he gets to heroically kill several more women in the picture's exciting finish.
The good guys in "Once Upon a Time in Hollywood" are the swaggering cowboys. Booth is tough talking, hard drinking, loyal and has a hard right hook, just like all those white hats on screen. The bad guys are … also kind of swaggering cowboys. One of the Manson family clan in the film is named Tex, and the feral hippies talk about how all the old television heroes taught them to kill. There's the good American Hollywood dream and the bad American Hollywood dream, and the two wind around each other. That's supposed to make Tarantino's movie ambivalent and complicated.
But film isn't just a dream. It's also a job, and often an exploitive one. The tragedy of Hollywood, for plenty of people who work there, is that many of the swaggering geniuses who love the industry and the thrill of storytelling treat their subordinates with exploitive, disdainful cruelty. Moviemakers, like bosses in many industries, harm those who work for them for the sake of the job, or for the sake of their own egos, or just for the hell of it.
Tarantino's Hollywood in his latest film is one in which the #MeToo movement isn't necessary. It's one in which he doesn't have to acknowledge his own power, or the power of his friends and idols, or how he and they have used that power for ill. "Once Upon a Time in Hollywood" presents itself as inspired mythmaking. But you could also see it as a self-serving lie.