A staggering 18.2 million viewers watched the premiere of the tenth season of "Roseanne" (almost exactly 21 years since the show went off the air), making it the highest rated comedy in four years. Team Trump, of whom creator Roseanne Barr has been a vocal supporter, played the ratings as a win for their political side, with Don Jr. tweeting out congratulations, Ivanka following Roseanne on Twitter and the president even calling her.
But the Conners' politics were mostly just played for laughs in the new season, even if they were more explicit than in the original, when it went unspoken that both Roseanne (played by Roseanne Barr) and her husband Dan (John Goodman) probably voted for Reagan – though GOP policies were what kept their family mired in the lower middle classes. Politics aren't actually a serious part of the updated story; they're part of the updated landscape. We all talk politics now, even those of us who never would have thought to do so 30 years ago, and most of us sound like fools when we do.
Jackie (Laurie Metcalf) makes her entrance in a so-called pussyhat and a Nasty Woman t-shirt and proceeds to rattle off a laundry list of "deplorable"-like insults, including accusing Roseanne and Dan of "clinging to their guns," a reference to then-Sen. Barack Obama's 2008 gaffe now seen by some as prescient. Roseanne has the typical "Make America Great Again" attitudes, and yells equally ridiculous things like "Snowflake." These are not serious discussions of our modern politics; but, then, maybe modern politics are bereft of serious discussions at this point.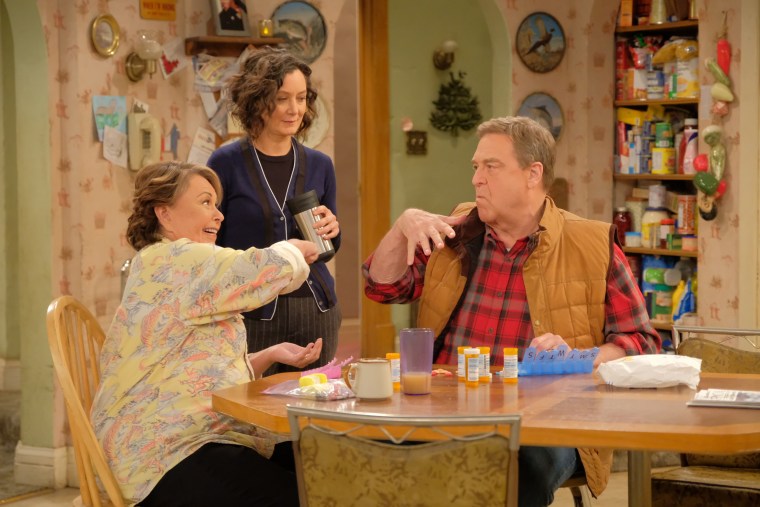 Barr's own support for Trump polarized viewers before it even hit the airwaves, but the Illinois-dwelling Conner family are the perfect avatar of the Trump-voting family as conceived by liberal coastal media like The New York Times. Much like when the show debuted 30 years ago, wages have been stagnant for a decade or more. The stratification of the classes has worsened. The financial and social struggles of working-class families like the Conners have only gotten harder, particularly in a society obsessed with giant houses, giant TVs and $1,000 iPhones.
"Roseanne," in other words, returned at a time that the Conners are relevant to the national conversation again.
"Rosanne" was a hit when it first landed, in large part because it did not depict the big-city, moneyed life of so many other sitcoms of its era (like "The Cosby Show" and "Murphy Brown"), but portrayed a struggling working-class family. But, unlike earlier working class family shows (like "All In The Family" and "The Jeffersons") there was nothing sentimental about the Conners: Roseanne and Dan were all the things that TV had stereotyped as "bad parents." They yelled at their kids when they weren't outright ignoring them, and were so consumed with simply surviving they didn't have much energy to parent.
The reality is that most people's political or ideological alignment often breaks down when their day-to-day realities don't fit a party's policy platform.
But they weren't bad people. They kept the lights and television on, food on the table (even if it was fast food) and the roof over their family's heads. In the years since, we've but rarely seen this replicated on TV, and never with such mainstream appeal and cultural longevity.
Their kids weren't the stereotypical strivers of other family sitcoms; their choices let viewers know that Becky, Darlene and D.J. were not the types to break the unspoken class barrier that existed and still exists in America. And, when we meet them again in 2018, they haven't: Becky (played by Lecy Goranson, aka "Original Becky") is selling her eggs to make ends meet. Darlene (Sara Gilbert) is "unpartnered" with two kids, out of a job and forced to move back home. D.J. (Michael Fishman) and his wife are in the military; he's home, and she's deployed. None of the Conner kids found the upward mobility the American dream supposedly promised, or even a big house to hold over the heads of their parents as a sign of success.
Even the choice to portray Roseanne as a Trump-voter is less stereotypical than the voters seen in media profiles. She begrudgingly supports Becky being able to make reproductive choices, even if she privately — or not so privately — thinks that it's a terrible idea to be a surrogate, especially to someone she rightly judges as an upper-class twit. (Said upper-class twit, Andrea, is played by Sarah Chalke, aka "Becky 2.0," in what is perhaps the cleverest double casting in a decade.) Darlene's son Mark is portrayed as gender-fluid, and the show manages to portray both the shows characters' support and love for him as an individual while being realistic that such support is not a sign of radical change about the gender norms themselves.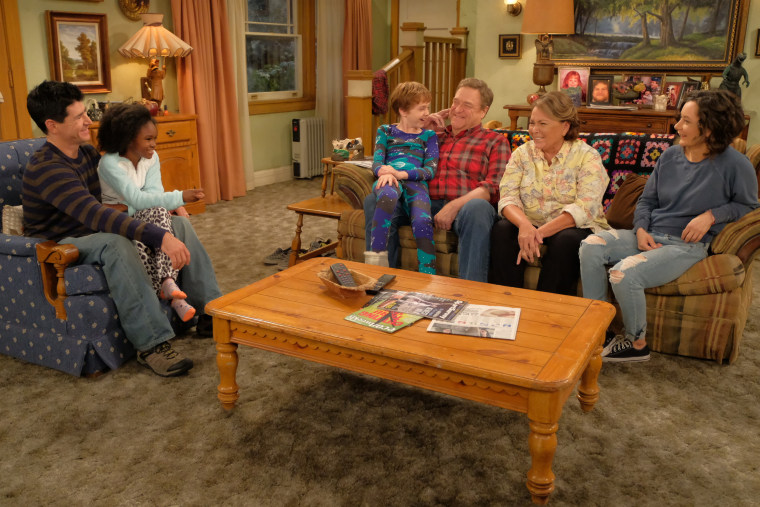 The reality is that most people's political or ideological alignment often breaks down when their day-to-day realities don't fit a party's policy platform. It's that exact contradictory mindset that isn't being grappled with anywhere else, and clearly, there is a hunger for it both among those who voted for Trump and those who still struggle to understand how anyone could have.
Barr and the show needed to reimagine what the Conner family's life would be in, as the executive producers pitched it, "The Time Of Trump." Most revivals and reboots fails because they believe their shows don't need to change to fit the times. The success of "Roseanne" is a lesson that allowing characters to update to the changing landscape while keeping the original chemistry of the old show will pull in the viewers, no matter how the politics swing.
Ani Bundel has been blogging professionally since 2010. Regular bylines can be found at Elite Daily, WETA's TellyVisions, and Ani-Izzy.com.