The Popeyes chicken sandwich frenzy seemingly has no end in sight. People have been waiting hours for it, and it is said to put Chick-fil-A's rival offering to shame. Black folks on social media have made this moment fun, finding joy amid a constantly punishing news cycle. Unfortunately, the cost of having public displays of Black joy is always high. For Black people, our joy has to always be juxtaposed against a struggle or need, tempering the job while also removing our ability to even do something as small as eat without thinking about oppression.
Black people don't need special fast food voting booths; Suggesting they do plays into problematic (and frankly racist) talking points about lazy Black people who can't or won't vote.
As lines wrapped around the block, a young Black boy had a smart idea. David Ledbetter, 17, went to his local Popeyes in Charlotte, North Carolina, and set up a booth to register Black folks to vote as they waited in line. To the teen's surprise, when asking customers in line he learned that most of the people waiting were already registered to vote. Registering is not the same thing as voting, but the fact that so many people in line were registered offers at least a partial rebuttal to the perception that many Black people aren't interested in the right.
But social media took Ledbetter's good idea and turned it into something much less helpful.
Artist Janelle Monáe suggested on Twitter that "perhaps we put voting booths at every Popeyes location?" Actress Cynthia Erivo, star of the upcoming Harriet Tubman biopic, chimed in to agree.
The problem is that Black people don't need special fast-food voting booths; suggesting they do plays into problematic (and frankly racist) talking points about lazy Black people who can't or won't vote. Indeed, Republican elected officials over the past decade have repeatedly used rhetoric about how Black people will stand in line for food stamps or to get "free stuff." The party's presidential nominee in 2012, Mitt Romney, claimed that Barack Obama beat him because Obama was offering "gifts" to Black voters. A few years later, Jeb Bush was quoted as stating: "Our message is one of hope and aspiration. It isn't one of division and 'Get in line, and we'll take care of you with free stuff.'"
Whether or not they're trying to echo people like Newt Gingrich, those asking this week if people willing to wait in line for chicken were also willing to wait in line to vote sure sounded a lot like "welfare queen"-obsessed Republicans.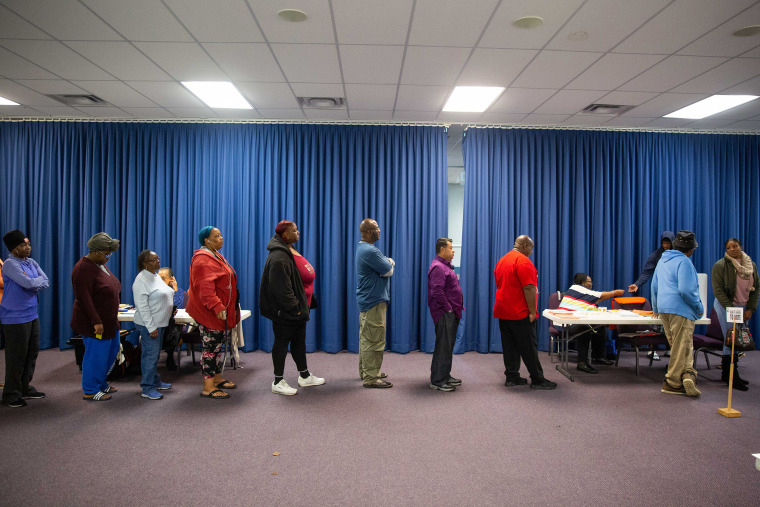 Because not only is this rhetoric insulting, it's inaccurate. The truth of the matter is Black people will and have waited in line hours to vote, and it's our tenacity that has gotten us this far despite the systems against us.
Voter suppression, not Black voter laziness, is the real problem here. (And by the way, low voter turnout is in no way a "Black" problem.) Although Black people make up only 13 percent of the population, we account for over 30 percent of the prison population, the highest of all racial groups. Felons lose their right to vote in most states, and incarceration has aided in the suppression. Florida recently gave the right to vote back to nearly a million felons, something that is sure to make a difference next election — most of those felons being Black and brown people.
Other issues affecting voting while Black in America include racially biased gerrymandering and the closing of polling stations in predominantly Black areas. Look no further than the 2018 Georgia gubernatorial race between Stacey Abrams and Brian Kemp. Her opponent used every tactic to drive down the Black vote, an effort that succeeded. From issues with machines in majority Black counties to the purging of Black voters from registration rolls, the suppression attempts were real. Abrams has since filed a lawsuit to overhaul the current election process in Georgia.
Black people must be allowed to exist — to find joy on social media and, yes, even silly fast-food rivalries — without our motives or oppression coming into question. Our support for a new trend or fad shouldn't come with a "but." Not to mention the very long and very sensitive history of prejudice tied to Black enjoyment of foods like fried chicken.
To be very clear, the Black vote is desired because we vote in high numbers and remain one of the most loyal voting blocs in America. Black women have supported the Democratic Party en masse for decades — even when the party didn't wholly support them — and that isn't going to change anytime soon. When it comes to stereotypical rhetoric, joking or serious, our bar has to be higher. We've been traumatized enough — let us enjoy that spicy chicken sandwich in peace. And have some faith: Black folks can eat and vote at the same time.