Scott Pruitt, the embattled director of the Environmental Protection Agency, is at war with what he calls the "regulatory state," but to aging Republican environmentalists, Pruitt is a "disgrace" who wants to unravel President Richard Nixon's proudest domestic achievement. The latest example of this is Pruitt's April 2 announcement that he plans to revise the fuel-efficiency regulations for cars and light trucks put in place by President Barack Obama's administration.
Notwithstanding the shame of Watergate, Nixon is known within the environmental community as one of the two most important presidents of the 20th century. His only peer is another Republican, Teddy Roosevelt. Roosevelt secured his place in environmental history by vastly expanding federal protections for land and wildlife, while Nixon's legacy arises from anti-pollution measures that had a practical impact on homes and workplaces.
Notwithstanding the shame of Watergate, Nixon is known within the environmental community as one of the two most important presidents of the 20th century.
Certainly no other chief executive can match Nixon's record for cleaning up the nation's land, air and waters. In fact, in recent months, the EPA administrators and Interior Department officials who served in the Nixon-Ford administrations have taken on President Donald Trump's appointees at EPA and the Interior Department for what they see as a shameful effort to restore American industry's right to pollute. William Ruckelshaus, appointed the EPA's founding director when Nixon created the agency by executive order in 1972, started the outcry with an op-ed piece condemning Pruitt in the Washington Post in November 2017.
Ruckelshaus's allies — dubbed "the Nixon A team" by former Assistant Secretary of the Interior Nathaniel P. Reed — are not mincing words. "Scott Pruitt is a national disgrace," Reed, the elder statesman of Florida's Everglades protection movement and a longtime leader of the state's GOP establishment, told me in an email. "I deeply regret that the few Republican senators who have a record of caring about the full range of activities that EPA is deeply involved in ever voted for him. Frankly, they should be ashamed!"
Nixon's superior record as a friend of the Earth may have been largely forgotten by the general public and his own party, but it cannot be erased from history. As Amos Eno, former executive director of the National Fish and Wildlife Foundation and a President Gerald Ford appointee at Interior, puts it, Nixon "constructed the infrastructure of national anti-pollution regulation." He did this with a series of laws signed between 1969 and 1974 that cleaned up the nation's air and water, and set up protections for endangered species and marine mammals.
Indeed, neither Nixon nor the Democratic Congresses that passed his Clean Water Act and Clean Air Act can be accused of inattention. Nathaniel Reed recalls the newly inaugurated Nixon calling him, Interior Secretary Rogers C.B. Morton (his boss), Council on Environmental Quality head Russell E. Train and Ruckleshaus into a meeting to plot his environmental enforcement strategy. "I don't give a darn about the environment" in comparison to other pressing issues, Nixon told the group, according to Reed. "But what I want from you, Morton, Train, and Ruckleshaus is a better environmental record than Jack Kennedy. But don't get me into too much trouble."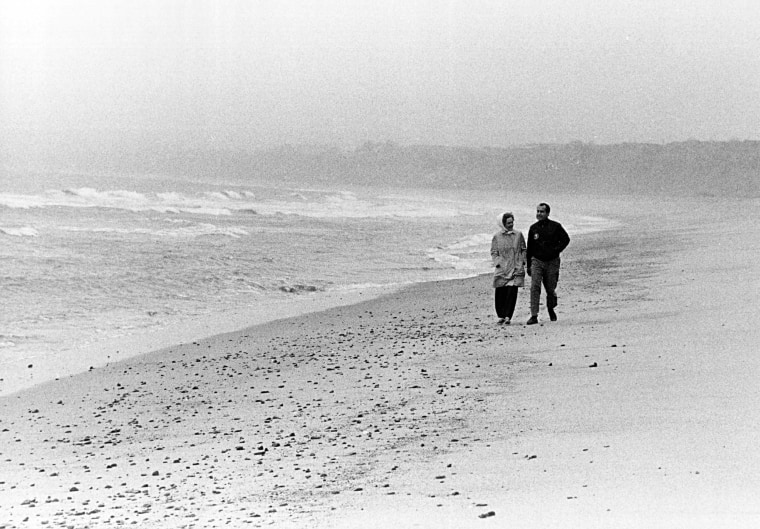 But with the election of Ronald Reagan in 1980 and his alliance with the anti-regulation Sagebrush Rebellion movement in the Mountain West, the GOP veered away from Nixon's idea that "the time has come for man to make his peace with nature." Reagan's appointment of Sagebrush ideologue James Watt as Interior Secretary in 1981 set the pattern favored by Trump of putting foxes in charge of the henhouse.
Watt could not survive politically, thanks in part to alienating Nancy Reagan by trying to prevent the Beach Boys from performing on the Washington Mall. Pruitt faces more serious threats, after reports that has been getting favorable rent from lobbyists, and reducing a fine against Syngenta for exposing farmworkers to a toxin made by Dow from $4.9 million to about $500,000.
But the Nixon era would still end up as the high tide for environmental stewardship in a modern Republican White House. Under President George W. Bush and Vice President Dick Cheney, the retreat started by Reagan turned into a rout.
Under President George W. Bush and Vice President Dick Cheney, the retreat started by Reagan turned into a rout.
When the 1974 Safe Water Drinking Act came up for renewal in 2005, Cheney inserted the notorious "Halliburton loophole" allowing an exemption for his former employer, the Halliburton energy firm, to use toxic chemicals in its fracking operations. As devoted defenders of Big Oil, neither Trump nor Pruitt is expected to stitch up Cheney's titanic loophole.
While Nixon crafted a commanding federal role in environmental enforcement, Scott Pruitt's planned cancellation of auto-pollution standards — among other initiatives — demonstrates his desire for the EPA and states to be "partners and not as adversaries" in a sweeping rollback of the regulatory state. But Pruitt does seem to share with Nixon a certain arrogance about the perks of office and a taste for tough political talk. In that regard, he may meet a fate that Nixon aide John Ehrlichman once wished on a political enemy: "to twist slowly, slowly in the wind."
Howell Raines was executive editor of The New York Times from 2001-2003, editorial page editor from 1993-2001, and prior to that Washington editor, national political correspondent and London bureau chief. Raines won the Pulitzer Prize for feature writing in 1993. He currently lives in Fairhope, Alabama, in the winter and spends his summers in Henryville, Pennsylvania.
Read more: Reagan won over voters with his authenticity. But letting 'Trump be Trump' may prove trickier.
Conor Lamb and Doug Jones: What two Democratic upsets in Trump country suggest about the 2018 midterms