On Saturday afternoon, 20-year-old Naomi Osaka, the newly minted U.S. Open champion and first-time grand slam winner, stood on the stage at center court, pushed her visor down to cover her eyes, and cried. The young Haitian-Japanese player had just played outstanding tennis against her idol, Serena Williams, and she had won. But these were not tears of joy. The crowd was booing loudly. Williams put her arm around Osaka's shoulders and hugged her.
Osaka had earned her victory, but her play was overshadowed by the battle going on between Williams and chair umpire Carlos Ramos. Ramos called a series of violations against Williams, ultimately resulting in a game penalty at a crucial moment in the final of a grand slam. The penalty put Osaka only one game away from the title.
Williams pleaded her case on the court, to no avail. After the match, in her post-game press conference, Williams reiterated that for her, this was about gender inequity within the sport. She felt the punishment was "sexist" and that she had been punished more harshly than male players. For all of tennis' rigidity, umpires often give informal warnings, sometimes no warnings at all. That she got no warnings, no leeway, no soft landing, Williams believes, was because she was a woman.
The U.S. Open final put a dramatic exclamation point on a series of incidents in just the past few months that have reminded fans and competitors alike that sexism continues even at the sport's highest levels.
She's not wrong to fear that. Indeed, the U.S. Open final put a dramatic exclamation point on a series of incidents in just the past few months that have reminded fans and competitors alike that sexism continues even at the sport's highest levels. Male and female prize money for the grand slams has slowly become more equal (this is notably not true at lesser tournaments), but in big and small ways the sport continues to suffer from vestiges of its patriarchal origins.
Williams ended her post-game press conference by saying, "I'm going to continue to fight for women. The fact that I have to go through this is just an example for the next person that has emotions and that want to express themselves and they want to be a strong woman, and they are going to be allowed to do that because of today. Maybe it didn't work out for me, but it's going to work out for the next person."
That last sentence there is the perfect encapsulation of the two decades she — and her sister, Venus Williams — have spent on the professional tennis circuit. Serena's entire career has been forging a path where people told her she couldn't go and clearing the way for those coming behind her, certainly for women but especially other black women.
In her post-game press conference, Williams mentioned the fine French player Alize Cornet received during the US Open this year for removing her shirt on court (she had a sports bra on underneath, oh my!). But when asked about the fine, Cornet noted that recent comments by the French Tennis Federation president, Bernard Giudicelli, about the catsuit Williams wore at the French Open this year were "10,000 times worse than what happened to me on the court on Tuesday." Giudicelli had said that Williams wearing the catsuit was not respectful of the sport or the place. Cornet said the official "lives in another time."
Beyond clothing, there are other issues of sexism in the sport. Tennis achieved pay equity at the grand slam level in 2007 when Wimbledon, in large part thanks to the lobbying of Venus Williams, finally got on board. But there is still significant gender pay disparity throughout the rest of the tour at the smaller events.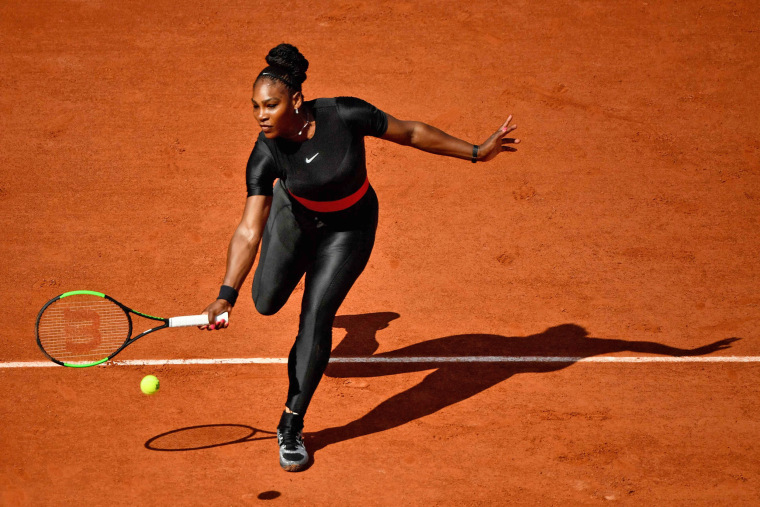 Forget whether Serena can yell at a chair umpire without being penalized, this is a sport that still debates whether women on court are making too much noise.
This is a sport where female umpires face sexist attacks but without the accompanying outrage we've seen about how Williams acted towards Ramos.
And then there are the blatant examples that lay it all bare. It was only two years ago that Raymond Moore had to step down as chief executive of the prestigious Indian Wells Tennis Garden because he said, "If I was a lady player, I'd go down every night on my knees and thank God that Roger Federer and Rafa Nadal were born, because they have carried this sport."
Of course, for Williams, all of this is amplified because she is a black woman. She has faced racist and sexist attacks since her earliest days playing tennis. The stakes will likely always be higher for her, and how she is judged (by Ramos, by all of us) is filtered through a particularly harsh prism. Black women, in particular, are seen as angry and their anger is a threat. Already in the wake of Saturday's match there are racist caricatures of Williams being published.
I keep thinking about a young black woman who, through no fault of her own, had to endure boos from a tennis crowd. In 2001, fans at Indian Wells, angry that sister Venus had pulled out of an all-Williams-sisters' semifinal match, booed Serena and cheered her mistakes. Williams, then only 19, won anyway. Neither sister returned to the tournament for 14 years.
Osaka's poise on Saturday has been praised and rightly so, as tennis is as much a game of the mind as the body. Lesser players might have mentally collapsed; she did not. Perhaps she learned some of that toughness by watching the Williams sisters over the years.
Tennis still has far to go when it comes to equality. It has a long history to overcome. But too often over the last two decades, the growth in the sport has come at the expense of its most dominant player. One hopes that Williams is right and that her speaking up now will lessen the burdens on the women, particularly the black women, who follow.