For feminists, this is a watershed moment. All around us, once-mighty men are being swept up — and sometimes swept out of their jobs — in sexual harassment and assault allegations.
At first, it was a slow drip — Bill Cosby, Roger Ailes and Bill O'Reilly saw their careers capsized by women who alleged years of bad behavior. Then came The New York Times and the New Yorker's reporting on media mogul Harvey Weinstein's alleged acts of sexual assault and harassment, and the levy was breached.
Now, the flood of women's voices grows more powerful every day as more allegations against powerful men go public across industries and continents, from the British Parliament (36 members have now been accused of impropriety) to the United States Senate (Alabama Senate candidate Roy Moore stands accused of molesting teenage girls). In the U.S. media, NBC's Mark Halperin, New Republic publisher Hamilton Fish and former literary editor Leon Wieseltier are all under scrutiny; back in Hollywood, so are Kevin Spacey, James Toback and Louis C.K. This has, in turn, given rise to wave of rapid responses across industries and continents: There are investigations in Parliament, and Moore is being pushed to step aside. Male media luminaries and Hollywood golden boys have lost their jobs. (Moore, Toback and Fish deny the allegations; Halperin, Wieseltier, Spacey and Louis C.K. have offered apologies for their behavior.)
So why do I feel more apprehensive than celebratory?
Part of the anxiety is because we saw this same supposed culture-changing force a year ago — when a tape surfaced of GOP presidential nominee Donald Trump bragging about grabbing women "by the pussy" because "when you're a star, they let you do it. You can do anything."
I was sure it was a campaign-ender. But it turns out he was correct: When you're Donald Trump, a shocking number of people do let you do anything — including win a presidential election after you've boasted about your proclivity for sexual assault.
The ground is indeed shifting beneath us. But that has feminists like me feeling unstable too.
But it was Trump's win — and the distress it engendered in so many women — that set the stage for this moment of truth-telling and accountability-demanding. The ground is indeed shifting beneath us. But that has feminists like me feeling unstable too.
Finally doing something about sexual harassment is, no doubt, feminist progress. Listen closely, though, and you can hear a backlash brewing. It's not going to be pretty. And we need to start preparing for it now.
Already, director Woody Allen, himself on the receiving end of molestation claims from his own daughter, has likened the current environment to a "witch hunt." (Allen has repeatedly denied abusing his child.)
After a small group of women created an anonymous list of "Shitty Media Men" to formalize the mostly-female whisper networks that warn of workplace harassment, Victor Navasky, The Nation's former editor and publisher emeritus, told Deadline: "I believe it's very good to raise peoples' consciousness about how women have been abused in the marketplace. But from my study of the blacklist and the McCarthy hearings, I think lists are dangerous." He added, "In times like these, hysteria can take over that ignores individuals." (Of Fish, who left the Nation Institute following harassment claims, Navasky said, "I have great affection and respect for Ham, and I am very sad.").
Right-wing conspiracy-monger Mike Cernovitch, himself accused of rape and violence against women, has threatened to publish the whole media list. (The rape charge was dropped in 2003 but Cernovich was ordered to do community service.) He seems to be holding off only because his lawyers have cautioned against it — turning what was a radical if enormously flawed feminist effort into a weapon wielded against the left.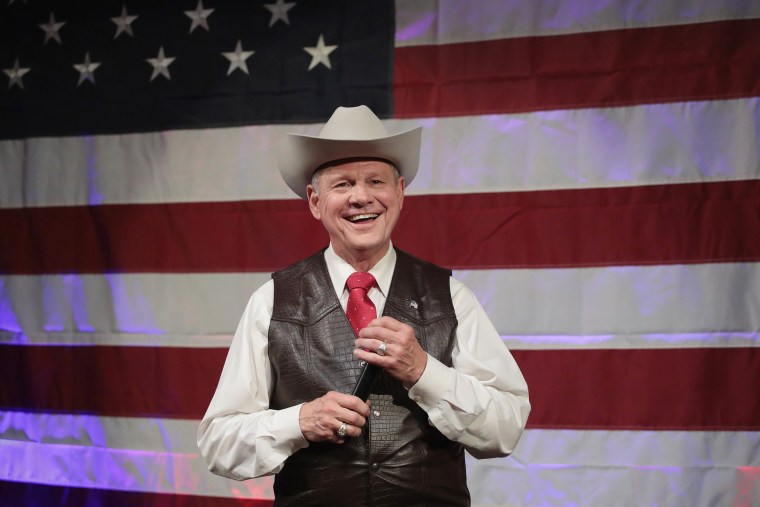 Meanwhile in Alamaba, Roy Moore's supporters — and voters — have quickly closed ranks. Moore himself has threatened to sue the Washington Post; he also sent out an email fundraising on the allegations, arguing that the they were "the forces of evil."
In the background, Facebook and Twitter have been full of liberal women's stories of harassment and assault, hashtagged #MeToo. No similar movement has flooded conservative women's social media feeds. Not because sexual harassment is a liberal problem (looking at Roy Moore, Fox News and the White House, it's clearly not), but because progressive individuals and institutions are now taking it more seriously, either out of genuine dedication to women's rights or fear of being branded hypocrites.
There exists no similar accountability or trepidation on the right. Right-wing provocateurs like Cernovitch realize that, and are happy to exploit it. This will likely fuel some ugly intra-left tribal alliances: When progressives see men they like or respect accused of harassment, and see those accusations weaponized by someone like Cernovitch, it'll may get a lot easier to accept the "witch hunt" narrative.
Should a single one of these accusations end up false, or even slightly exaggerated, it won't be big men who see their positions threatened — it'll be feminists, and every woman who speaks out against a powerful man.
We need to hold men on the left and the right accountable not just for assault, but for enabling and ignoring it.
Let's not kid ourselves: Men still dominate positions of power in nearly every U.S. industry. Heads are only rolling because those same men have decided the costs of ignoring sexual harassment and assault claims are simply too high.
That calculus could easily change, and if it does — and I believe it will — the swing will be stunningly swift. Which doesn't mean women should stop talking. But it does mean we need to demand more than individual firings. We need to ensure that workplaces have clear reporting mechanisms to formalize what is currently too often an ad-hoc process. And we need to push for real female power — for women to take the place of many of them men currently at the top of nearly every industry. That won't totally prevent abuse, but it certainly would lessen it.
And we need to continue to hold men on the left and the right fully accountable not just for assault, but for enabling and ignoring it — make sure there's a cost not only to groping your coworker, but to ignoring a coworker groping another.
This is an opportune moment, and women who are tired of carrying the secret of harassment and assault should speak now if they want to be heard.
Our ostensible allies may not always be so ready listen.
Jill Filipovic is a journalist and the author of "The H-Spot: The Feminist Pursuit of Happiness."