Former Justice John Paul Stevens died July 16 at the age of 99. As the third-longest-serving associate justice in the history of the Supreme Court, there is much to praise in Stevens' long life and admirable career. But in an era of perceived hyperpartisanship, it is worth focusing for a moment on just one of the judge's decisions — a decision that resonates in an era when the partisan and ideological leanings of individual justices remain a constant concern. For years, this opinion was considered a mistake. Today, it looks better than ever.
Stevens became a federal judge and then a justice in large part because of his nonpartisan reputation as a special prosecutor in 1960s Illinois. A state commission was investigating two Republican state judges accused of concealing their financial interests and other financial improprieties. The commission hired Stevens, another Republican, to be the special prosecutor. Some critics expected a partisan exoneration, but to their surprise, Stevens was dogged and relentless, discovering damning facts and forcing both judges to resign in 1969.
Many partisan Democrats condemned Jones v. Clinton, the decision that led to Clinton's impeachment. But today, it stands as a model for those who care about the rule of law, country over party.
A year later, President Richard Nixon appointed Stevens to the federal bench. And a year after Watergate in 1975, President Gerald Ford found Stevens the perfect anti-corruption Republican to nominate to the Supreme Court. It was an auspicious start to Stevens' career on the Supreme Court bench. Decades later, the nation was once again focused on the question of high crimes and misdemeanors, this time regarding President Bill Clinton. Many partisan Democrats condemned Jones v. Clinton, the decision that led to Clinton's impeachment. But today, it stands as a model for those who care about the rule of law, country over party.
Clinton stood accused of sexual harassment by Arkansas state employee Paula Jones. In a 1994 civil suit, she alleged that in 1991, Clinton, then the governor, had a state police officer bring her to his hotel room where he made a sexual advance. The federal trial judge ruled that a sitting president could not be sued for private conduct.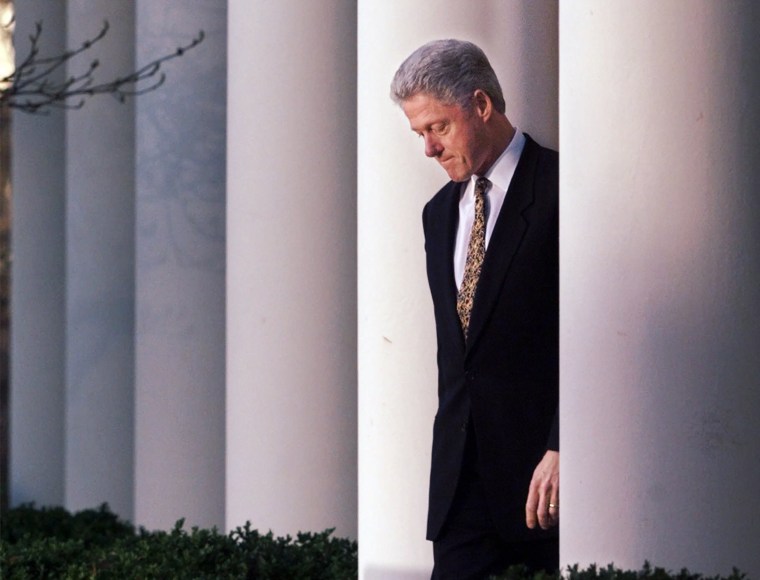 By 1997, it was no longer salient that Stevens had once been a Republican and nominated by a Republican. Along with justices David Souter (another Republican appointee), Ruth Bader Ginsburg and Stephen Breyer, Stevens was seen as a liberal justice. But liberal or not, the court did not hesitate. It confronted the powers of a Democratic president head on. Writing for a unanimous court, Stevens ruled that the president is not immune from civil suits for private acts.
In that same decision, Stevens rejected some of the formal and extreme separation of powers arguments we have heard recently in favor of presidential immunity. He quoted the Founders, like James Wilson, who said "that, although the President 'is placed [on] high,' 'not a single privilege is annexed to his character; far from being above the laws, he is amenable to them in his private character as a citizen, and in his public character by impeachment.'" Stevens explained that while a president may be immune from civil litigation when acting as a public official, he "is otherwise subject to the laws for his purely private acts."
Stevens also cited James Madison on the importance of checks and balances: "As Madison explained, separation of powers does not mean that the branches 'ought to have no partial agency in, or no control over the acts of each other.'" Stevens cited precedent, Mistretta v. United States, to explain: "[O]ur system imposes upon the Branches a degree of overlapping responsibility, a duty of interdependence as well as independence the absence of which would preclude the establishment of a Nation capable of governing itself effectively."
Stevens was making a very important critique of today's conservative but ahistorical formalism about separation of powers. Madison emphasized "checks and balances," which requires overlapping powers, more than a formal separation that would prevent checks and balances. Conservative "originalists" like Justice Antonin Scalia have exaggerated separationism by overlooking the history and the writings of framers like Madison. Stevens was more careful on this important point.
Stevens was making a very important critique of today's conservative but ahistorical formalism about separation of powers.
And he cited the major Watergate case that led to Nixon's resignation: "As we explained [in United States v. Nixon], 'neither the doctrine of separation of powers, nor the need for confidentiality of high-level communications, without more, can sustain an absolute, unqualified Presidential privilege of immunity from judicial process under all circumstances.'" A lot of Americans could benefit from hearing — and understanding — those words today.
As it turns out, Stevens' opinion was spectacularly wrong in its own predictions. Stevens wrote, "As for the case at hand, if properly managed by the District Court, it appears to us highly unlikely to occupy any substantial amount of petitioner's time." In fact, Paula Jones' suit, once it was allowed to go forward, led to the interviews of Monica Lewinsky, and we all know how much of the Clinton administration's time and America's attention that captured. And this was a source of much criticism of this decision.
Stevens also wrote, "If the past is any indicator, it seems unlikely that a deluge of such litigation will ever engulf the Presidency." Indeed, there was little litigation against Presidents George W. Bush or Barack Obama for their private conduct. But Stevens did not anticipate a president like Donald Trump or the amount of private litigation he has provoked.
And that's why Stevens was right legally, even if he was wrong predictively. He was still right that a president must not be above the law. He was right that Congress and the courts must serve as a check against the president. And he was right to reject ideological formalisms. While many cursed Stevens' opinion during the Clinton impeachment and for many years after, we would be wise to recognize his good judgment and nonpartisanship today.
He was an open-minded, balanced, thoughtful jurist with historic endurance who left an equally enduring legal footprint — and he will be missed.