To call Taylor Swift's new lead single from her as-yet-untitled seventh album, "ME!," "brightly hued" would be an affront to primary colors. The collaboration with Panic! At the Disco's Brendon Urie is spangled with rat-tat-tat drums and soaring "woo-hoo-hoo"s, seemingly designed to wrench even the most dedicated grouch out of her funk. It's the confetti that accompanies a congratulatory iMessage reimagined as a three-minutes-and-change pop song; it's a singing telegram with a pro-spelling PSA hooked into its bridge; it's a self-empowerment anthem waiting for a musical comedy to surround it. It even doubles as an announcement that Swift has adopted a third cat.
Swift's burst of unbridled musical joy — and its reference-packed, sorbet-colored video — came at the end of a busy fortnight for pop music watchers.
SIGN UP FOR THE THINK WEEKLY NEWSLETTER HERE
On April 17, the force of nature known as Beyoncé premiered "Homecoming," a chronicle of her incredible set at 2018's Coachella Valley Music & Arts Festival. A few days earlier, this year's edition of that festival had hosted chart-topper Ariana Grande, who brought together four-fifths of turn-of-the-millennium boy-band titans 'N Sync for a run-through of their 1997 single "Tearin' Up My Heart"; she closed out its second week by dueting with the allegedly-on-hiatus idol Justin Bieber. And Madonna began her comeback with "Medellín," a vaporous, cha-chaing duet with the Colombian singer Maluma.
You can see, given this pre-summer pop music logjam — which doesn't even include chart-topping offerings by South Korean boy band BTS, honey-voiced Gen Z troubadour Khalid or bedroom-monster-obsessed upstart Billie Eilish — why Swift might go all-in on brightness with her comeback single. First, it obviously shifts her brand even further away from the acid-tongued vengefulness of "Look What You Made Me Do," the lead single from 2017's grappling-with-fame "Reputation," and toward new-pet optimism and self-assured positivity. And, it slices through the downcast, bummed-out radio landscape with clarion horns, military drums and an instantly memorable chorus. Its Easter egg-laden video, which made fans treat it like a pastel-colored Zapruder film, is a bonus.
It's not, however, new: In a lot of ways, Swift and her pop-star colleagues are following the path that Madonna laid down in the '80s, when each album release doubled as the announcement of a new pop epoch. They updated their fashion, shifted their musical styles to better simultaneously reflect and pull along the zeitgeist, and rolled out videos reflecting the reinvigorated aesthetic, which would be more fully rolled out on tours.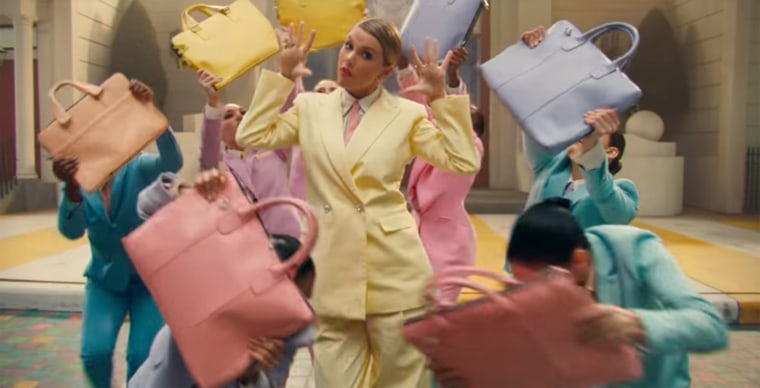 But the nature of Swift's lead singles after her early-2010s turn away from country music and into a more fully pop-aligned idiom — including "ME!," "Look What You Made Me Do," 2014's "Shake It Off," and 2012's "We Are Never Ever Getting Back Together" — show how the stakes have been raised since the music video era's relatively innocent early years, when an MTV World Premiere video was the main way to denote pop importance.
The ever-expanding amount of pop-cultural detritus and outlets through which it can be disseminated means that splashes have to be loud and forceful — but they don't necessarily have to entirely reflect the albums they're announcing. Lead singles have become inflection points of their own for artists, and the danger with the ever-saturated landscape is that they'll overshadow the albums to which they're attached.
Witness the rollout of Madonna's last two albums, whose Nicki Minaj-featuring lead singles sucked up the radio air of arguably better tracks. "Reputation," meanwhile, wound up having a softer center than its first single implied, and it even had a happy ending, while the charms on "1989" were much more subtle than those of the sledgehammer-like single "Shake."
You can see this conundrum playing out with almost every major pop star these days. Lady Gaga's "Joanne" led with the storming "Perfect Illusion" — a throwback to both Gaga's "Poker Face" days and the Taylor Dayne-era — but wound up reveling in rock-tinged pop that showed off her whiskey-soaked voice. "Work," the first single from Rihanna's 2016 full-length "Anti," was a sinewy duet with Drake, but the album's best moments came when Rih's defiant brooding took center stage, whether she was lashing out on or going full-on diva on "Love on the Brain."
And even "thank u, next," the name-droppy title track from Grande's most recent album, grabbed headlines with its recollections of her boldface-named exes, but its attendant album sparkled when Grande ignored the gossip pages and dug in on her emotions on intimate offerings such as "Needy" and "Ghostin."
What "ME!" has to say about Swift's still-untitled, still-unannounced seventh album is simple: "You'll find out soon enough." That ambiguity, teased out through Instagram Live appearances and quick-hit cutaways, is in keeping with her statement last week that her cats were one of her biggest recent artistic inspirations, as well as her forthcoming role as as Bombalurina in the film adaptation of the musical "Cats." After all, even the most ready-to-please kitty will remind its minder again and again that it has a mind of its own.