I remember watching the Miss USA pageant as a little girl. I would look up at all those beautiful, successful and incredibly confident women and dream of one day joining them on stage. Then, incredibly, I got my chance. At the tender age of 19 I beat out dozens of other women for the job of Miss North Carolina USA. I would spend the next few weeks and months trying to be a good role model, volunteering with the Special Olympics and other charitable organizations, and appearing with our servicemen and women. Finally, however, it was time — it was time to compete to become 2006's Miss USA.
What followed was a month full of photo shoots, rehearsals, promotional shoots, fittings and travel. The first time we met Donald Trump was at Trump Tower during a media tour of New York City. We were lined up so he could meet each of us. This was an important moment, because it was widely known that his favorites always ended up in the pageant's top 15. But as I shook his hand and introduced myself, I realized that he was more interested in what my body looked like than anything I had to say.
He eyed me like a piece of meat. I was shocked and disgusted. I have never felt so objectified. I left the meet-and-greet hoping that this would be my one and only encounter with him.
A few days later we were back in Baltimore getting ready for the finals, an event broadcast live on NBC. I was in my Miss North Carolina robe in the hair and makeup area having my hair done when Donald Trump came waltzing in with Melania beside him. I was shocked — again — by this violation of our personal space. What was he doing, coming backstage when we were still getting dressed? The pageant director in North Carolina hadn't come into the dressing room area, and she was a woman. It was like he wanted to exert his dominance and power. I could feel his eyes on me immediately, and I was glad I at least had a robe on.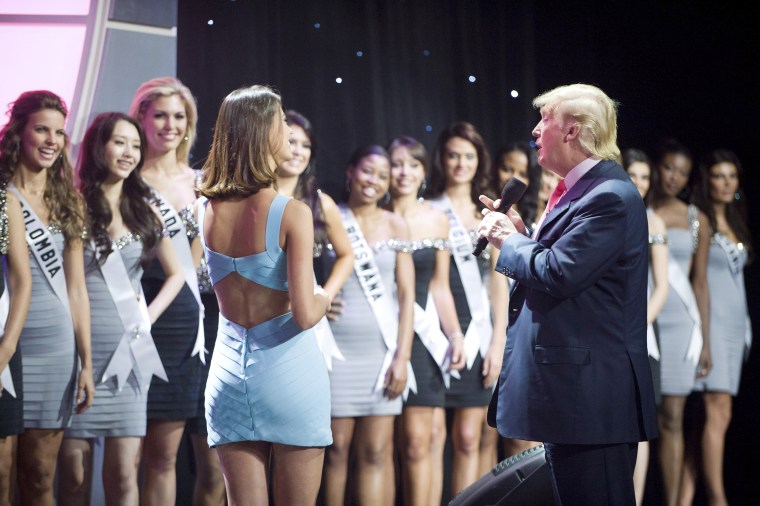 If I became Miss USA, this man would be my boss, and I no longer had any interest in that. I realized I was actually looking forward to heading back to North Carolina.
After the pageant, I skipped the coronation party entirely, heading instead to my mom's hotel room, where my family and friends were waiting for me. I told them all about Trump coming backstage and how it was so inappropriate. They were all as shocked as I had been at the audacity of Trump.
For the next 10 years, I told the story over and over whenever anyone asked me about my pageant experience. But when Trump decided to run for president, something changed. Now, this man who had made me feel so dirty was attempting to become the most powerful man in the country. Surely, Republicans could do better.
While I had never gone public with my story, I hadn't kept it a secret either. So when a friend of mine posted a Facebook article in 2016 detailing Trump's "Howard Stern Show" appearance in which the candidate bragged about going into the dressing rooms at beauty pageants each year, I simply commented that I could confirm the comments based on personal experience.
Now, this man who had made me feel so dirty was attempting to become the most powerful man in the country.
The very next day I received an email from CNN asking if I would speak about my experience.
I knew that speaking out would not be easy, but if I wasn't honest about my experience I was essentially saying the way he had treated me was OK, and it was not. By 11 p.m. that night I was live on CNN.
As it turned out, I wasn't the only woman who alleges that she was harassed or even assaulted by our now president. But my experience, and the experiences of the more than 20 other women who have come forward so far to tell their stories, don't seem to matter. Trump went on to win the presidency and his popularity among white women voters was a big reason why. So many women have fought so long and hard for women to have the right to vote, and now we were using it to support a man with a long history of sexual misconduct.
And when the #MeToo movement came along, I felt conflicted. On the one hand, it was great that so many high-profile men in various industries were being taken to task for their gross and often illegal behavior. And yet, why was everyone else being held accountable except for our president? What message was that sending? You can't work in Hollywood if you're a sexual predator, but you can become the commander in chief.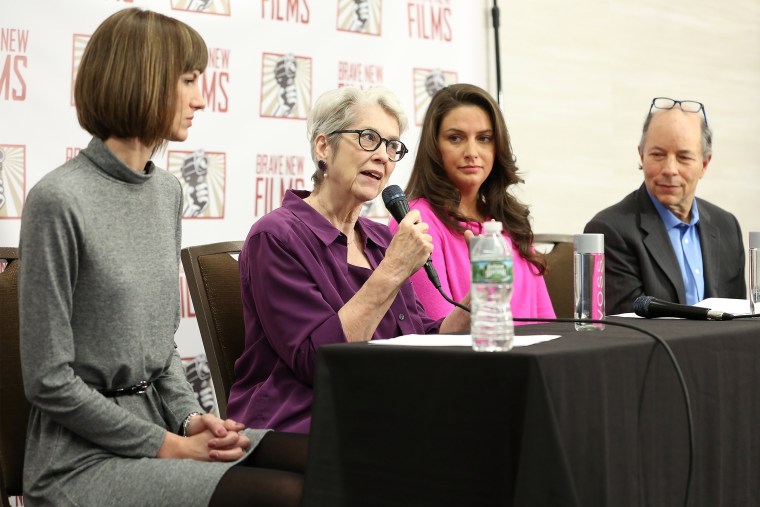 Fast-forward a few months to when Brave New Films contacted me regarding its documentary about Trump. Did I want to speak up again after the first time didn't seem to make a difference? Just like I have in the past, I made my decision based on the fact that staying quiet would have meant tacitly normalizing and excusing Trump's behavior. It was also important to me that I show the other women who have spoken out that I believed in them and supported them.
Now I'm waiting for Congress to show that it believes us and supports us as well. Because if our Senators and Representatives choose to stay quiet, if they choose not to investigate Trump's history of sexual misconduct, then they will be the ones saying that his behavior is ultimately OK. And trust me, it is not.
Samantha Holvey is a former Miss North Carolina USA (2006) and currently the director of community and education at Workgroup for Electronic Data Interchange, the leading authority on the use of health IT to improve health care information exchange. She has a B.A. in mass communication from Campbell University, a graduate certificate in political psychology from George Washington University, and an executive master of health care leadership degree from Brown University.