Major news organizations have paid a lot of attention lately to America's fraying social fabric. An Associated Press series called Divided America explores what separates us and "how deep those divisions run." CNN's Fractured States of America is a similar project. And The Atlantic's December issue, under the provocative headline "How to Stop a Civil War," made the magazine itself a news story.
Leaving aside that continuous coverage of our disconnection actually makes it worse (as Harvard Professor Steven Pinker points out), our current state of social cohesion is poor, with some surveys suggesting the only thing Americans are united over is how divided we all are.
We weathered past trials; we can get through today's troubled times — if we're willing to put in the work.
But though the familiar phrase "We've never been more divided" feels accurate, it is, in fact, false. Further, history teaches that today's divisions — deep, painful and serious — are not worse than those America has endured in the past. And we have plenty of examples other than the worst-case-scenario of the Civil War to prove it.
Still, this is only cold comfort unless we leverage this historical perspective to build a sense of hope, as well as context, for our own age. We weathered past trials; we can get through today's troubled times — if we're willing to put in the work. Thanksgiving, which generally features time with loved ones as well as contentious dinner conversations, is a great occasion on which to get started.
Painful fissures in America's social fabric have dogged the country from its fragile founding; each generation has had to stitch up the seams. Less than five years after the Constitution was signed, the Whiskey Rebellion rocked western Pennsylvania when 7,000 farmers took up arms around Pittsburgh to protest the imposition of a federal liquor tax. In response, President George Washington organized a militia of nearly 13,000 and personally marched it to Pennsylvania to put down the rebellion — the only time a sitting president has ever led troops into the field.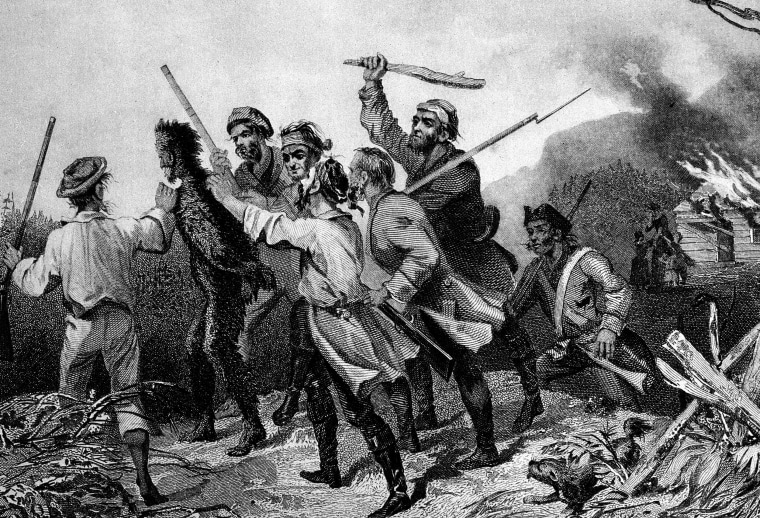 Fifty years later, increased European immigration —especially from Ireland, which was reeling from the potato famine — stoked fires of intense anti-Catholic xenophobia. In the 1840s-50s, members of the nativist American Party, dubbed the "Know-Nothings," organized or inspired attacks on Roman Catholic churches, convents and neighborhoods. In one 1844 riot in Philadelphia, protesters stole cannons and fired on a Catholic church and its defenders trapped inside. By 1855, the Know-Nothings had claimed 43 seats in Congress; when the party nominated former President Millard Fillmore for president in 1856, he carried Maryland in the election.
The Civil War's embers had barely cooled when anti-immigrant sentiment once again reached a fever pitch, as another wave of immigrants arrived in the U.S., this time predominantly from southern and eastern Europe. In New Orleans in 1891, a mob of 8,000 to 20,000 vigilantes stormed a jail and shot 11 Italians who had been acquitted in the murder of a popular police chief. The New York Times sided with the attackers, calling the unarmed victims "sneaking and cowardly Sicilians." No one was prosecuted for the killings, and New Orleans only issued a formal apology in April.
Such dark chapters are by no means the worst in our history; rather, they illustrate how sadly frequent these episodes are — and how often we've bounced back from them, including in our recent past. Times much bleaker than our own are within the living memory of the many Americans who experienced the cultural upheaval of the 1960s and '70s.
1968, for example, is a lesson in social dissolution: After the assasination of Martin Luther King Jr. in April, a national outpouring of heartbreak and rage led to riots in more than 100 cities. National Guard units poured into cities across the country. In Wilmington, Delaware, they stayed nine months, making the city one of the longest occupied since the end of Reconstruction. That summer, Robert Kennedy was also assassinated.
The next decade saw disunity worsen as militant groups such as the Weather Underground embraced violence as a form of political expression. As Bryan Burroughs chronicled in his book "Days of Rage," in one 18-month period from 1971 to 1972, there were more than 2,500 domestic bombings in the U.S. — almost five per day. Amid the bombing craze, the Times wondered whether "periodic evacuation of buildings [may become] a new lifestyle for the New York office worker."
None of these examples should make us feel better about our vitriol in 2019, but they can help us breathe a little easier. And then, they should inspire us to roll up our sleeves.
Repairing civil society requires hard work from individuals, more specifically from you and me. We may be a country of 328 million, but restoring public space for disagreement without detesting each other begins with individuals doing so in their day-to-day domestic circumstances. Human heart to human heart.
And for all its flaws, the human heart is actually on our side. As Aristotle observed, we're made for relationships, for community and unity.
The Thanksgiving holiday is a small but powerful opportunity to move the needle by starting local and mending the frayed edges of our families.
All this means the Thanksgiving holiday is a small but powerful opportunity to move the needle by starting local and mending the frayed edges of our families. The French philosopher Voltaire would have called it "tending your own garden"; Jesus called it loving your neighbor as yourself.
Psychologist Dan Goleman has argued that families are "the first school for emotional learning." If so, then we're all better served by forgetting politics this Thanksgiving and focusing instead on the person across the table, listening authentically, loving them as best we can, and letting them love us.
In the end, it's the common acceptance of truth that will set us free from acrimony. Determining the truth is hard, but we can create space for the necessary national dialogue by first starting small in our own homes.