Every November, most Americans are focused on three dominant things: Thanksgiving, buying crap they don't need and, of course, football.
This year will mark the eighth year in its history that the National Football League has scheduled the Washington, D.C.-area team — I will not perpetuate its name by using it here because it is incontrovertibly a dictionary-defined racial slur and should be changed immediately — to play the Dallas Cowboys on Thanksgiving.
Just for a moment, think of the symbolism in this game: Cowboys against "Indians," the old American narrative that routinely valorizes the brave cowboy and demonizes the "merciless Indian savages," as we are referred to in the Declaration of Independence.
What's more, the league has continually scheduled this storied rivalry on a holiday – Thanksgiving – that omits the murder and mutilation of indigenous peoples by European invaders often referred to as "pilgrims" or "settlers." (It violates a fundamental law of time and space to refer to an invader as a "settler" or "pilgrim." You must first invade before you can settle.)
Here is what's even more egregious: Natives are per capita, even hundreds of years later, more likely to be killed by police than any other demographic in the U.S.
So, the Cowboys will take on a team whose name is a racial slur (which has historically been used to refer to murdered Indians) on a holiday historically soaked in Native blood (the fact of which many Americans are ignorant) at a time during which Natives are most likely to die at the hands of police… during Native American Heritage month meant to celebrate Native Americans?
And in what city does the Washington NFL team represent? Not a city at all, but a federal district, named for… Christopher Columbus. And, lest we forget (or ignore) history, the man opened the slave trade to the western hemisphere, slaughtered and enslaved Natives and set into motion a genocide that, even today, we can see in the numbers: We, indigenous peoples, are the smallest racial minority in our ancestral lands.
This means that we are more often the smallest racial minority in almost every setting: Work, of course, and especially at schools — which is unfortunate because another antiquated tradition of November resurrected every year is teachers dressing up their students as pilgrims and Indians.
It should be clear that this practice is not a cute, harmless affair, but an American tradition that has lifelong consequences. Those kids will grow up believing that it is perfectly acceptable to dress up as white stereotypes about another race, especially Natives — but it tends to carry over to other racist costumes like blackface and geishas.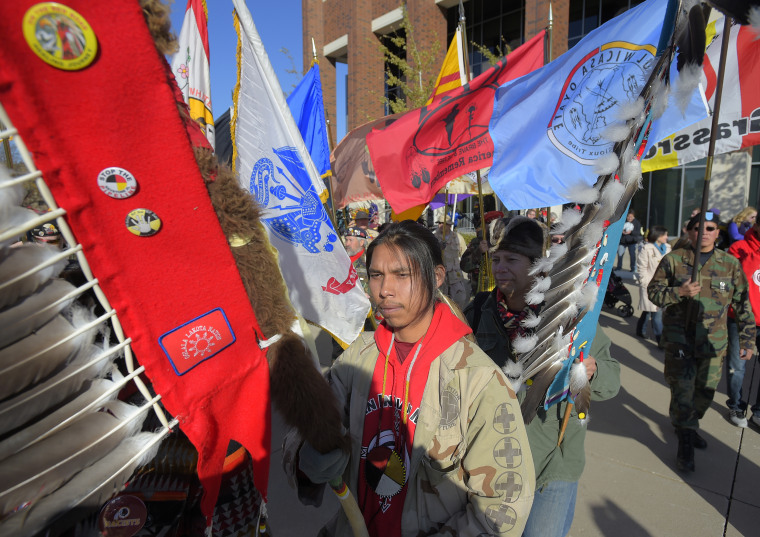 So it is no surprise — at least to the indigenous peoples of these shores — that when we see fans of the Washington NFL team (or the Kansas City Chiefs or Cleveland Indians) in face paint and headdresses, they were likely once kids who were told that it's just good ol' American fun to "play Indian."
Most of my Native relatives and friends look forward to the end of November because it means the annual autumn hostilities — from Halloween costumes to baseball season to fantasies of indigenous settler cooperation — are coming to a close, for at least a little while. Indeed, those hostilities are always there, but at least the colonialist victory lap every fall shuts down for a bit.
But just before the close of November, there's one more insult the U.S. feels it must deal to Natives, like a quintessential middle finger as one walks away: Native American Heritage Day itself.
It should be the annual time of year during which this century's Americans celebrate and honor and learn about the innumerable accomplishments and contributions indigenous peoples have given and still give to the world. After all, we gave you chocolate, tobacco and even the antagonists for the racist Hollywood westerns people seem to love so much.
And it would make sense that such a day would be officially held in early November — when kids are in school — so they can learn about Billy Mills, the Native Olympian and Gold Medalist, read about Wilma Mankiller, the first female chief of the Cherokee Nation, and even today learn about Debra Haaland and Sharice Davids, the first two Native women to ever be elected to Congress.
But no: Native American Heritage Day was officially lumped together with — you guessed it — Black Friday. And I can't imagine people standing in long lines in the frigid cold outside of some big-box retailer turning to a fellow shopper who they most likely elbowed in the ribs and saying, "Oh, hey, by the way, Happy Native American Heritage Day!"
November, at least for Natives, is not the most pleasant month but, perhaps in time — with the proliferation of social media, which allows people to read our wisdom in real-time (follow #NativeTwitter for the latest), and as we push ourselves deeper into the American dialogue — sports teams won't be named after racist slurs, teachers won't dress up their kiddos as white stereotypes of Indians and people will reshape their beloved Thanksgiving holiday to reflect history, not myths and lies.
Until then, I reject the banal excuse of ignorance, especially in an age when we have access — literally at our finger tips — to rivers of data, first-hand accounts and uncontested history. This is not simple ignorance anymore. White ignorance of Native Americans is a direct insult, and it needs to end. Now.