The Thomas fire started in Santa Paula, which is about 17 miles from my house. There's fire danger here all the time — we're surrounded by National Forest — but those fires are almost always in the wilderness. I usually wake up in the morning after a fire has started to hear that it has gone from 50 percent containment to 95 percent containment and am like, "Yay, firefighters! Our firefighters are awesome," and go about my day.
This was different. The winds, of course, were a concern: They would pick up and send the fire this way, and then it would go that way. There is a lot of space in between Santa Paula and Ventura, though, so my first thought wasn't that we were in any danger, but, "Oh, man, I know people in Santa Paula. I hope this is going to be okay for them."
Then towards Monday evening, officials were saying that the fire was going to hit East Ventura, which is maybe 11 miles from me; I figured it would have to burn through a lot of town to get my house. I hoped that everybody I knew there was going to be okay, but I wasn't yet concerned about my side of town, really.
It wasn't until the fire broke out at Grant Park and people on social media were saying that the Serra Cross was on fire (it survived) that I started to worry because that is just blocks from my house.
I looked outside just after 11:30 pm and, sure enough, I could see the hill ablaze. I ran outside and, as I was standing there saying, "Holy crap, it's right there," we started getting the text alerts from the Ready Ventura system. Then I thought, "Oh, wow, it's literally right there, two blocks away. We've got to go."
I was completely, shamefully unprepared to leave; I've never had to do this before as an adult, or with pets. All my life, we've been told, "Disaster preparedness! Be prepared! Earthquake! Have a bag, extra water. Don't forget flashlights and batteries. Always update your bag." I've read numerous lists throughout the years, and suddenly it's time and I'm standing there in my house, and I'm going, "Wait. What's on the list? What am I supposed to take?"
That's when it hit me: All I care about are my children. Everything else is replaceable. None of this matters. Let's just be safe.
I woke my kids — I have a 17-year-old daughter, a 19-year-old daughter and her 22-year-old boyfriend who stays with us — and we all threw on shoes, crammed the kitties into carriers, and got in the car around 12:30 am.
I honestly thought we'd be back the next day, cheering our wonderful firefighters and complaining about ash all over everything — though, as I pulled the door closed, I wondered briefly if I would see my home again.
We live about a mile from the Ventura County Fairgrounds, which had already been set up as an evacuation shelter for the Santa Paula people, but I always need some quiet so that I can think. My first thought was, "I can go to my office, and we can sit, and I can figure out what's next without a fire raging around me, and without my kids freaking out."
So, I called the owner and said, "Hey, we're headed over there. I hope you don't mind. We need to be somewhere that's not surrounded by fire right now."
She didn't even hesitate and told me, "Absolutely. No problem." I felt really grateful to have that kind of work relationship, and that I didn't have to wonder where to go.
By the time we got to my office, with the gridlocked evacuation routes — people were driving crazy, there were a couple accidents — and once the adrenaline dropped, my kids were exhausted, so we decided to sleep there and figure things out in the morning.
I really only got maybe 45 minutes of sleep, though: By the time I got everyone settled, it was around 4:00 in the morning and the building's old, so there was a lot of creaking and banging because it was so windy. I woke up at 6:00 and started looking out the windows, watching the light pink up and trying to see what color the sky was going to be.
The kids were still asleep, thankfully, so I spent a couple of hours trying to figure out what to do next. Sorting through all the information is a full-time job: I was fielding texts from people asking if I was okay, and phone calls from my mom (who's out of state), looking at people's Facebook posts to see where they were and what was happening to them, following up with news sources to see what's legitimate and whether we could go back home.
And my office had no power, so my phone was dying and I had to go down to the car to plug in, just to find out what was all happening.
Every person that offered me sanctuary, though, eventually also had fires to deal with. I friends in Simi Valley who said I could stay, and then a fire popped up there. I had friends in Thousand Oaks who had a place, but a fire popped up there, too. Of course I had friends in L.A., but then the Skirball fire broke out. And other people had dogs, so they'd say we could stay, but they couldn't have the cats. Even my sister said, "Can you take the cats to one of the pet evacuation shelters?" But that isn't really an option.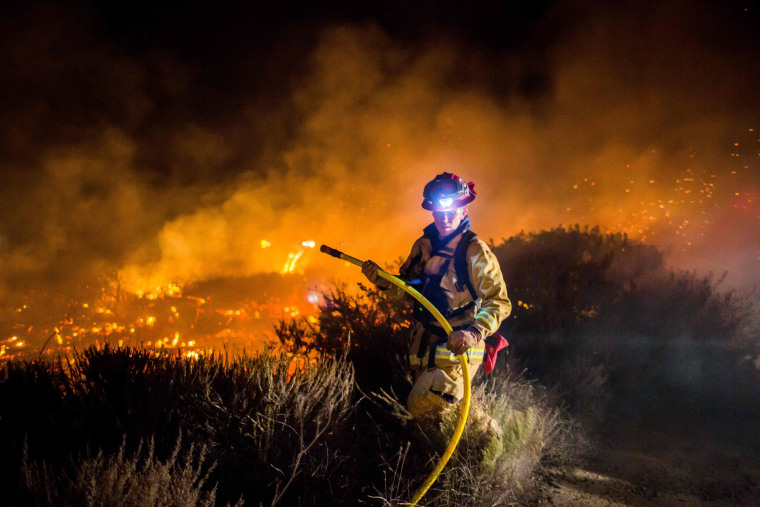 We're not used to a natural disaster of this magnitude in our little town: the scale was hard to wrap my brain around. Plus everything was also a little confusing: One block over here would be smoky, and another on fire, but, three blocks this way, the air would be clear, and businesses would be open.
We finally went back to the house around 1:00 on Tuesday afternoon, because I wanted to see what the house is like and to pack bags if we needed to be away for a few days. We were all exhausted; the cats were happy to be out of the carriers. I didn't think there was an evacuation order anymore, because it didn't feel like we were in imminent danger anymore.
But that evening, one of my friends said, "You know, we're still under evacuation, right?" Still, you couldn't see the smoke and there were no more big fires that I could see, just little embers here and there on the hillside. And I had been up since Monday morning, so we went to sleep. I said, "Unless somebody points a siren at me and says, 'Get out of your house,' I'm going to sleep because, I haven't had any."
When I woke up on Wednesday morning, I said, "Okay, we really should go, because 'mandatory evacuation' means mandatory evacuation." Plus, my mom called from Idaho, because she saw on the news that the evacuation order was still in effect, and yelled at me, "Why are you still there? It said the Avenue is evacuated. Why are you still there?"
That's around the time that the air quality just got incredibly bad, even in the house: It smelled like campfire, and the smoke was thick and cloying. So we packed a little better and everyone left around 1:30. My one daughter and her boyfriend went to a friend's place in Morro Bay, a couple of hours north of Ventura, where they could stay through the weekend if necessary, and got out long before any of the freeway closures.
My sister told me that she had a friend in Santa Barbara who might have a cabin to which we could evacuate so, while my other daughter and I were waiting to hear, we drove about 17 miles east to Camarillo, because some friends had posted that the air was clear and I have an office there.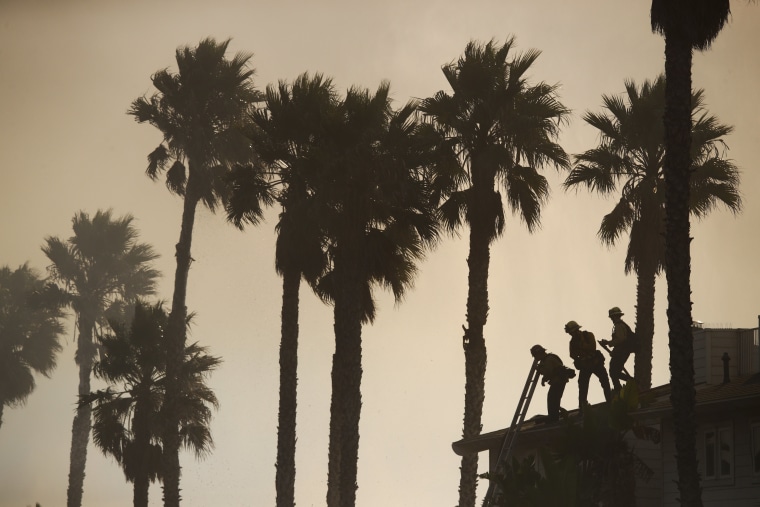 We just sat in the car on our phones, though: We didn't go sit in a restaurant, because I didn't want to leave the cats in the car by themselves. And it took six hours until my sister's friend confirmed that we could stay; at that point, people in Carpenteria — which was between us and the cabin — were being evacuated, so I didn't even know if we could get there.
We ended up staying with a friend here in Camarillo who had an extra room, and finally got there around 9:30 on Wednesday night.
Having any options was fantastic, because most people don't and I didn't want to draw resources from other people who don't have any options. I wasn't going to go buy a hotel room or take up space in a shelter if somebody else who just got burned out of their home needs that space or that room. Besides which, I know that, as soon as a state of emergency is declared and we get the go-ahead for more fire and first responder personnel to come here, the motels start booking up. And as a disaster like this becomes a big story and media comes here, they book hotel rooms, too.
I don't think that my house is any kind of fire path, at this point; I don't know that, and maybe that's just positive and wishful thinking. There are still so many uncertainties. But my main concern for my neighborhood right now is the air quality, whether or not anybody has power, and the boil water mandate. I'm so glad people are safe. I'm sorry for the structures lost, and the critters, and the land that has been devastated. But so far, knock on wood, there have been no lives confirmed lost. I'm just hoping that that remains the case and we can go home soon.
As told to THINK editor Megan Carpentier