There is a small village, officially an "unincorporated community," right next to my hometown of Mattoon, Illinois named Trilla. At last census, Trilla had a population of a few hundred people. It is home to a water treatment plant, a church and… a post office. Its postal code is 62469. That postal code is Trilla's, and Trilla's only.
I thought about Trilla, and the thousands of Trillas like it across the country, as President Donald Trump called the Postal Service a "joke" last week and threatened to let it go bankrupt if it didn't start raising fees on packages. (As many have pointed out, packages are actually the best revenue generator the postal service has, and Trump is fixating on this particular point because he wants to punish Amazon's Jeff Bezos.)
That the U.S. Postal Service would be used by the president as a tool to put pressure on his perceived enemies is perhaps not surprising.
That the U.S. Postal Service, established by the founders themselves as a "pillar of the republic," would be used by the president as a tool to put pressure on his perceived enemies is perhaps not surprising, but deeply dispiriting. It's the mail. The point is that everybody gets it, whether you are in a high-rise penthouse in Manhattan or in a rickety shack by the sewage plant. It is one of the few connective tissues remaining in this disparate and divided country. Wherever you live, whoever you are, you can communicate with someone through the mail. You can reach out and touch them.
Even in this technological age, the post office can seem like magic. I can sit down in my home office in Athens, Georgia, write a postcard, put a 35-cent stamp on it, put it in a mailbox, and in two to three days, it will be in Montana. Or New York City. Or Seattle. Sure, I can send an email to those places and get it there faster. But we send so many emails, so often, so easily, so impersonally that such communication has lost its wonder. We delete dozens — maybe hundreds — of emails each day, week, month. They evaporate in a second. I can hold onto a letter forever.
And I have thousands of them. Two years ago, as a part of my weekly (email) newsletter, I began an experiment. I had thousands of regular online readers, people with whom I would occasionally correspond, but it always felt fleeting, and even one-sided: I was the writer, they were the readers, and that was the relationship. So I set up a post office box here in Athens, and encouraged all readers to write me whatever they wanted. Movie recommendations, fantasy baseball advice, child-rearing suggestions. I wanted to see if the relationship got more intimate. I wanted to see if it got more real.
Oh, did it. I now have dozens and dozens of people — friends, really — with whom I write back and forth, by hand, on essentially a weekly basis. And we talk about a lot more than fantasy sports. There's the widower in Tennessee still reeling from survivor's guilt. The father in West Virginia who lost a son to drug addiction three years ago and finally feels like he has someone to talk to about it. The retired veteran in California who at first just wanted to talk about baseball but now is trying to come to terms with changes in a country he once fought so hard to protect.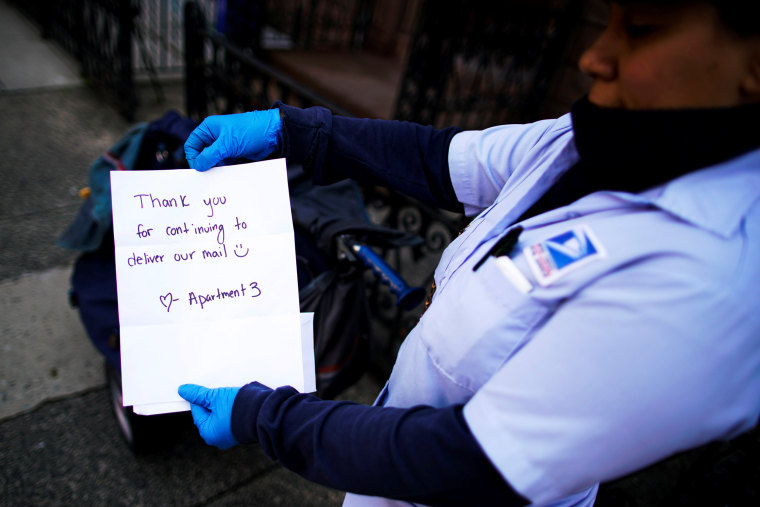 Not all our correspondence is so serious. Sometimes we're just checking in on the kids or complaining about how poorly instant replay is used in sports. But it is always urgent. It matters more. It matters that I have produced a physical document that I have sent to them, that they have touched with their own hands, and then made their own physical document to send back to me. These are no longer "readers;" They are now friends. Some are from Ethiopia or Japan or Australia. Some are just down the street here in Athens. But it's our own private conversation, ongoing, in our own time. We sit down at the end of a long day... and we write each other letters.
This has only accelerated during the pandemic. Rather than being afraid of the outside world and turning inward, my pen pals and correspondents have become even more prolific. Now more than ever, there's an overpowering desire to feel connected, to touch something and then have someone else touch it. It's a feeling you just can't get from a Zoom call. And because of this it has become one of the most valuable interactions in my life; one of the things getting me through this. It's way to keep the world close — to not be shut off.
My sentimentality aside, the Postal Service has tangible, economic value; its financial woes have little to do with consumer demand. But its ability to connect this disparate country, end to end, should be justification enough, anyway. Letters keep us all a part of the same system and they remind us that humanity is just 55 cents and a few strokes of the pen away. And our technological world and the simplicity of modern communication ultimately has made the Postal Service more vital, not less.