First, President Donald Trump failed in his pledge to "hire the best people" in the White House; now, he's having trouble hiring any people. These phenomena are not unrelated.
Nick Ayers, Vice President Mike Pence's chief of staff and the man once widely expected to replace John Kelly in the same role for Trump, announced on Sunday afternoon that, while he's still totally into Trumpism, he's leaving the White House to make America great from several states away — in Georgia. He reportedly wouldn't commit to taking the job for longer than a brief tenure and instead wants to spend more time with his family (and less time, one would think, with defense lawyers).
There is a charitable explanation of course: Ayers memorably floated the idea of "purging" insufficiently pro-Trump lawmakers from the GOP ranks in Congress; Trump has just overseen a 40-seat purge of House Republicans, so maybe Ayers thought his work was already done. Or maybe — just maybe — he wants to get far away from the Trumpster fire raging at 1600 Pennsylvania Ave.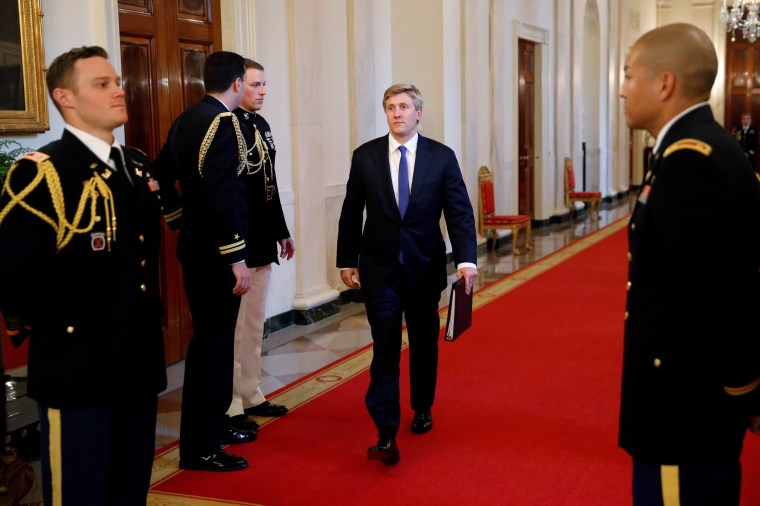 At one level, Ayers' thanks-but-no-thanks is stunning: Trump had been unsubtly eyeing him for some time. And, generally speaking, when the president of the United States asks one to serve, the answer is rarely no — especially if the president is, by his and his chief sycophants' reckoning, the country's most accomplished chief executive and also history's greatest deal-maker.
But on a more practical level, Ayers' slipping into the wind should hardly surprise. Trump has the impulse control of a hungry, intoxicated bear and bridles at attempts to keep him disciplined or to bring order to his administration. Beyond that, he's not even the only White House denizen beyond the chief of staff's reach, with the presidential daughter and her husband (the one The New York Times reports gave advice to Saudi Arabia's murderous crown prince about how to weather the public relations storm of having authorized journalist Jamal Khashoggi's brutal execution) also enjoying untouchable status.
Then there is special counsel Robert Mueller's ongoing investigation, which just keeps getting worse for "Individual-1," who prosecutors suggested Friday had instructed his then-lawyer, Michael Cohen, to commit a felony. At the same time, relations with Congress will become much more contentious next month when Democrats officially take over the House. "Rather than building a war room to manage the intersecting crises as past administrations have done, the Trump White House is understaffed, stuck in a bunker mentality and largely resigned to a plan to wing it," The Washington Post reported over the weekend. "Political and communications operatives are mostly taking their cues from the president and letting him drive the message with his spontaneous broadsides."
Unlike when Kelly arrived, no one deludes themselves that the next chief of staff will fix any of these problems, given that they stem from the top.
The pertinent question, then, is why would anyone want this job? Having axed Kelly without having a replacement lined up and been spurned by Ayers, Trump is reportedly perusing a diminishing short-list of second-choices. Others whose names have been floated — including Office of Management and Budget Director Mick Mulvaney, U.S. Trade Representative Robert Lighthizer and Treasury Secretary Steve Mnuchin — are all reportedly scurrying from the toxic job as well.
Rep. Mark Meadows, R-N.C., who heads the super-conservative Freedom Caucus in the House, is yet another candidate. But the whole idea of kicking Kelly to the curb had been to install a politically savvy operator in preparation for the 2020 re-election campaign. How Meadows would fit that bill is a mystery: His main political accomplishments have been winning a safely Republican district and then making "more enemies than most in Washington," as Axios' Jonathan Swan put it Sunday.
The Ayers whiff was the exclamation point on a week which featured new and innovative reminders of Trump's abject inability to hire even uninspiring mediocre people, let alone "the best." Instead, his track record is marked with an ineptitude that achieves a kind of dizzying grandeur.
We were reminded of that again when the president got into a public squabble with his first secretary of state, Rex Tillerson, who publicly recalled how Trump was "undisciplined," wouldn't read, skipped over important details and would "often" issue illegal marching orders. Trump responded characteristically, dismissing Tillerson as "dumb as a rock."
The week also saw Trump nominate State Department spokeswoman Heather Nauert to be the U.S. ambassador to the United Nations, a pick which demonstrates not only Trump's poor judgment but also his contempt for that body. (And hovering over the week was Michael Cohen, the former Trump lawyer and fixer who has developed a second career as star witness for Mueller.)
They join an ever-expanding roster of stars who have glittered in the Trump administration's constellation of corruption and ineptitude: national security adviser-turned-felon Mike Flynn; campaign chairman-turned-felon Paul Manafort; ludicrous TV villainess Omarosa Manigault Newman; self-important, alt-right blabbermouth Steve Bannon; high-flyer Tom Price; communications-director-for-a-heartbeat Anthony Scaramucci; alleged wife-beater Rob Porter; and scandal-besmogged EPA Administrator Scott Pruitt — to name just a few who have departed the stage.
Festering scandals still loom over the likes of Interior Secretary Ryan Zinke, who "has been the subject of at least 15 investigations or requests for probes," according to Bloomberg's catalogue of scandal-stricken Trumpsters.
The list goes on and only figures to grow. After two years of a congressional Republican posture of see no evil, hear no evil, speak no evil, House Democrats are preparing to thoroughly vet the administration. Given what we already know even with the congressional head planted determinedly in the sand, imagine what even basic oversight figures to turn up.
And into this caustic maelstrom Trump marches blindly, to a drum-beat of success that only he and his most fervent supporters can hear, increasingly bereft of top talent or a coherent strategy. Which is as it should be: Trump is after all the author of his administration's problems, and no one sitting in the chief of staff's office is going to be able to solve them.