President Donald Trump doesn't like losers. He thinks Republican leaders in Congress are losers.
"They look like fools," he tweeted after Republican senators failed to repeal the Affordable Care Act. Trump's former chief strategist Stephen Bannon told Charlie Rose, "They do not want Donald Trump's populist, economic nationalist agenda to be implemented."
The Great Washington Smackdown is on!
But it's not Republicans versus Democrats. It's Trump versus Republican leaders of Congress. The president blames them for failing to deliver what he wants.
So do rank-and-file Republican voters. "The average person blames Congress for the failure to enact this president's agenda,'' said a Trump supporter who is planning to challenge a Republican member of Congress in next year's primaries. "And personally, I think they're right."
The Republican Party is now the Trump Party. Trump's attacks have left the Republican establishment on Capitol Hill bitter and isolated, while Trump's support remains solid with Republican voters around the country.
Conflicts between presidents and Congress are not unusual in American politics, even when they are controlled by the same party. Presidents Franklin D. Roosevelt, Lyndon B. Johnson and Bill Clinton all faced opposition from conservative Democrats. What's different for Trump is that he's fighting with his party's leaders in Congress. And the recriminations have gotten harsh and personal.
"Can you believe that Mitch McConnell, who has screamed 'repeal and replace' for 7 years, couldn't get it done?" Trump tweeted. "Mitch, get back to work."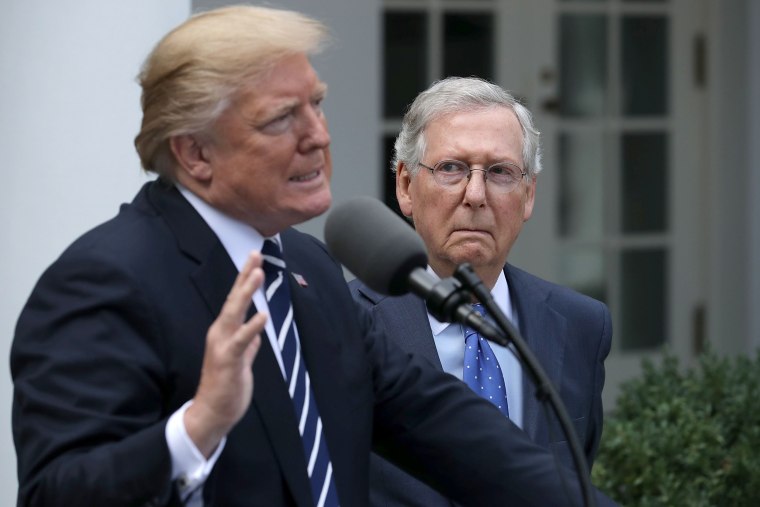 The president was bullying the Senate majority leader as if he were an underling in Trump's employ, not a leader of a separate and equal branch of government.
Trump is now also engaged in a war on insults with Sen. Bob Corker (R-Tenn.), who announced he will not seek re-election next year. After Corker accused Trump of lacking "stability" and "competence," Trump tweeted that Corker "didn't have the guts to run."
Corker's response: "It's a shame the White House has become an adult day care center." This from the powerful chairman of the Senate Foreign Relations Committee, which is likely to have jurisdiction over the fate of the Iran nuclear deal.
Trump appears to be "triangulating" — attempting to establish a political identity separate from both Democrats and Republicans. That's what Clinton did in 1994, after Republicans won control of Congress for the first time in 40 years.
But triangulation may not work for Trump as well as it did for Clinton. Democrats had just gotten clobbered in the midterm. They were deeply demoralized. Clinton represented their only access to power.
Today, the Republican establishment still controls every branch of the federal government and a majority of state governments. They may not be desperate to follow a leader who wants to "triangulate."
On the other hand, the one thing Trump really understands is "branding" — Trump Hotels, Trump Towers, Trump Steaks, Trump Water. Congress has a terrible brand. The president doesn't want his brand tarnished by Congress. Defending Trump's deal-making with Democrats, the White House press secretary said, "We're a lot less focused on what makes Congress happy."
The one thing Trump really understands is "branding." Congress has a terrible brand.
This means loyalty to Trump is likely to be the central issue in the 2018 and 2020 elections. Trump is encouraging his supporters to challenge Republican incumbents who are critical of him. Trump's base may be strong enough to win Republican primaries, but the real test will be whether Trump believers can get elected.
Congressional Republicans were bewildered by the president's decision to cut a deal with Democrats on the debt limit and hurricane aid. They felt betrayed. A third of Republicans in the House and Senate voted against the agreement.
But Trump's deal-making does not seem to have shocked his populist base. So while Trump is deeply unpopular with the rest of the electorate, his standing remains very high among Republicans. His base is sticking with him.
Look at the issues. Disaster relief for hurricane victims? Sure it's government spending, but this is an emergency. Keeping the federal government open? Some conservatives favored a government shutdown, but it would have caused a huge voter backlash.
Raising the government debt limit? Defaulting on our debts would create grave risks for the economy. But when Treasury Secretary Steve Mnuchin addressed skeptical House Republicans and implored them to "vote for the debt ceiling for me," he got booed.
The president even promised to revisit his decision to end the program that allows "dreamers" — young illegal immigrants who were brought to the United States as children — to remain here. The 800,000 dreamers have a lot of public sympathy. Trump wants a deal. Congress will allow the dreamers to stay, at least for a while, and in return, Trump will get funding for his border wall.
Meanwhile, deficit hawks are dismayed by Trump's apparent lack of commitment to debt reduction. He is calling for big tax cuts while ruling out cuts in spending on Medicare and Social Security — programs strongly supported by his populist base. The result could add $1.5 trillion to the national debt over 10 years.
"Any thought of fiscal responsibility has gone out the window," Corker said earlier in October. "Now that we're in charge we don't care about fiscal issues. It's very disheartening."
But Trump's populist base doesn't support him because of his ideology or his policies. They support the man. They admire Trump as someone who is defiant of the establishment and won't be pushed around. And who understands their grievances. They believe that he sees them and hears their problems while the media and other politicians don't.
Trump is known to admire another president who made politics all about himself — Andrew Jackson. Jackson had a fervent populist following and equally fervent critics. Jackson's supporters became the Democratic Party. The Anti-Jacksonian Party turned into the Whig Party.
Stephen Moore, chief economist at the conservative Heritage Foundation, said recently, "Just as Reagan converted the GOP into a conservative party, Trump has converted the GOP into a populist working-class party.''
Both Reagan and Jackson got themselves re-elected and their vice presidents elected after them. They proved that a party in their own image could win. This still looks like a tough test for Trump.
Bill Schneider is a professor at the Schar School of Policy and Government at George Mason University. His book, "Standoff: How America Became Ungovernable," will be out next spring (Simon & Schuster).