Thanks to a recent "Saturday Night Live" cold open featuring Alec Baldwin as Donald Trump, we can all now picture the president lying in the White House's Lincoln Bedroom, eating hamburgers as he watches his favorite news programs. In the skit, Baldwin-as-Trump gleefully cheered on the "Fox and Friends" co-hosts for their excessive flattery about his State of the Union Address and accepted their assurances that he was the greatest president ever.
While satirical, SNL's fictional scene may not be far from the truth. Indeed, it's not hard to imagine the real Trump lying in bed watching TV, muttering "fake news" while surrounded by sections of The New York Times and The Washington Post. Trump's disdain for the "enemies of the people" — as he has consistently labeled news outlets — is well established. And his attempts to limit unflattering stories and push fake news are unlike any America's ever seen. He has asked via Twitter "Why isn't the Senate Intel Committee looking into the Fake News Networks," and continuously obfuscated reality through exaggerations and misleading statements. His administration, in the memorable line of the White House Counselor Kellyanne Conway, is in the business of "alternative facts."
In the tradition of many supreme leaders — from fictional emperors in "Star Wars" to the real Joseph Stalin in the Soviet Union or Mao Zedong in China — Trump sees himself as the center of everything and equates love of country with love for himself. The president emphasized this in Cincinnati, Ohio, on Feb. 5, as he described the Democrats' icy reaction to his State of the Union as "treasonous."
But while he talks a bit game, Trump's presidency may more closely resemble what Karl Marx said about history — "it repeats itself first as tragedy and then as farce." Trump is a "dicktator" — a self-aggrandizing reality TV president, obsessed with the real dictatorial trappings such as palaces and parades but less worried about actually making sure any of his grand plans become policy.
While he talks a bit game, Trump's presidency may more closely resemble what Karl Marx said about history — "it repeats itself first as tragedy and then as farce."
This is a good thing, because Trump's fiery attempts to blacklist "unfriendly" publications like Politico or The Washington Post from the White House briefings are certainly reminiscent of his apparent role models Russian President Vladimir Putin and Chinese President Xi Jinping, the contemporary successors of Stalin or Mao Zedong. After all, Trump has spoken about Putin in largely complementary terms at least 80 times, and talked about close "friendship" with Xi in a way that excites the Chinese.
There is a big difference, however, between Trump and men like Putin. Tellingly, Trump's yearning to "censor the media" has not translated into the real oppression that many suffer around the world. In a democracy, a leader's wish for punishment is a far cry from its actual implementation. The system of checks and balances should successfully curtail just such demands.
In other words, the people to really watch are the ones who stand behind the president. We must hold responsible those Republicans whose job it is to uphold those important democratic checks-and-balances but who all too often tolerate Trump's clownish autocratic tendencies. They accept his incivility and unpredictability as long as the Republican Party agenda — dismantling environmental regulations and affordable health care, pushing through a tax system overhaul, pulling the United States out of international accords, confirming conservative federal judges (including a Supreme Court justice — remains on track.
So on his angriest mornings, Trumps must be wishing he could rule a country where the whim of a self-obsessed dictator swiftly becomes state policy. But at least right now, he does not.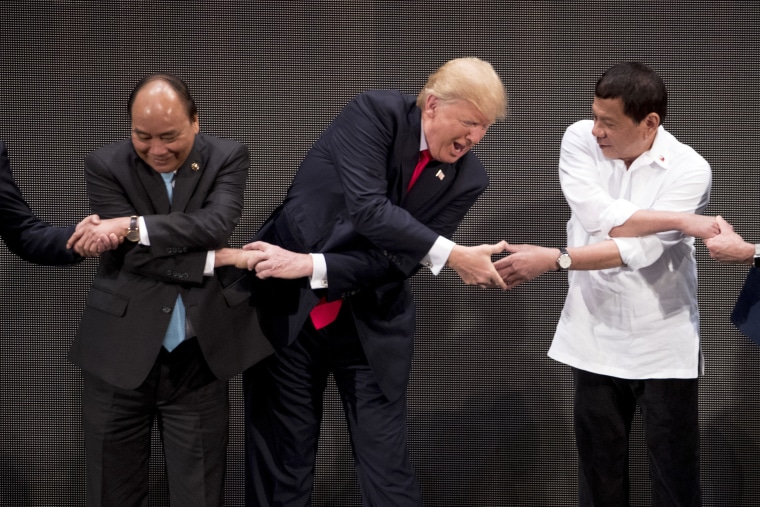 It is worth reflecting, however, on what can happen when a dictator exists in a country without democracy. Nikolai Bukharin, an editor of Pravda in the early years of the Soviet Union, challenged Stalin's supreme leadership with a series of brave editorials that questioned the Kremlin's lack of transparency. In 1937, the year of Stalin's Great Purges against real and imagined opponents, Bukharin was arrested. He was subjected to a show trial and executed the next year, falsely charged with attempting to bring capitalism to Russia. And he was but one of the estimated 11 million killed under Stalin's brutal repressions.
Even in milder times, Soviet reporters were targeted. This was the case in 1964, when Communist hardliners brought down Nikita S. Khrushchev, my great-grandfather, who had been the first Soviet leader to denounce Stalin. My mother, a journalist, had one of her articles removed from Pravda right before the printing presses rolled. Just being a Khrushchev was a matter of censorship.
Putin's Russia is, comparatively, less restrictive or lethal. True, in the post-Soviet years, 58 newsmen and women have been killed, according to the Committee to Protect Journalists. But the authorities now often settle grievances against the press through arrests and dismissals. In the last years there were at least 10 instances of threats, harassment, police raids and attacks.
Nikolai Semena, a journalist in Crimea who reports for an affiliate of the Prague-based Radio Free Europe, was recently indicted on separatist charges after his home was raided. Authorities also raided the home of prominent Moscow journalist and human-rights defender Zoya Svetova.
In even more restrictive Turkey (yes! more restrictive than Russia), President Recep Tayyip Erdoğan "remains the world's worst jailer" of the press, and dozens of journalists have been imprisoned under his watch. China, too, has a bad habit of arresting members of the press.
Trump's recent presidential request for a military parade in Washington is a step in the wrong, dictatorial, direction. Impressed by the Bastille Day ceremony in Paris, Trump seems to think that this is how great powers manifest themselves. Yet the French ceremonial tradition is a far cry from what Trump wants to have — a triumphant military march. Former president George H.W. Bush held such a parade in 1991 to celebrate victory over Saddam Hussein, but it was an exception, not a rule. And it didn't help his politics — Bush lost to Bill Clinton the next year.
What a message to the world! The U.S. soft power balloon display at the Macy's Parade is to be topped by tanks rolling down Pennsylvania Avenue. All in line with the Chinese, Russian and North Korean annual assertion of military prowess. Will the president's foreign "role models" be invited.
Imagine a picture taken of the wannabe autocrat saluting his troops from the Trump International Hotel's tower. It could be the equal of the May Day pictures that captured a succession of Soviet rulers reviewing parades from the Lenin Mausoleum on Moscow's Red Square.
Of course, if the past is any guide, Trump may never follow through on this grand parade of his. Or, if he does, it is likely to be a poorly attended affair. That's the good thing with men like Trump, they may pump themselves up with braggadocio and big talk but at the end of the day, they're just full of hot air.
Nina Khrushcheva is professor of international affairs at The New School, and the author, most recently, of "The Lost Khrushchev: A Journey into the Gulag of the Russian Mind."