Following a bitter election season, welcome news comes from Washington in the form of rare bipartisan agreement. President Donald Trump and House Democratic Leader Nancy Pelosi, D-Calif., both call for upgrades to the nation's infrastructure — and they promise to work across the aisle to get it done.
Let's hope they mean it. America's infrastructure requires attention for a host of reasons, including badly failing systems and the need to create high-paying jobs. In an era of agonizing divisions, it's also the right time to think about ways to bring citizens together — literally as well as figuratively. Large-scale infrastructure projects can do that — not just in Washington, but across the entire nation. Two ideas stand out for their potential to connect people: broadband access and high-speed rail.
The gulf between cities and non-cities has been a hot topic among social scientists over the last decade. Research reveals that the divide is economic: poverty levels are higher, businesses less resilient and jobs scarcer for those who don't live in urban areas. Social trends add to the gap, with rural Americans experiencing poorer health outcomes and fewer educational opportunities than city-dwellers.
America's infrastructure requires attention for a host of reasons, including badly failing systems and the need to create high-paying jobs.
Politically, Americans show division by location: 2016 voting maps illustrate Hillary Clinton's success in urban areas across the country, while Trump fared better in suburban and rural communities, which have shifted toward Republican candidates since 2008. (Suburban areas, however, showed movement toward Democrats in the 2018 midterms.) A perception of divergent values also worries some observers.
History shows how infrastructure programs can help bridge these gulfs.
Before President Franklin D. Roosevelt's rural electrification program in the 1930s, most country people spent the bulk of their days coping with backbreaking chores and had limited contact with the outside world. Once power lines arrived, life was transformed. People could listen to radio newscasts and hear the sound of Roosevelt's voice in his fireside chats. Farmers accessed up-to-date livestock prices and weather reports — a tremendous asset. Women used timesaving miracles including washing machines and electric stoves.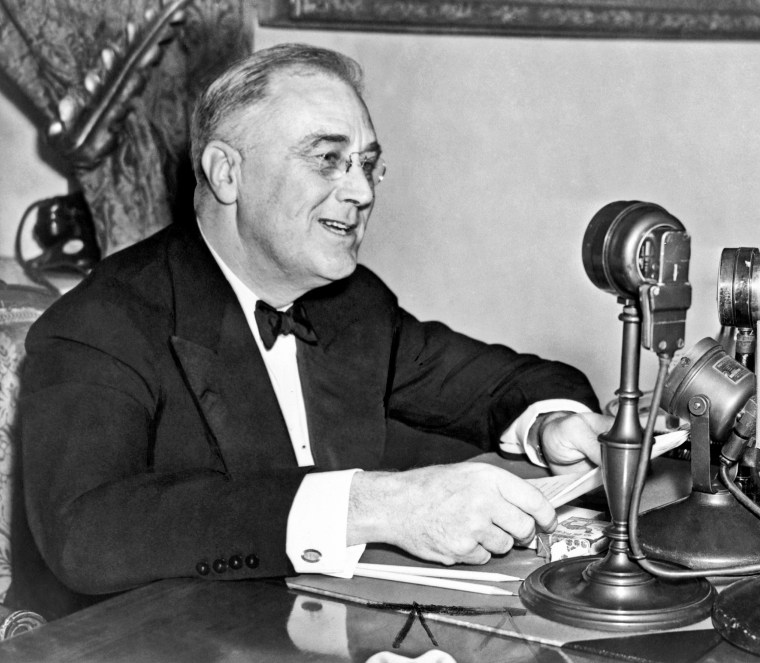 With more leisure hours, families could enjoy "Lone Ranger" and "Buck Rogers" serials over the airwaves. People everywhere could share the same information and entertainment, bringing about a convergence of values between the city and country. Rural electrification helped lessen the economic gap, bringing growth to people outside of cities that would provide benefits for decades to come.
Today, infrastructure programs can once again bring large numbers of people into the stream of modern American life and prosperity.
A lack of high-quality internet connection impacts 24 million Americans and denies them basic economic, social and cultural opportunities. Rural areas are particularly hard hit, according to the Federal Communications Commission. In rural Mississippi, a whopping half of the population can't get reliable internet, but problems with access affect Americans in every single state.
It's pretty clear that the country's aging and overburdened transportation systems waste time and decrease productivity.
Without high-speed broadband, people face hurdles trying to run a business, finding job postings, filing taxes and taking advantage of online education. Ranchers miss out on livestock auctions and farmers can't use the internet to monitor crops. And nobody gets to binge-watch "Game of Thrones."
The dense network of services that exists in urban areas isn't found in rural regions. Schools, hospitals, libraries and emergency services all rely on fast internet connections. Those without broadband are left out of things like telemedicine, which can help women without access to family planning services, along with financial services like online banking. Broadband can be transformative to communities and mitigate the digital divide that creates technology haves and have-nots.
Better, faster and more reliable trains can also help bring Americans together in a variety of ways. It's pretty clear that the country's aging and overburdened transportation systems waste time and decrease productivity. The kind of high-speed rail enjoyed by people in most other developed countries is more than a benefit to those commuting between big cities. It can serve smaller destinations by adding new segments of high-speed track to the country's existing railroad network. Those living outside of cities can use it to connect to other forms of transportation like major airports.
Millions of Americans who can't conveniently travel to high-quality medical facilities, universities and entertainment venues would benefit from new train stops planned along city-to-city lines. Improved rail services would also entice more people, like teachers and university faculty, to work in rural communities and small towns. New passenger rail lines could boost the economies of smaller communities by making it easier for people to work in cities, and also make it more convenient for people to come to visit and do business.
Trains also give travelers and commuters opportunities to relax and socialize with one another face-to-face, improving social and geographical isolation. They're not only people-friendly; they're also more environmentally friendly than flying or driving alone.
All this may sound great, but as surely as the sun rises, there will be huge obstacles to achieving these benefits. Democrats and Republicans in Washington will have to compromise on how to prioritize and fund such programs. It's likely that powerful industries will attempt to halt progress as they have in the past — like the cable and telephone lobbyists who resist broadband, and airlines that fear losing business to high-speed rail.
Politics will also get in the way of progress. There will be conflicts over which party can take credit for improvements.
If politicians forget their promises to work together, a great opportunity to restore the country's wellbeing and unity on many levels will be lost. America has achieved big, ambitious goals in the past, but over the last generation, success has been stymied by forces that divide us, like growing inequality and the undue influence of the wealthy and corporations on our political system. Connecting America will, above all, require overcoming the disconnect in Washington.