John Dean's testimony this week before the House Judiciary Committee squarely placed the Mueller report's findings in the historical context of Watergate. John Dean, while not a fact witness, can rightfully claim to be an expert witness on presidential cover-ups. As President Richard Nixon's White House counsel, he was not only overseeing FBI interviews of White House employees to keep their stories straight, but he also met with Nixon in the Oval Office numerous times to plot the cover-up. And he was present for the famous March 21, 1973 taped meeting when Nixon discussed the payment of $1 million in hush money to the Watergate burglars, which Nixon had initially acknowledged "would be wrong."
Dean's congressional testimony covered the obvious parallels between Nixon and President Donald Trump.
Dean's congressional testimony covered the obvious parallels between Nixon and President Donald Trump — there was no evidence that Nixon knew in advance of the break-in at the Democratic National Committee Headquarters and no evidence that Trump was aware in advance of the efforts of Russian operatives to hack into the DNC computers prior to the 2016 election. Nixon asked his chief aide HR Haldeman to have the CIA direct the FBI to halt its investigation into the break-in, and Trump himself asked FBI Director James Comey to close its investigation into then-White House national security advisor Michael Flynn.
Nixon tried to end the Watergate investigation by firing Watergate Special Prosecutor Archibald Cox, and Trump tried the same futile stunt by firing Comey. Dean also pointed out that both presidents seemed to dangle pardons to try to induce subordinates to refuse to cooperate with the government investigation.
Dean also compared himself to Trump's White House counsel Don McGahn, who became a principal witness for Robert Mueller's investigation into Trump's alleged obstruction. There is, however, a critical distinction between the roles of Dean and McGahn. Dean acknowledged that he was an active participant in the cover-up, while he correctly pointed out that McGahn put the brakes on Trump's obstructive conduct and prevented him from forcing Deputy Attorney General Rod Rosenstein to fire Mueller.
Dean made a compelling witness. In June 1973, some 46 years ago, Dean made a similarly compelling appearance before the Senate Select Committee investigating the Watergate break-in and the subsequent cover up. As an assistant special Watergate prosecutor, much of my time was consumed with John Dean.
Indeed, when I first joined the Watergate Special Prosecution Force in May 1973, my first task was to gather all the evidence existing on Dean's involvement in the Watergate obstruction. We had to seal this evidence in DC federal district court so we could prove in a later indictment that our case against Dean for obstruction was independent of his immunized Senate testimony.
After Dean pled guilty to obstruction, I spent many hours debriefing him on a whole series of matters I was investigating. Just as he appeared when he testified before the Senate Select Committee in 1973 and earlier this week before the House Judiciary Committee, Dean was always precise, articulate and had an excellent memory. Nonetheless, after Dean's 1973 Senate testimony, the line was drawn — Dean's statements contrasted clearly with Nixon's repeated protestations of innocence. (Nixon also claimed that Dean was a liar.)
And of course, everything changed when Alex Butterfield, another Nixon aide, revealed to the Senate Committee the existence of the White House taping system. Those tapes, obtained after the Supreme Court enforced a subpoena against Nixon, corroborated Dean's Senate testimony and ultimately sunk Nixon.
While we do not have tapes corroborating Don McGahn and the statements of other White House officials, the text of the Mueller report reveals a mountain of independent evidence corroborating what McGahn and the other witnesses relayed to Mueller. The Mueller report details that McGahn, for example, maintained contemporaneous notes reflecting Trump's statements to him regarding his attempts to fire Mueller and redirect the press.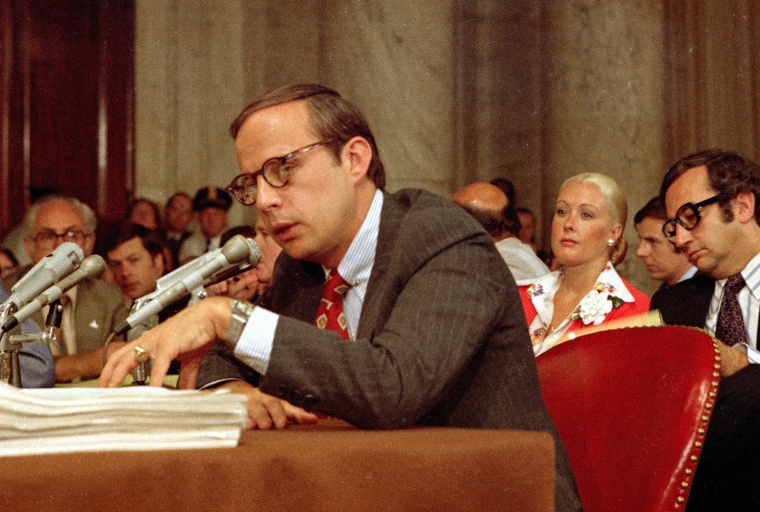 In addition, McGahn discussed Trump's conduct with others, including Trump's chief of staff Reince Priebus. McGahn's own chief of staff, Annie Donaldson, made contemporaneous notes of McGahn's conversations with Trump. All of this corroborating evidence, including phone records of McGahn's calls with Trump, led Mueller to conclude that McGahn was "a credible witness with no motive to lie or exaggerate given the position he held in the White House."
Dean's testimony describing Trump's obstruction of justice is of course directly at odds with Attorney General William Barr's testimony and public statements essentially exonerating the president. But Barr's motivations become less confusing when you consider his June 8, 2018 memo sent to the White House and Department of Justice (DOJ). The memo, arguably a thinly disguised job application to succeed Attorney General Jeff Sessions, argued that Trump could not be guilty of obstruction because an obstruction charge can only be based on an effort to obstruct a judicial proceeding, not an FBI investigation.
Barr's position not only flies in the face of DOJ's standard policy, it ignores the fact that Nixon's chief lieutenants were convicted for obstructing the FBI investigation into the Watergate burglary. Similarly, Barr's position that the critical element of "corrupt intent" in the obstruction statutes is too amorphous and that Trump did not evince "corrupt intent" is also contrary to DOJ's standard jury instruction that "corrupt intent" simply means to act with an improper purpose, as again explained in the Mueller report.
The bottom line is that the House Judiciary Committee must fully educate the public about the full scope of the obstructive conduct revealed in the Mueller report. It must continue staging televised hearings and must subpoena all the key witnesses identified in the Muller report who served in the Trump White House. There's a reason this whole scandal is starting to look more and more like Watergate.