That clattering noise you've been hearing for years is the sound of previous U.S. presidents, from Bill Clinton to George W. Bush to Barack Obama, kicking cans down the road for someone else to pick up. Now, a heavyset older man with orange hair has set about collecting them — not to recycle for another president, but to ensure no future U.S. leader will trip over them.
Critics describe President Donald Trump's foreign policy as a muddled, unpredictable collection of impulses, with the one organizing principle being the coddling of like-minded, ruthless dictators. But there is, in fact, a defining diplomatic strategy: He is cleaning up the messes left by his predecessors.
Trump, regularly derided as the most irresponsible of presidents, is actually taking ownership of the most terrifying problems the country faces and trying to solve them in a direct way that his recent predecessors avoided.
Trump is actually taking ownership of the most terrifying problems the country faces and trying to solve them in a direct way that his recent predecessors avoided.
With respect to Iran, China, North Korea and even Russia, Trump is taking tough stances. He is getting cozy with dictators because the man who considers himself an artist of the deal understands that those are the people he must strike bargains with.
Under Trump, China has finally been recognized as a long-term strategic opponent and potential enemy, rather than a nation of billions yearning for democracy. Capitalism has indeed taken hold in China — though without economic nor political liberalization. Instead, authoritarian China is using its newfound riches to expand its economic, political and military influence.
Since Clinton permanently normalized trade relations with China in 2000, American manufacturing has relocated to China for its cheap labor, the Chinese have consistently cheated on trade and the annual U.S. trade deficit with China has soared from $83 billion to a record $419 billion in 2018. Recognizing that placating China and quietly nudging it to play fair is not going to work; Trump has taken a more direct approach and assessed tariffs on Chinese imports while threatening even more. The Chinese are now at the table, talking, and Washington may at last secure a more equitable deal.
Meanwhile, North Korea's nuclear program has been progressing steadily since 1994 when Clinton, instead of risking military confrontation to put a stop to the nascent effort, acquiesced to a deal negotiated by President Jimmy Carter. That agreement gave the Kim family the room it needed to develop nuclear weapons. Bush's six-party talks from 2003 to 2008 failed to stem North Korea's ambitions, and the country continued to build bombs during Obama's even more passive "strategic patience" approach.
After two and a half decades of Washington dithering, by 2017 the North Koreans were on the cusp of being able to load their bombs on missiles that could reach the continental United States. So Trump decided to try something different.
First, he mocked North Korean dictator Kim Jong Un and menaced him with U.S. gunboats. Then, having made it clear he had no problem getting dirty, he started meeting with Kim directly.
Trump likely cannot succeed in disarming Kim of his weapons by disarming him personally. The North Korean dictator is probably just buying more time. But Trump is at least taking an unconventional approach rather than re-enacting the failures of the past.
U.S. policy toward Iran has also been altered under Trump. Since Clinton, administrations have fostered quixotic illusions of reasonable moderates within the Tehran leadership. But there was little change in that country's behavior — which has included supporting terrorist groups like Hezbollah and killing more than 600 U.S. troops in Iraq through militia surrogates.
Obama's 2015 Iran deal was the ultimate can-kicking exercise, granting Iran sanctions relief in return for limits on its nuclear program that would expire over the next dozen years. The arrangement could have given Iran the cash it would need to complete its nuclear ambitions once sunset clauses allowing it to enrich more uranium were invoked.
Trump, however, has decided a nuclear Iran is not acceptable — neither now nor 12 years from now. He withdrew from the deal and re-invoked sanctions in the hope that the Iranians will renegotiate the terms that legally could have put them on a path toward nuclear weapons.
Of course, this path too has drawbacks — Iran responded by claiming it will increase its uranium enrichment. But Trump has reasoned the time to get tough with Iran is now, not in a dozen years when they are stronger and have perfected technologies related to nuclear weapons.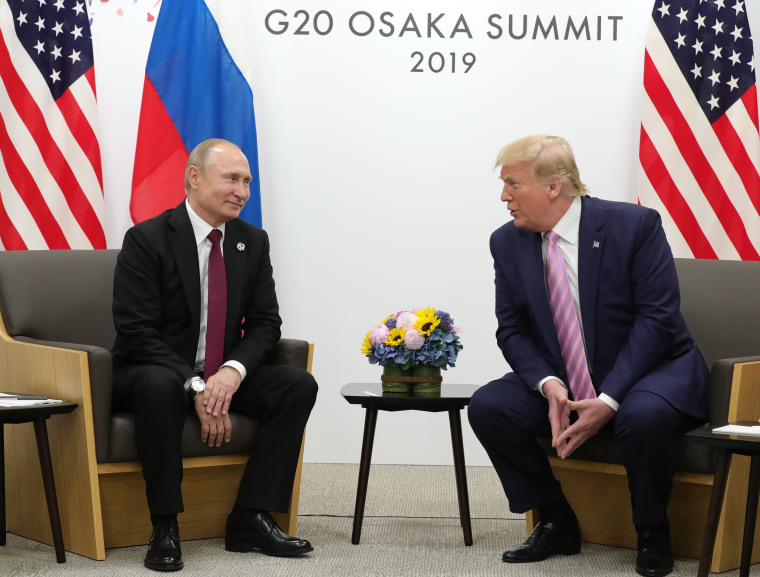 U.S. policy toward Russia pre-Trump had also been marked by years of complacency — remember Russian President Vladimir Putin convincing Bush there was a soul behind his eyes? During the 2012 presidential campaign, Obama dismissed Republican nominee Mitt Romney's concerns about Russia with a quip about the 1980s wanting its foreign policy back. Obama was also caught on an open mic whispering to Russia's then-President Dmitri Medvedev that he'd have more "flexibility" after the election.
In key ways, the White House has been strengthening U.S. posture toward Russia — even if Trump seems to be buddying up to Putin. The Brookings Institution noted this, asserting, "The Trump administration's policy actions often seem at odds with the president's rhetoric," and listing a series of Trump policy actions toward Russia.
Trump's administration, Foreign Policy explained, "has held a tough line on Russia, building on his predecessor's policies by layering on further sanctions, expelling dozens of Russian diplomats, and providing lethal weapons support to Ukraine — a step that former President Barack Obama had been unwilling to take."
Trump's demand that European nations pay their North Atlantic Treaty Organization obligations — another can regularly kicked down the road — might seem hostile toward long-time allies, but ensures they have skin in the game when it comes to confronting Russia.
The Washington establishment, so used to conventional ways, is aghast. But business as usual has strengthened our enemies. Trump's iconoclasm is worth a try.