As Americans reflect the one-year anniversary of the 2016 election, liberals in particular have been doing a lot of thinking about how they got to this point. This soul-searching has revealed, importantly, that there are two kinds of Democrat. The first kind regards the Trump presidency as anathema. For these Democrats, opposing this president and his administration is a moral obligation.
Then there is the other kind of Democrat. These see this kind of uncompromising moralism as unrealistic and unproductive. Even if they are as anxious as their fellow Democrats, they don't see how histrionics win back a single voter lost to Trump. This kind of Democrat is happy to ignore "distractions" like the president's ponderous tweets and cultural incitement. They're laser-focused on an economic message designed to appeal to crossover voters.
Unfortunately, this premise — that Trump's support is buoyed by his economic message alone and can thus be undone by one — is mistaken. What distinguishes Trump's economic message from his center-left Democratic counterparts is the culturally revanchist packaging in which this message is bundled.
One prominent example of the latter kind of Democrat is Illinois Congresswoman Cheri Bustos. In May, Politico Magazine's Michael Kruse observed the Representative managed to retain her seat in 2016 despite serving in a district that voted for Trump. Bustos, Krause said, does her best to avoid lecturing her constituents. "When she does talk," he noted, "she talks as much as she can about jobs and wages and the economy and as little as she can about guns and abortion and other socially divisive issues." Those are, in Bustos' words, "no-win conversations."
In a recent appearance on "Morning Joe," Bustos elaborated on her strategic thinking. "When I do talk, I talk about nothing but the economy," she said. Bustos dismissed the culture wars that Trump enthusiastically litigates as "a diversion" that tends to derail her preferred message: jobs, jobs, and more jobs, with occasional nods to education programs but primarily insofar as they relate to jobs.
What distinguishes Trump's economic message from his center-left Democratic counterparts is its culturally revanchist packaging.
Bustos' proposition is a familiar one. Senate Minority Leader Chuck Schumer conveyed his intention to defer to Senator Bernie Sanders' legislative priorities over the summer when he rolled out the "Better Deal" agenda. The post-Obama/Clinton Democratic Party, Schumer implied, will emphasize bigger, broader and more robust spending programs and federal mandates ostensibly aimed at increasing take-home pay. What it will not do going forward is spend as much time on allegedly divisive wedge issues and so-called identity politics.
This kind of Democratic Party is being put to a real-world test today in Virginia, where Democratic Lt. Gov. Ralph Northam remains a slight favorite to replace outgoing Democratic Governor Terry McAuliffe. Both Northam and his Republican opponent, Ed Gillespie, spent much of the early campaign touting their plans for economic growth and job creation.
That strategy didn't last, however. By October, Gillespie's campaign began testing new themes: gang-related criminality, the rise of MS-13, and the dismantling of Virginia's Confederate monuments. Northam's allies have since taken the bait.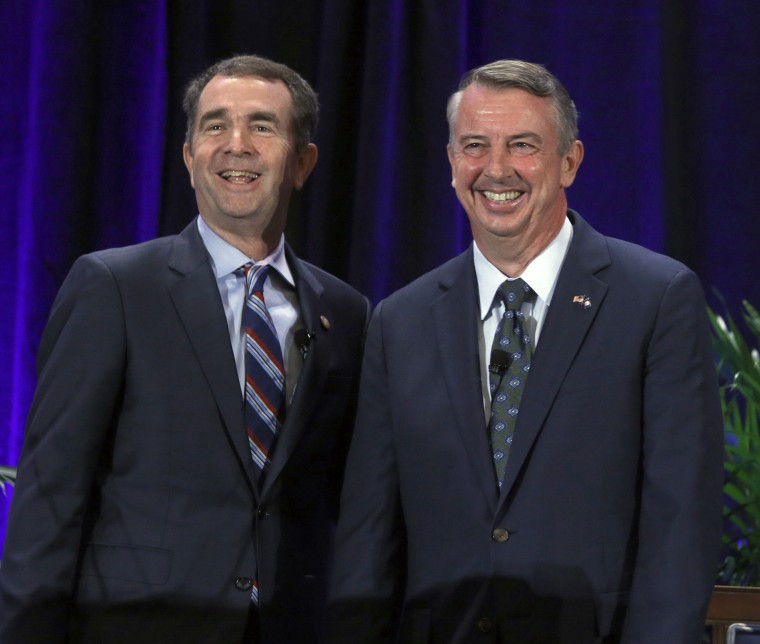 Virginia's voters favor keeping monuments to the Confederacy where they are, but the Democratic Party's activist class — its organizational and fundraising base — seems unfailingly hostile toward that point of view. Moreover, Gillespie's contention that Northam would be soft on illegal immigration and gang activity has compelled his Democratic allies to abandon all caution.
Hillary Clinton's former campaign spokesman, Brian Fallon, tweeted an image of tiki-torch bearing neo-Nazis, declaring it an "Ed Gillespie campaign strategy meeting." The progressive group Latino Victory Fund, founded by actress and Democratic activist Eva Longoria, produced an ad that depicts elementary school-age children being chased down by a pickup truck brandishing a confederate flag and a "Gillespie for Governor" sticker. (The ad has since been pulled.)
Even the state's Democratic Party succumbed to the temptation to wade into the culture wars. In recent a pro-Northam mailer, a vote against Gillespie is depicted as a vote against not just "hate" but the white supremacists who marched on Charlottesville in August.
So why couldn't Northam and his fellow Democrats stay on the economics-only message? In part, because the economy is relatively good. Virginia's official unemployment rate is just 3.7 percent. According to a recent poll, 68 percent of Old Dominion registered voters said the state's economy is either "good" or "excellent."
The same conditions prevail nationally. At 4.2 percent, the official U.S. unemployment rate is well below pre-recession levels. The labor force participation has leveled off and even shows signs of recovering. The GDP grew by a sustainable 3 percent for the last two consecutive quarters. An August Quinnipiac poll found 62 percent of Americans saw the state of the economy as either "good" or "excellent." And while a record 58 percent disapprove of President Donald Trump in the latest NBC News/Wall Street Journal poll, they still gave Trump positive marks on his handling of economic issues.
So why couldn't Northam and his fellow Democrats stay on the economics-only message? Because the economy is relatively good.
Despite this economic optimism, Donald Trump's presidency has so far failed to deliver on its promises when it comes to policy. His supporters sold Trump as a no-nonsense businessman with little tolerance for distractions or excuse making. From igniting unwinnable culture wars to establishing dubious election fraud commissions, the Trump presidency has, however, been all but consumed by distractions and excuses.
Meanwhile, he has failed to repeal and replace the Affordable Care Act, robbing Republicans of the savings they needed to ensure speedy passage of a tax code reform bill. House Speaker Paul Ryan's ambitious legislative agenda, which included infrastructure spending, a border wall, and IRS reform, will likely be an uphill battle.
So what achievements are keeping Trump's core voters tethered to their president? Trump's habit of challenging the dominant cultural ethos. Whether those battles are won or lost is irrelevant; his exceptional willingness to engage in those divisive fights is affirmation enough. From reigniting a dormant controversy over NFL players kneeling to protest police violence to declaring on Twitter that transgender service personnel need not apply to the armed forces, Trump's supporters appreciate his habit of wading into the cultural fights more establishmentarian Republicans refuse to touch.
This might also explain why, despite the overall positive economic landscape, the president's job approval rating languishes at historic lows.
The idea that Democrats can limit themselves to a purely economic message in the Trump era is wishful thinking. At its root, Trump's economic message is not all that dissimilar from their own. In 2016, Trump ran a campaign that was suspicious of free trade's impacts on domestic industry, of cheap labor, automation, and firms that outsource to more business-friendly climates. He expressed support for the universal mandate to purchase health insurance in the Affordable Care Act and savaged the initial House version of this law's replacement for lacking "heart" and needing "more money." He essentially endorsed Bernie Sanders' plan for a $1 trillion investment in public works, albeit without saying the Vermont Senator's name.
With the exception of tax cuts, Trump campaigned on a centrist economic message with populist overtones; what made it resonate with his voters was that the politician advancing it eschewed pretensions and was despised by all the right people. As the National Review's Michael Brendan Dougherty observed, policy is intangible for many. To much of the GOP base, fighting culture wars is the first time that millions of Republican voters can remember their party "doing something for them."
Try as they might, Democrats will find it impossible to stick to an economics-only script ahead of the 2018 midterm and 2020 general elections. It would be foolish even to try.
Noah Rothman is the Associate Editor of COMMENTARY Magazine.