Space was never guaranteed to be a non-militarized zone, and we are lucky that it is explicitly seen as a peaceful, cooperative domain, even if reality suggests that it might not remain so forever. After all, the United States rejected a treaty that offered some guarantees that could preserved that peace — a formal, international prohibition of weapons in space, the development of ground-based anti-satellite weapons, and a robust verification regime — in 2014.
So when President Trump floated the idea of a "Space Force" before a crowd at the Marine Corps Air Station Miramar in San Diego, Calif., this week, it's probably a good thing that the defense world greeted it with uncomfortable laughter. It was unclear the President was speaking from the hip or had misheard the description of another nation's Aerospace Force, plus the wording suggested an idea proposed half-seriously, awaiting positive feedback before doubling down. (And, of course, the Pentagon had already dismissed a congressional suggestions of a Space Force in 2017.)
Whatever the missing origin of Trump's remarks, he stumbled onto a minor truth: The military has long been active in space, and will only be more so in the future. We may not have a "Space Force," per se, but we're not immune from shows of force in space.
The military has long been active in space, and will only be more so in the future.
It's important to note that the settled peace of space came about as much through happenstance as active coordination, and there was no guarantee that international competition in orbit would play out calmly. During Eisenhower's second term, for instance, Under Secretary of the Air Force Malcolm A. MacIntyre articulated a hawkish vision of competition in orbit, saying "A space warfare capability on the part of the United States is vital to the survival of the free world... We must seek out every possible means of acquiring a military capability to control space — or to deny that capability to an enemy."
And then in June 1960, the U.S. Navy put the first electronic surveillance into space: Named Galactic Radiation Background Experiment, the satellite had a public, scientific mission to measure solar radiation and a covert military mission to detect signals from Soviet radar and transmit them back to earth. Two months after GRAB, the CIA and the Air Force successfully launched Corona, the first satellite to take pictures from orbit. (Corona would eject capsules of film that Air Force planes would retrieve mid-air; the pictures were developed on the ground). In the early 1960s, the USSR followed with its first working surveillance satellites (the earlier Sputnik, despite its historical prominence, didn't carry any sensors of its own).
Space became at least a place to put military equipment, if not explicitly a place to fight wars.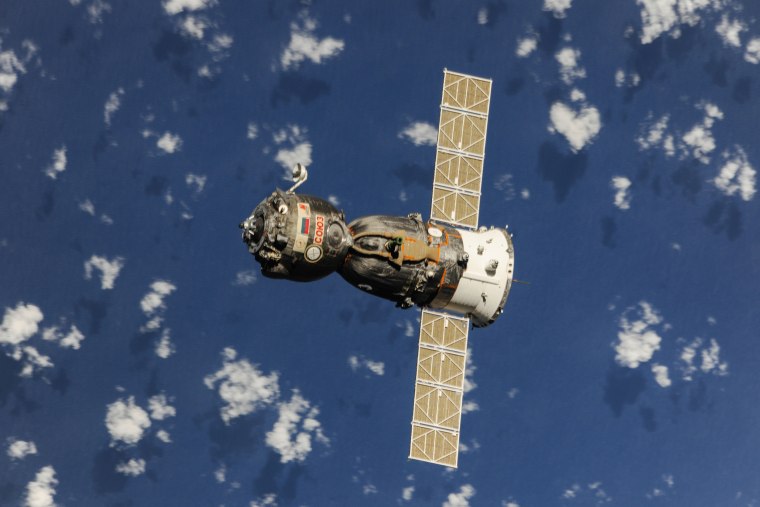 Then, the Outer Space Treaty entered into force in October 1967, specifying a variety of rules for nations. Among those rules is "States shall not place nuclear weapons or other weapons of mass destruction in orbit or on celestial bodies or station them in outer space in any other manner." Notably absent from that prohibition is a ban on any weapons below the scale of mass destruction.
Nations that went to space took advantage of that wide loophole: The Soviets armed cosmonauts with the Soviet TP-82, nominally a pistol but more akin to a shotgun, built to help them survive a landing in the wilderness until found by the recovery team. They also deployed at least one weapon designed to be used in space, a defensive cannon mounted in at least one Almaz manned space station in the 1970s, to protect the crew as they performed military reconnaissance from orbit.
To the extent that nations have prepared for war in space, it is by developing anti-satellite weapons. These weapons range from special explosive-laden objects that can be placed in orbit to detonate on a target satellite, to missiles fired from the ground that simply destroy the targeted object in space. While the development of some anti-satellite capabilities are publicly known, others only emerge after a test (like when China destroyed one of its own satellites in January 2007), and others are merely speculative (like whatever it is the Air Force does with its X-37B covert space robot).
While Trump may not send troops into orbit, he's unlikely to commit to maintaining a peace in the heavens.
Given the Pentagon's decision in 2017 to reject congressional efforts to push for a "Space Force" as well as the decades-old treaty and norms restricting activity to defensive and surveillance efforts, rather than offensive forces, Trump's suggestion of a Space Force is unlikely to move beyond mere rhetoric. Plus, the United States already has a military apparatus for directing conflict in space, in the form of U.S. Air Force Space Command.
Operations in space could stand to be more transparent, both about what the United States (as well as China and Russia) are doing with satellites already in orbit, and about what the Pentagon is buying to put into orbit. But given some of the administration's rhetoric on military aggression, while Trump may not send troops into orbit, he's unlikely to commit to maintaining a peace in the heavens that he's already not committed to on earth.
Kelsey D. Atherton is a defense technology journalist based in Albuquerque, New Mexico. His work has appeared in Popular Science, The Verge, Aviation Week and elsewhere.