It's hard to say why the Rohingya refugee crisis isn't getting more attention in the United States. Maybe people in their day-to-day lives don't necessarily have the emotional bandwidth to think about it; it is so overwhelming.
But, as of November 24, the estimated number of Rohingya refugees that have fled Myanmar since August 25 to go over to Bangladesh is 624,000. That's as though nearly the population of Washington, D.C. picked up and walked to Canada — and went through hell while they did, experiencing extreme violence before the walk and during the walk. Think about it: That many Rohingya people somehow remained strong enough to get to Bangladesh, carrying their children on their backs, often after their villages were burned and they saw their family members burned, shot or killed with knives. And then, along the journey, there were people waiting to rob the refugees of anything they might have been able to take, to rape them (possibly again), to kidnap them or commit any version of horror that one can imagine.
The Rohingya crisis is one of the most urgent and frightening situations that the UN High Commissioner for Refugees is dealing with today, and it happened so quickly. It's hard to even get your mind around what is happening.
These people are so vulnerable and they have nothing now in Myanmar — no home, no shelter, no food, no water, and their children are at risk for being killed. That's why they fled. Many of the people I met at the Kutupalong refugee camp said they hadn't slept a full night in months; they may not have a lot of the things that we all take for granted, like a soft bed, in the camp but they're happy to have a mat to sleep on where they feel safe, where they don't have to worry about their children being kidnapped.
A huge proportion of the refugees coming to Kutupalong from Rohingya are women and children: 54 percent of the Rohingya refugees are children, and nearly 19 percent aren't even five years old. You just can't believe how many tiny children are there; it's really stunning.
Often, the people are in emotional shock when they first arrive, and some are in poor health. The first step for everyone is the registration camp, where the UNHCR helps separate out the people who are very, very vulnerable and sick. There, I saw a lot of newborn babies — babies that were born along the road and in the woods while their mothers were trying to escape. I also saw some really severely malnourished children, who hadn't had food for a long time. The vulnerable people are put into a special camp where tents have already been erected and they can get medical attention from a temporary hospital and extra nutrition, particularly the malnourished children.
The people who've been there a little while, who are well enough, are in a separate camp where, sometimes with assistance, they build their own shelters out of a kit provided by UNHCR that includes a kitchen set, bamboo poles and tarpaulins to make a tent, sleeping mats, blankets and a solar panel for light, which is for the safety of women and children at night. The camp is hilly, so you can go up to the top of a hill and all you see stretched out in front of you is the different tarpaulins in various colors and the hustle and bustle — people building, excited, kids flying kites and running and rolling down the hills in these little carts they've made out of old water bottles, laughing.
And they already have some primary schools set up in the camps in Bangladesh for the Rohingya kids, which is amazing. They don't have enough yet, because the crisis has moved so quickly, but they are building primary schools, places to go that are safe for the children where they're able to start learning.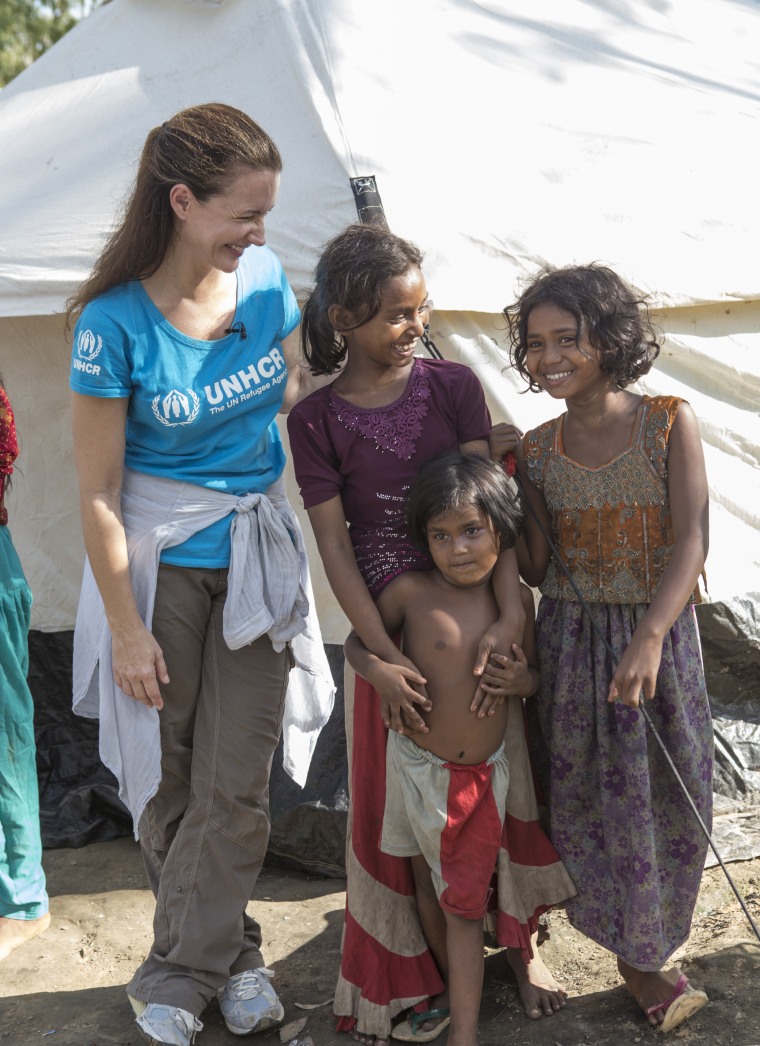 You read about situations like this in the paper, about the hard things the Rohingya people have been through, and you think that visiting is going to be just incredibly sad and depressing, and some of it is. But it's also really amazing to think about a horrific situation that you can't imagine personally going through and being able to be that resilient. It's a remarkable expression of the human spirit to be able to see how resilient refugees are.
What gives me hope for the future — and it's kind of hard to find the hope in these situations — is the fact that the Rohingya are themselves hopeful, that they are thankful for the aid, thankful that they have a safe place to sleep, thankful that their children are safe outside and can play within the camp.
The little children all over the world are going lead us, one way or the other; that's why we need to really step up and be there for them, so that they have a future, so that they're not just stuck in this cycle of violence and poverty.
As told to THINK editor Megan Carpentier.