There have been more than 170 Democratic and Republican presidential primary debates broadcast since the first radio debate in 1948; in that time, only five women have ever participated. On Wednesday and Thursday, in the first Democratic debate of the 2020 primary season, six women — Sens. Elizabeth Warren of Massachusetts; Amy Klobuchar of Minnesota; Kamala Harris of California; Kirsten Gillibrand of New York; Rep. Tulsi Gabbard of Hawaii; and the author Marianne Williamson — will more than double the number of women who have participated in this country's presidential debates.
Americans who tune in to the two-night debate will see something else unprecedented: multiple women candidates appearing on the debate stage at the same time. Research has shown that critical mass makes a difference in being taken seriously: Two or more women or minority candidates have a better shot at getting hired than one alone.
This week's debates, then, are more than a milestone; they're the start of leveling a historically uneven playing field.
It is worth noting that black women blazed this trail: In 1972, the "unbought, unbossed" Rep. Shirley Chisholm, D-N.Y., became the first woman to appear in a presidential debate. As with everything she accomplished in her career, Chisholm got herself there by sheer force of will, filing a complaint with the FCC after she had been excluded from the first three debates.
It was 30 years until another pioneering black woman, Sen. Carol Moseley Braun, D-Ill., made it onto the debate stage in 2004. Just three women have followed her: Rep. Michele Bachmann, R-Minn., in 2012; Carly Fiorina in 2016; and Hilary Clinton, as a senator from New York in 2008 and as former secretary of state in 2016.
While these women made important inroads, it was clear they were doing so on men's turf.
As a new report from TIME'S UP pointed out, the debates' historical diversity problem has always extended to the moderators — the referees whose all-important job includes selecting discussion topics and enforcing debate rules. Just from 1996 to 2016, almost half of primary debates included no women moderators, and nearly three-quarters included no people of color.
The result has been an agenda focused disproportionately on so-called macro topics like foreign policy, defense and the economy, with scarce attention paid to critical issues like the pay gap, affordable child care and racial health disparities, largely seen as "niche" or related to "identity politics" (though they apply to half the population or more).
The same moderators have also been largely ineffective at calling out bad behavior like bullying and frequent interruptions (when they haven't been guilty of it themselves).
And in the post-debate analysis, voters and the media have also traditionally been harder on lone female debaters. While debates require — and men are rewarded for — assertiveness, our research at the Barbara Lee Family Foundation has consistently found that women pay a higher price for contrasting themselves with or "going negative" on their opponents.
Finally, when it comes to the dreaded debate gaffe, voters have typically been more forgiving of men, who they assume to be inherently qualified. It's hard to imagine a woman surviving Rick Perry's infamous "oops" moment, or Ted Cruz's similar blunder four years later. (Bachmann would likely concur; Sarah Palin, though she was only a vice presidential debater, assuredly would.)
If it sounds like the women preparing to make their debate debut are walking into a trap, it's also important to remember how much has changed. It's fair to say Chisholm would be more at home in today's Democratic Party, one that is increasingly rallying around women and people of color as leaders; it's hopefully fair to say that Clinton's experiences has led to changes as well.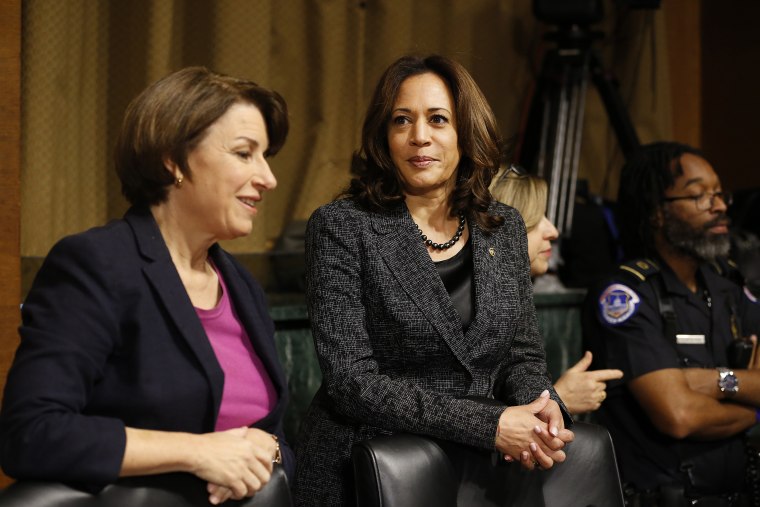 A case in point: Last month, the Democratic National Committee approved a policy requiring that every presidential primary debate feature at least one woman moderator and at least one person of color.
This all gives women something approaching critical mass on the debate stage and a chance to be seen as individuals, not as the token female. So it would be a shame if their fellow candidates, moderators, voters and the media continue to follow the same old tired script.
Here's what I would like to see: a debate in which every candidate gets a fair chance to make their pitch to America, without fear of mansplaining, he-peating or constant interruption. A debate in which voters and the media hold all candidates to the same standards and judge them on style and substance, not stereotypes. I'm hoping the debates will be the start of a new chapter in American politics, in which a diverse slate of women competing for the presidency becomes routine, not history-making.