After posting a photo of a crashed airplane to its Facebook wall along with a cheeky remark, London Luton Airport has apologized for mocking a fatal tragedy.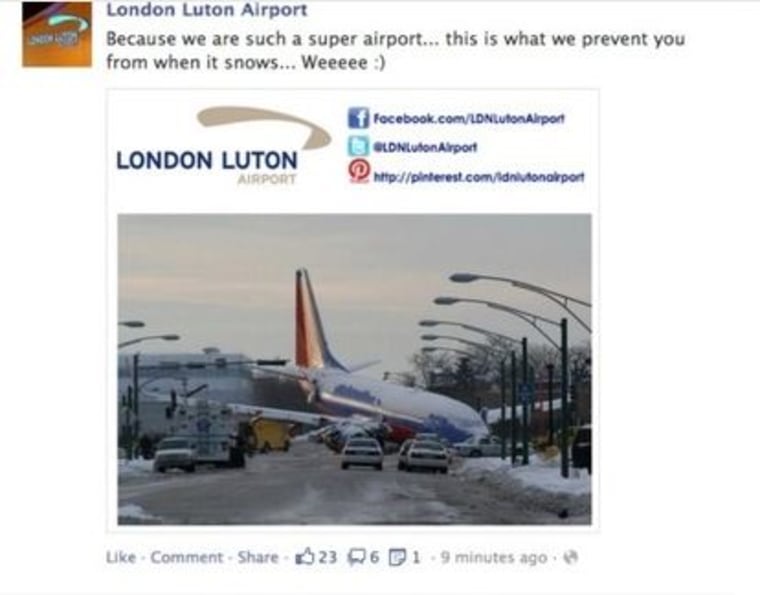 The photo showed Southwest Airlines flight 1248 after it skidded off a snowy runway at Chicago Midway International Airport, and careened through a barrier wall and into a busy street on December, 2005.

London Luton's Facebook caption accompanying the photo, left up for an hour and fifteen minutes, said, "Because we are such a super airport ... this is what we prevent you from when it snows... Weeeee :)."
A six-year-old boy was killed in the 2005 crash when a car hit the out-of-control aircraft.
"London Luton Airport apologises unreservedly for the post on Facebook, which was wholly unacceptable and insensitive," said airport spokesperson Louise Ross. Two individuals have been suspended from the Facebook account, she said.
"We have Social Media guidelines that clearly outline what is acceptable," Ross added. "However, in this instance, a new, over-enthusiastic member of our support team made an honest but misguided mistake and clearly stepped over the line.
"We are now carrying out an assessment of our guidelines and procedures and identifying further measures that will prevent something like this from ever happening again," said Ross.
Ashley McCown, crisis communications expert and president of Boston-based PR firm Solomon McCown, doesn't believe the incident will have long-lasting negative repercussions for London Luton. But, she said, "it's a cautionary tale about the immediacy of Facebook."
"Humor is a delicate thing," said McCown. "It comes down to judgement."