The Burma Shave signs are long gone and Route 66 exists in name only but this summer travelers can hit the road in a rig that truly recalls the glory days of the Great American Road Trip.
Launched earlier this month, Airstream2Go.com offers the first-ever rentals of the distinctive "silver bullets" that have been icons of the highway for more than 80 years.

"Everybody recognizes them," said Al Hesselbart, historian at the Recreational Vehicle Hall of Fame and Museum in Elkhart, Ind. "If it's a bright aluminum trailer with rounded curves, it's got to be an Airstream."
That shape owes its existence to Hawley Bowlus, a glider builder and designer who conceived it in the early 1930s after helping build the Spirit of St. Louis for Charles Lindbergh. Unfortunately for Bowlus, he was a better engineer than a businessman and the company struggled until master promoter Wally Byam took over, renamed it Airstream and launched a sales and marketing machine that capitalized on the trailer's unique shape and then-futuristic styling.
"For many years, it had kind of a snob appeal," said Hesselbart. It was, 'I've got one and you don't.'"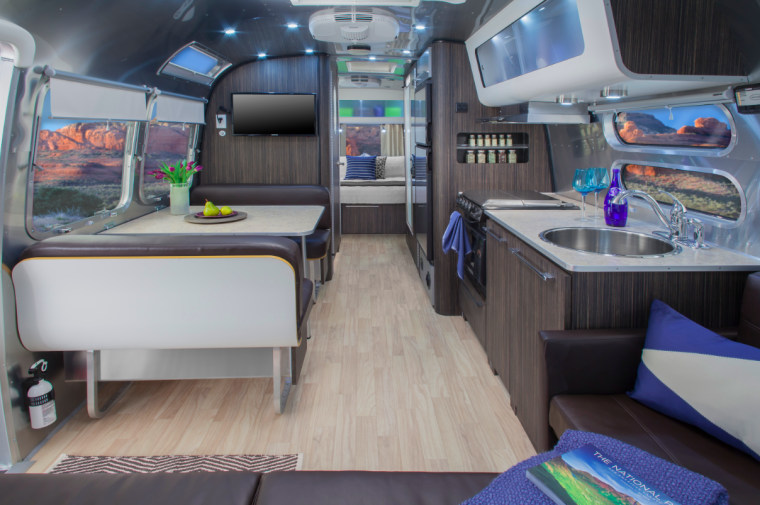 Enter Dicky Riegel, who founded Airstream 2 Go after serving as president of Airstream and group president of its parent company, Thor Industries. With new models costing $30,000 to $100,000, he saw a gap in a business model in which the rigs were available for sale but not for rental.
"I was with Airstream for 15 years and there wasn't a day that went by that someone didn't ask, 'How do I rent one?'" he told NBC News. "The answer to that question was always, 'Well, I'm sorry but you can't.'"
Until now, that is. Currently, Airstream 2 Go is renting 23- and 28-foot Airstreams from two locations: Las Vegas and Los Angeles. Trailers are paired with a GMC Yukon Denali truck with rates starting at $3,850 for a self-guided "Take It & Go" 5-day rental.
For those who want a more bespoke experience, the company also offers pre-planned itineraries and concierge-style services through a partnership with Off the Beaten Path, an adventure travel company. Current offerings include an 8-day excursion from Las Vegas that visits Zion and Grand Canyon national parks and Lake Powell and a 9-day trip from Los Angeles that heads north to Yosemite then back south along the Pacific Coast Highway.
Rates start at $7,500 and Off the Beaten Path will arrange everything from campground reservations to guided tours and surfing lessons.
Either way, renters clearly get to ride in style. While the trailers' exteriors retain their iconic shape, the interiors have been reimagined by noted architect and designer Christopher Deam. Instead of the traditional camper-style motif, Deam exposed the trailer's burnished-metal frame, highlighted its natural curves and gave it a feel that's equal parts retro and futuristic.
Additional amenities include a flat panel TV, iPod interface and beds for up to six with duvets and high thread-count sheets.
There are, of course, less expensive RV rentals available, a valid concern with gas prices pushing $4 per gallon in many parts of the country. But as Riegel notes, his company is predicated on offering a premium product to a discerning audience.
"Airstreams have proven to be an outstanding value over time — 75 percent of all Airstreams ever built are still on the road today," he told NBC News. "At a time when Americana and wanderlust are coming together, it seems timely to offer the experience to people even if they can't own one."
Rob Lovitt is a longtime travel writer who still believes the journey is as important as the destination. Follow him on Twitter.