Despite reassurances by reservation agents that using a breast pump at her seat was allowed, American Airlines passenger Dawnella Brahos says she was was embarrassed on a recent flight from Minneapolis to Chicago when a flight attendant told her that plugging in the device was forbidden.
"She was speaking in a loud voice, reading a page from a manual and adamant that because it was not pre-approved medical equipment I could not use the pump at my seat," Brahos told NBC News. "I felt humiliated. Everyone pretty much knew my business at that point and she kept checking back and eyeballing me the whole time to make sure I wasn't using the pump."
On April 18, Brahos, a 38-year-old mother of three from Lowell, Ind., was on the last leg of trip to California with her husband. Her three kids, including one still on breast milk, were at home with her mom.
Before her trip, she spent hours on the phone talking to airline reservation agents and their supervisors, all of whom told her not to worry.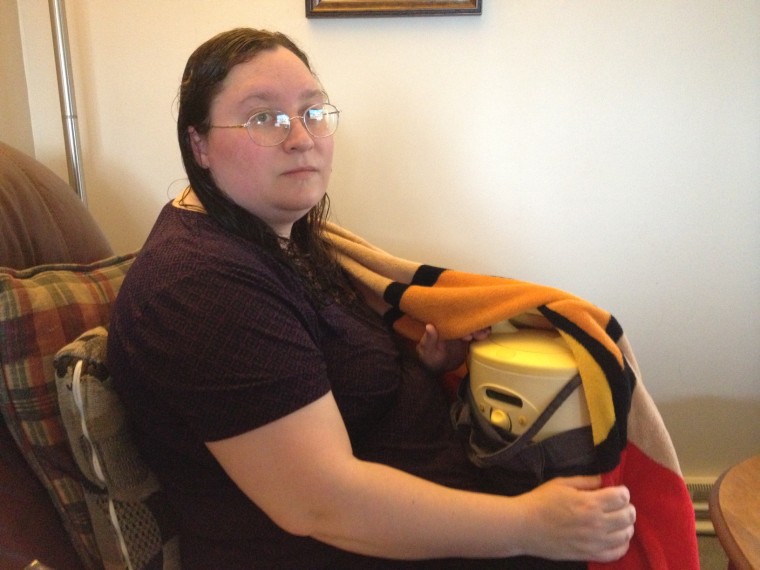 "I researched which airplanes had outlets at the seats so I could plug in my pump and I made sure that the type of breast pump I had – a Medela – was approved. I brought along a big Angry Birds blanket to cover myself with. And my husband and I even paid extra to make sure we'd get seats next to each other so I wouldn't be sitting next to a stranger while using the pump."
During three legs of the trip, Brahos had no problem using her breast pump during the flight and says helpful flight attendants even let her plug in the breast pump in the galley.
But on the final leg of the trip, Brahos said the flight attendant told her she could not use the galley nor use the pump at her seat. "She even said I was making up the fact that I had used the pump on previous flights," said Brahos.
"A lot people are saying I should have used the pump in the bathroom, but airplane bathrooms are pretty disgusting places to try to use a breast pump. And even if I did choose to pump in the bathroom, we weren't even allowed to get up from our seats because the flight was so rough."
American Airlines issued an apology, saying it does not have a policy prohibiting the use of breast pumps in-flight.
"We apologize for the experience Ms. Brahos had on a recent flight. Our in-flight personnel are trained to handle these situations with professionalism and discretion... As with other devices that have an on/off switch, customers will be asked not to use them during takeoff and landing."
"Our procedures advise our crews to ensure that mothers who are breastfeeding or using breast pumps have the privacy they need," said American Airlines spokesperson Andrea Huguely.
La Leche League International encourages mothers to check with the airline if they plan to travel with a breast pump. Because "we clearly still have a culture that is not yet aware of the needs of breastfeeding mothers," La Leche International spokesperson Diana West says it's a good idea to print out and carry a copy of the airline's rules with them when they travel.
Brahos received a $100 voucher from an airline representative at the airport after she complained about her treatment, but is planning on filing a formal complaint. For now, she says she wants the airline "to let moms do what they need to do."
Find more by Harriet Baskas on StuckatTheAirport.com and follow her on Twitter at @hbaskas