To cruise or not to cruise, that is the question — and there's nothing like a 101,000-ton cruise ship adrift for four days with overflowing toilets and no air conditioning to rekindle the debate.
The incident, which happened on board the Carnival Triumph last month, ended when passengers disembarked in Mobile, Ala., on Feb. 15 but it will likely continue to reverberate as lawsuits are filed, summer vacations beckon and travelers weigh their vacation options.
Some, it seems, are already expressing doubts about taking to sea. Earlier this week, the pollsters at Harris Interactive released a report showing significant declines in consumers' views of the major cruise brands and predicted choppy waters ahead for the industry.
The poll, conducted Feb. 19–21, compared consumers' perceptions of cruising after the Triumph incident with data collected Jan. 11–Feb. 8. In addition to showing significant drops in perceptions of quality and trust for most major cruise lines, the industry as a whole suffered a 6-percent drop in purchase intent between the two polls.
Not surprisingly, Carnival took the biggest hit, posting a 13-percent drop in purchase intent, a decline that was echoed by a subsequent poll by YouGov, a UK-based Internet market research company.
Asking respondents if they'd heard anything about Carnival in the previous two weeks — positive or negative — YouGov determined that consumers' perception of the brand had plunged 50 points, from 6 to -43.
That, said the company, constituted "one of the steepest drops in consumer perception for a brand since the twin crises of BP and Toyota in 2010."
Together, the two polls point to a ripple effect that extends far beyond the travails of a single ship and its stranded passengers.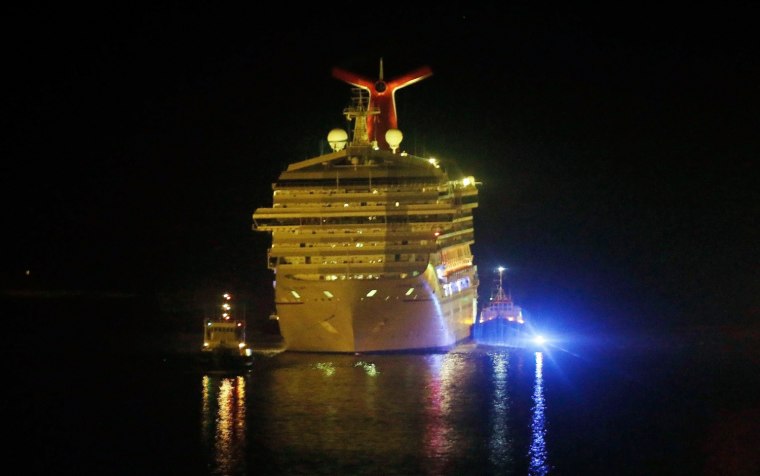 'Customers are simply sailing away'
According to the Harris poll, 53 percent of respondents said they were less likely to take a cruise now than they were a year ago.

"Those lost potential sales are not being captured by any of the other tested cruise lines," said Deanna Percassi, vice president of Harris Poll Insights. "Those potential customers are simply sailing away."
The surveys, it should be noted, were conducted during the height of the media coverage of the Triumph incident and almost certainly include responses from people who would be unlikely to take a cruise in any case.
"People who are frequent or regular cruisers know that incidents such as the recent one are unusual for the cruise industry and these events do not influence their booking decisions," said David Peikin, director of public affairs for the industry trade group Cruise Lines International Association (CLIA), via e-mail.
In fact, many travel agents report no decline in bookings in the weeks since the Triumph ordeal.
"We have seen no impact on actual cruise bookings since the Carnival incident," said John Lovell, president of Vacation.com, a 5,100-member network of travel agents. "We have seen nothing that signals consumer buying patterns have changed."
Nor has Heather Lawley, owner of Step by Step Travel in Garland, Texas, who was actually on board Triumph during the ill-fated cruise. Citing consistent bookings since then, she said, "People who are going to cruise are going to cruise; people that don't want to cruise never will. Personally, I'd rather be on a broken-down ship than on a broken-down airplane."
With avid cruisers and never-evers unlikely to be swayed by the latest incident, the real challenge for the industry may be to convince first-timers and fence-sitters that all is well.
"We recognize that consumers who are first-time cruisers may be swayed as to whether they book a cruise or not following such as incident, and that's why the industry strives to communicate directly to consumers and through travel agents about our exceptional safety record," said Peiken.
Under the microscope
Delivering that message, however, has become more challenging in recent years as a series of incidents and accidents have put the industry under a harsh spotlight. In 2010, the Carnival Splendor had to be towed to San Diego after it lost power; in 2011, the Polar Star ran aground off Antarctica, and just over a year ago, the Costa Concordia capsized off the coast of Italy, killing 32 passengers.

"Concordia changed everything in terms of how people view the cruise industry," said Mike Driscoll, editor in chief of Cruise Week, an industry publication. "There have been troubled sailings over the years but now there's more awareness of them.
"The question is how many people are just going to say, hey, I would never take a chance and do something like that," he told NBC News. "That's a real hard thing to measure."
The problem for the industry, suggests Percassi, is that those people's impressions of cruising in general are more likely to be influenced by these isolated, but high-profile, incidents.
"It's a bigger deal for people who haven't cruised before because it makes up a more substantial portion of their 'experience' with cruises," she said. "They hear about the Carnival Triumph and it weighs on them."
At the same time, Percassi also concedes that some of the declines noted in the Feb. 19–21 Harris Poll could be a function of so-called "recency bias" as negative images of the disabled ship and passengers' horror stories were still fresh in people's minds.
"We thought about that and we're discussing waiting three or four weeks and refielding the survey to see if this was a blip," she said.
If the recent poll is any indication, the results should be announced around the middle of next month — just about the time Carnival Triumph is expected to begin sailing again.
Rob Lovitt is a longtime travel writer who still believes the journey is as important as the destination. Follow him at Twitter.