Standing at a baggage carousel in San Francisco a few years ago, Christine Stenglein knew she had a problem when a nearly destroyed suitcase showed up — and it wasn't hers.
"It had 'last bag' written on it in permanent marker," said the college staffer from Ithaca, N.Y. "It was like 'Give up all hope; your bag is just not here.'"
Nor was Stenglein's hope restored when she was reunited with her own bag a few minutes later. Not only did it sport two ragged holes but it was so badly abraded that some of her clothes even had holes in them.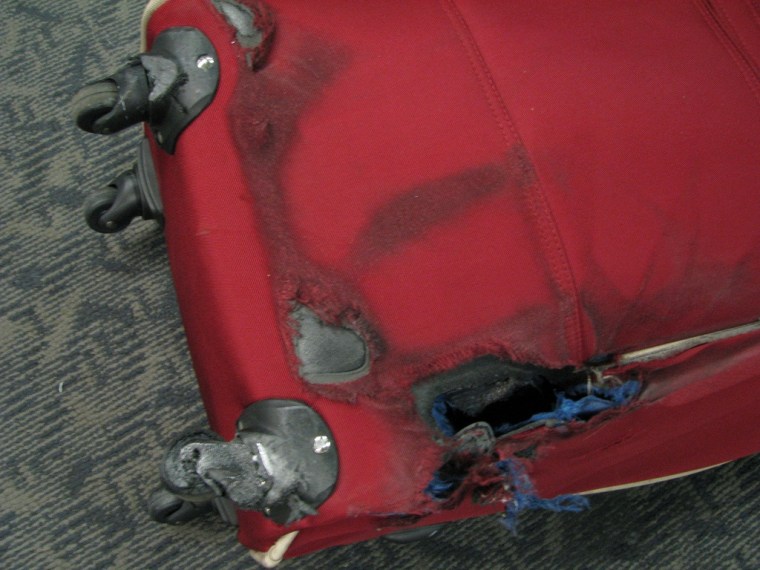 "I was trying to picture what had happened to it," she told NBC News. "Did it get pinned under a ground vehicle and get dragged for a hundred yards?"
As airline spokespeople and fans of transportation statistics will attest, Stenglein's experience is the exception rather than the rule as the airlines are now mishandling far fewer bags than they were just a few years ago.
On Tuesday, the Department of Transportation (DOT) released its latest statistics, which showed that U.S. airlines mishandled 3.09 bags per 1,000 enplaned passengers last year. DOT considers a bag mishandled if it's "lost, damaged, delayed or pilfered."
That's an 8 percent drop from the year before and a 56 percent percent improvement over five years ago, when the airlines misplaced 7.05 bags per 1,000 passengers.
"There's probably less reporting of damaged luggage because more people are (going with) carry-on bags," said Richard Krulik, CEO of luggage maker Briggs & Riley, who cited a trend that has been accelerating ever since the major carriers began charging fees to check bags in 2008. Those fees topped $2.6 billion during the first nine months of 2012, the most recent data available.
And while the figures have improved, it's moot when a lost or damaged bag in question has a luggage tag with your name on it.
Krulik said some of the damage done to luggage is a prime example of "you get what you pay for."
"When you're dealing with durable goods like luggage, a lot of what you're paying for is the engineering and the materials," Krulik said.

When considering luggage, he advises paying special attention to three areas that typically endure the most abuse: handles, wheels and zippers. Qualities to consider include the thickness and hardness of the aluminum in the handle, how solidly the zipper teeth lock into place and whether the zipper stitching is recessed.
"It's the little things like that will determine whether the zipper is going to bust apart or withstand the scraping that they often get," he said.
Of course, even the sturdiest bag can suffer the slings and arrows of outrageous misfortune so it's also worth inquiring about any warranties before you buy.
You can also seek compensation directly from a carrier if it loses or damages your bag. If a bag is damaged, airlines have the option of repairing it but if it's truly lost, you can collect up to $3,300 for the bag and its contents. In either case, you should always file a report before leaving the airport.
That's what Stenglein did when her errant bag didn't show up on the carousel in San Francisco. Despite her dismay at its condition, she was relieved that it wasn't lost for good and that she still had clothes to wear. Delta eventually replaced her bag, although with one of lower quality, she says, and she now views the incident as a learning experience.
"Coupled with all the fees, it's motivated me to try to go carry-on," she said. "That way I know where (my bag) is and what's happening to it."
Rob Lovitt is a longtime travel writer who still believes the journey is as important as the destination. Follow him at Twitter.