With Southern cuisine in the spotlight these days, staples like fried chicken are getting elevated to whole new levels. And with July 6 being National Fried Chicken Day, it's only right that we take a finger-lickin' good look at the creative ways Southern chefs are (if you can believe it) making fried chicken even better.

"There's more than one way to fry a chicken and we're seeing a lot of that being celebrated," Edward Lee of 610 Magnolia and Milkwood in Louisville, Ky., told TODAY.com. "Fried chicken is embracing its spicy side, getting hotter, raunchier, saucier, and, it's also going international -- both in technique and spices."
You can taste the international twist in Lee's own recipe for adobo-fried chicken and waffles (recipe below) from his cookbook, "Smoke & Pickles." Here, the Top Chef alumnus uses soy sauce, red pepper flakes, fish sauce, and Thai bird chilies to give the classic dish a dose of Asian flavors.
Asha Gomez, chef and owner of Cardamom Hill in Atlanta brings flavors from her Indian homeland to her fried chicken. Plus, her version is gluten-free, which is still tough to find in most restaurants. Gomez decided to go this route after she realized she had a lot of clients who enjoyed her 90 percent gluten-free menu, but couldn't eat her award-winning poultry.
"It just hurt my heart they couldn't try the fried chicken," she said. So, the friendly chef from Kerala created a recipe that used rice and chickpea flour. "Actually," she added, "I like it more now."
Another way to impart a unique flavor on fried chicken is through oil, as chef Sean Brock does at his Charleston restaurant Husk. Here, Brock combines five fats to fry his poultry—chicken, lard, butter, country ham and bacon.
"The lard is the base, the chicken fat echoes the natural flavor of the chicken, the bacon adds a light smokiness, the ham adds funk," said Brock. "I add the butter at the end and it browns and provides nuttiness."
Of course, the chicken itself makes a big difference in flavor, and over at the Atlanta restaurant Abattoir, award-winning chef Anne Quatrano chooses free-range, antibiotic-free birds, like the ones she gets from White Oak Pastures, an animal farm located nearby. Because her birds get lots of exercise and eat fresh food, her fried chicken (recipe below) tastes distinctive, in a good way.
"It tastes like chicken should taste, and it's worth the extra expense [which costs about 200 percent more than farm-processed chicken]," said the chef said at a panel discussion on chicken at this year's Atlanta Food and Wine Festival. "Plus, it's healthy and harvested humanely…"
If you're not a fan of indulging in fried chicken, Southern chefs are upping the ante on chicken with other cooking methods as well.
"You say Southern food, and most people say fried chicken, grits, and collard greens," said James Beard award-winning chef Linton Hopkins, owner of Restaurant Eugene. "But, if you read the early writings, chicken comes 150 ways and fried is just one of them."
Hopkins braises the bird with onions and tomatoes and serves it with rice, which is called perlo or pilau, chops it up with gravy, making pâté out of the liver, or drizzles some chicken fat on a salad.
"Aside from the feathers, you can use the whole thing," he said, adding that for him, fried chicken is set aside as something special for Sunday supper, which is why, despite the many accolades his fried chicken has won, Hopkins' restaurant only serves it on Sundays.
Chef Ford Fry's new restaurant King + Duke concentrates on non-fried chicken, and here, the bird is served whole with a salad that's marinated in the drippings. Executive chef Joe Schafer cooks an entire organic chicken with thyme, lemon and black pepper, and then adds the protein to a salad of frissee, escarole and sourdough.
While some are changing plain ol' Southern fried chicken, Hopkins assured us the crux of it will always be around.
"You will never get rid of fried chicken, because, it's delicious," he said emphatically.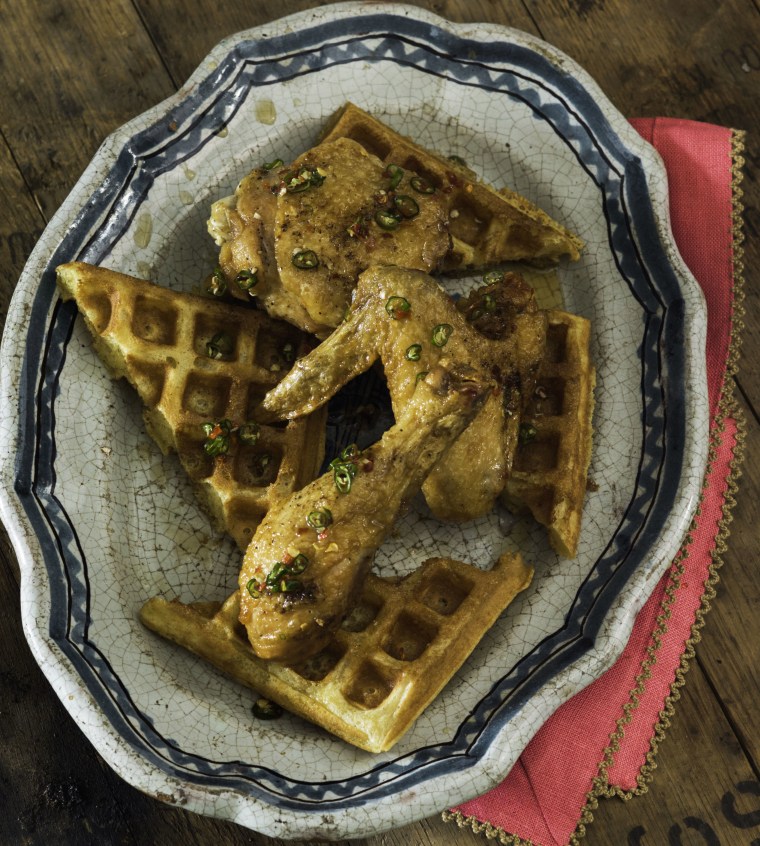 Adobo-fried chicken and waffles

Excerpted from "Smoke & Pickles" by Edward Lee (Artisan Books). Copyright © 2013.
Waffles
1 cup all-purpose flour

1 teaspoon sugar

1 teaspoon baking powder

½ teaspoon kosher salt

¼ teaspoon paprika

¼ teaspoon freshly ground black pepper

3 tablespoons unsalted butter, melted and cooled

2 large eggs

1 cup buttermilk

Dipping sauce
¼ cup water

3 tablespoons fresh lemon juice

2 tablespoons maple syrup

2 tablespoons fish sauce

1 tablespoon soy sauce

2 fresh Thai bird or habanero peppers, thinly sliced

Adobo broth
2½ cups distilled white vinegar

1½ cups water

3 garlic cloves, finely minced

4 bay leaves

1½ teaspoons black peppercorns

1 teaspoon sugar

¼ cup soy sauce

½ teaspoon red pepper flakes

1 teaspoon salt

Fried chicken
2 pounds chicken, thighs and/or drumsticks, plus wings if desired (do not use breasts)

Salt

2 cups buttermilk

1 cup all-purpose flour

1 teaspoon paprika

½ teaspoon freshly ground black pepper

About 8 cups peanut oil for deep-frying

1. To make the waffles: Preheat your waffle maker and lightly oil it. Meanwhile, in a medium bowl, whisk together the flour, sugar, baking powder, salt, paprika, and black pepper. In a small bowl, whisk together the melted butter, eggs, and butter-milk. Pour the wet ingredients into the dry ingredients a little at a time, whisking constantly.
2. Cook the waffles according to your waffle maker's instructions. Cut the waffles into 2-inch-wide wedges and reserve on a plate at room temperature or keep warm in a low oven until ready to serve.
3. To make the dipping sauce: Combine all the ingredients in a small bowl. Cover and refrigerate until ready to use.
4. To make the adobo broth: In a large pot, combine all the ingredients, cover with a tight-fitting lid, and bring to a simmer over medium heat. Simmer for 5 minutes, then turn the heat down as low as it will go.
5. Arrange the chicken pieces on a work surface and season them with salt. Add the chicken pieces to the gently simmering broth, cover, and poach for 15 minutes, turning once halfway through. You want the chicken to poach gently and stay moist while picking up the flavor of the broth, so make sure the liquid does not get hotter than a gentle simmer. Turn off the heat and allow the chicken to cool in the liquid, covered, about 20 minutes.
6. Remove the chicken pieces from the adobo broth (discard the broth) and transfer to a plate lined with paper towels. Pat dry.
7. To fry the chicken: Pour the buttermilk into a large shallow bowl. In another bowl, combine the flour, 1 teaspoon salt, the paprika, and the pepper. Dip each chicken piece in the buttermilk, shake off any excess liquid, dredge in the flour mixture, turning to coat, and transfer to a large plate. Let stand at room temperature for 15 minutes. The flour coating will turn a little soft—that's a good thing.
8. Meanwhile, fill a large, deep cast-iron skillet about half-full with peanut oil. Heat the oil to 365°F. Cook the chicken pieces 2 or 3 at a time for 8 to 10 minutes, turning every minute or so, depending on how thick the pieces of chicken are; wings will cook faster and drumsticks will take the longest. Be sure to keep the oil temperature at around 350 to 365°F. The chicken is cooked when the internal temperature reaches at least 165°F. Using tongs, lift the chicken out of the oil and drain on paper towels. Season again with a little salt, and transfer to a platter.
9. Serve the fried chicken with the waffle pieces and the dipping sauce. Eat it hot!