It was a moment in time that few will ever forget: Nov. 22, 1963, the day President John F. Kennedy was shot and killed while riding in a motorcade in Dallas, Texas. 
This month marks the 50th anniversary of Kennedy's assassination. 
To commemorate that tragic day, museums and libraries across the country are honoring the former president's life and legacy. Here are five cities where you can remember and learn more about Kennedy:
Dallas
An hour-long public memorial event will be held on Nov. 22 at Dealey Plaza, the assassination site. Musicians from the Dallas Symphony Orchestra will perform, and presidential historian David McCullough will read excerpts from Kennedy's speeches. The event also will include the tolling of church bells and a moment of silence. Tickets to the plaza event are no longer available, but a live stream of the memorial will be shown on outdoor screens in several down-town Dallas locations.
The Sixth Floor Museum at Dealey Plaza (formerly the Texas School Book Depository building and where Lee Harvey Oswald fired at the president) has permanent exhibits about Kennedy's life, death and legacy. During November the museum is offering a series of events, film screenings and lectures related to JFK and the assassination. (Open daily, except Thanksgiving and Christmas. Admission: adults, $16; Seniors 65+, $14; Youth 6-18, $13).
The Amon Carter Museum of American Art is presenting an exhibit of the specially assembled artwork that was in the suite of the president and first lady at the Hotel Texas during the fateful 1963 visit. The work includes sculptures by Henry Moore and Pablo Picasso, as well as paintings by Thomas Eakins and other notable artists.
"Back then, it wasn 't unusual for local residents to create smallish installations or exhibitions for visiting dignitaries," said Shirley Reece-Hughes, the museum's assistant curator of paintings, but what was unusual was that "many of the private lenders, and organizer Ruth Carter Johnson, were not supporters of Kennedy, but steadfast Republicans." (Through Jan. 12, 2014; admission is free).
Interactive: JFK's life and death
Boston
To mark the 50th anniversary of the president's death, the John F. Kennedy Presidential Library and Museum is planning a special display, which will include the flag that draped the president's coffin, the saddle, sword and boots from the "riderless horse," as well as photographs and letters of condolence sent to Mrs. Kennedy. The museum also tells Kennedy's life story through several theater presentations and in more than two dozen multimedia exhibits. (The special display runs Nov. 22 to Dec. 31. Open daily, except major holidays. Admission: adults, $12; seniors/ Students, $10; youth 13-17, $9)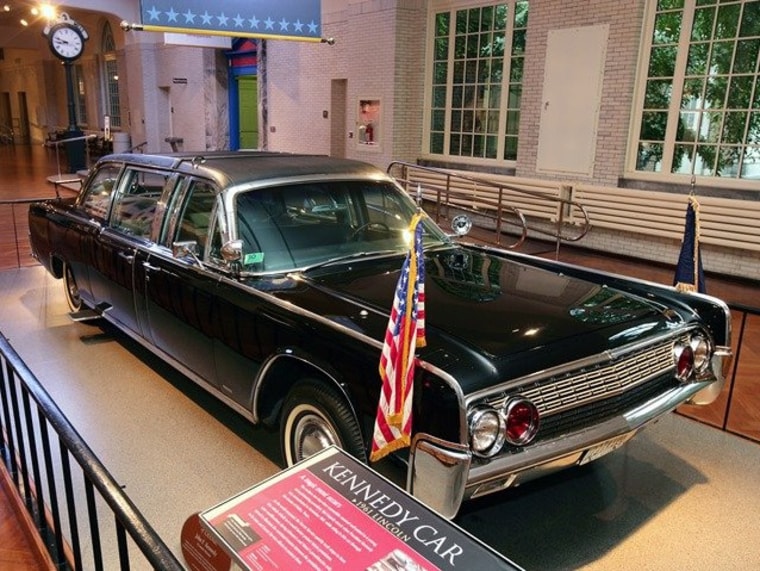 Washington, D.C. 
On Nov. 22, the Newseum will host a JFK Remembrance Day with screenings, gallery talks and panel discussions. Through Jan. 5, the museum is also presenting two exhibits and a documentary film related to media coverage of John F. Kennedy's life, presidency and assassination. The Creating Camelot exhibit presents behind-the-scenes images of Kennedy and his family; The Three Shots Were Fired exhibit begins with the day of the assassination; and the film, "A Thousand Days," offers highlights from Kennedy's days in the White House. (Open daily, except Thanksgiving, Christmas and New Year's Day; Admission: adults $21.95; Seniors 65+$17.95; Youth 7-18 $12.95, plus tax.)
Dearborn, Mich.
The limousine that Kennedy was riding in when he was shot is on permanent display alongside other presidential limousines at The Henry Ford Museum. To mark the 50th anniversary of JFK's death, the museum is offering special programs Nov. 18 -22 with newscaster Dan Rather and former Secret Service agent Clint Hill, who was on duty in Dallas. (Open daily. Admission: Adults, $17; Seniors 62+, $15; Youth 5-12, $12.50)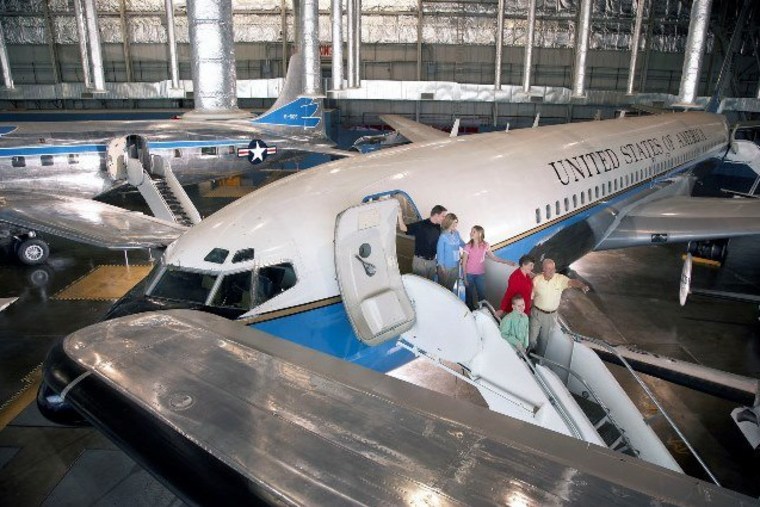 Dayton, Ohio
In the Presidential Gallery at the National Museum of the U.S. Air Force, visitors may tour SAM 26000, Kennedy's Air Force One. The airplane brought Kennedy to Dallas in 1963 and carried his body, and the newly sworn in President Lyndon Johnson, back to Washington, D.C. (Open daily, except Thanksgiving, Christmas and New Year's Day. Admission: free.)

Harriet Baskas is the author of seven books, including Hidden Treasures: What Museums Can't or Won't Show You, and the Stuck at the Airport blog. Follow her on Twitter at @hbaskas.