When the Lyndon Baines Johnson Presidential Library and Museum reopens to the public on Saturday in Austin, Texas – on what would have been Lady Bird Johnson's 100th birthday – visitors will be able to listen to more than 60 Oval Office phone calls and get reacquainted with an animatronic, life-sized version of one of the country's most colorful presidents.
The library has undergone a year-long, $10 million renovation and now has "a completely new look and feel," Mark Updegrove, director of the LBJ Library and Museum, told NBC News. "We're using state-of-the-art technology to not only tell the story of what LBJ was doing during his presidency, but also the story of the kind of things that come across a president's desk and what a president does day to day."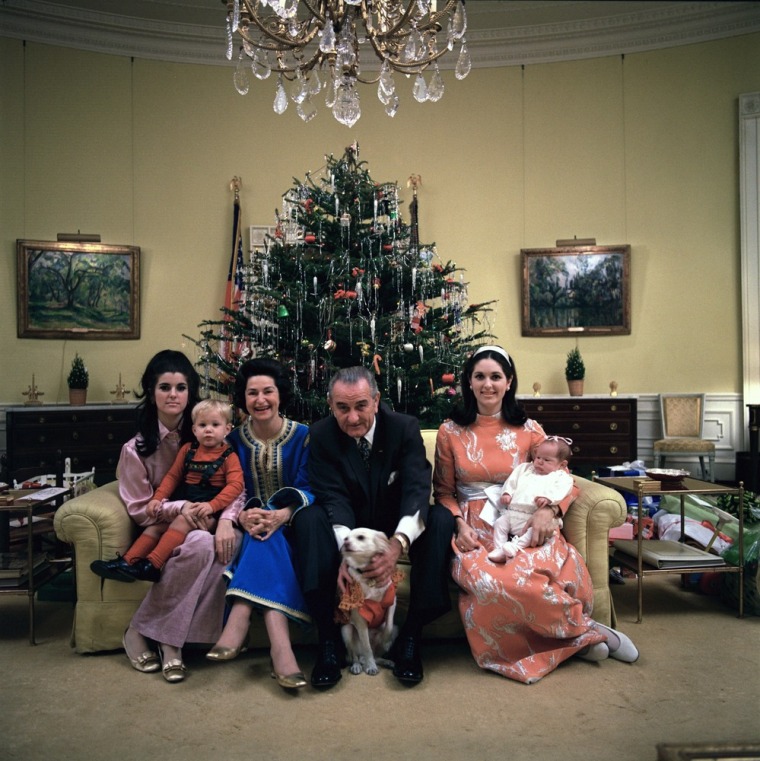 Updegrove considers the 643 recorded hours of the 36th president's phone conversations to be the crown jewel of the collection and said selections playing on 11 stations in the library museum allow visitors to hear the president doing everything from persuading members of Congress to pass laws to placing a very specific order for casual pants to wear after work, and seeking – and getting - advice from his wife, Lady Bird Johnson.
Johnson – who hailed from Stonewall, Texas and served as president from November 22, 1963 until January 20, 1969 – was known for using very colorful language. But the audio selections in the new exhibit are neither bleeped out nor censored. "There's a perception that LBJ used worse profanity and did it more often than he actually did," said Updegrove. "Yes, he used scatological references and barnyard language, but he was not profane in the way some might think. He never used particularly graphic language."
In addition to the audio recordings, other new features at the LBJ Presidential Library feature a downloadable app giving visitors the choice of five themed tours, including one in Spanish and one featuring Lady Bird Johnson chatting about various aspects of the White House, and several interactive exhibits that look at how legislation passed under LBJ – including those involving Medicare, voting rights, gun control and seat belts – have an impact on visitors' lives today. And, in keeping with Johnson's wish that the library tell the story of his presidency "with the bark off" and share facts that reflect "not just the joy and triumphs, but the sorrow and failures, too," historians and consultants such as Michael Beschloss, Robert Dallek, Robert Caro, Doris Kearns Goodwin and former Johnson Administration officials weighed in on the content of the new exhibits.
"We're not trying to direct history," said Updegrove, "We're just laying out the facts. We think people will be surprised to learn how much this president did and how it has impacted their lives – whether they think it was right or wrong."
Not everything in the redesigned LBJ Library is brand new. The replica of the Oval Office, which duplicates President Johnson's office in the White House at 7/8th scale, is unchanged. And the popular storytelling, animatronic LBJ is still here, but in new clothes and in a new location.
"He used to be in ranching clothes with a Stetson," said LBJ library spokeswoman Anne Wheeler. "But he also told those stories at dinners, so we have put him behind a podium, in a suit in an exhibit on LBJ Humor which incorporates political cartoons and caricatures from his presidential period."
There's one other thing that will be different after the reopening: Until now, the LBJ Library has been the only one of the 13 presidential libraries to offer free admission. Admission to the library will be free on its grand reopening date of December 22 – after that, it will cost $8 for adults, $5 for seniors and $3 for children 13-17.
Find more by Harriet Baskas on StuckatTheAirport.com and follow her on Twitter.