When a classic love story has a big birthday, it's time to have a ball – literally.
Monday marks the 200th anniversary of the publication of "Pride and Prejudice," the Jane Austen novel that introduced feisty heroine Elizabeth Bennet, seemingly aloof Mr. Darcy and a world of manor homes and grand estates that turned England into a dream destination for readers around the globe.
Balls, dances and other special events are taking place this year to celebrate the bicentennial as Austen continues to lure travelers.
"She's hugely important," said Meredith Pearson, a spokeswoman for VisitBritain. The country's national tourism agency maintains a guide for fans eager to experience the "Pride and Prejudice" lifestyle.

"We found that, to this day, because of the popularity of those stories, it's something that visitors really, really enjoy doing," Pearson said.

Even if you haven't read the book, chances are you're familiar with the plot of "Pride and Prejudice" after catching the recent film version starring Keira Knightley, seeing "Bridget Jones' Diary" – a modern reboot of the novel – or watching the blockbuster 1995 BBC mini-series starring Colin Firth, which led to a huge surge in visitors, Pearson noted.
No wonder, then, tourism is booming along Austen's trail in England, a path that traditionally takes visitors to the resort city of Bath, the verdant landscapes of Derbyshire and the village of Chawton.

The author lived in Bath from 1801 to 1806 and chose the city as the setting for two of her novels. Today, about 60,000 people a year flock to The Jane Austen Centre, which chronicles her Bath experience, said Jennie Rogers, general manager of the attraction.
Besides taking in the Centre's permanent exhibition and sampling Georgian biscuits, visitors can also try on fashions from Austen's era – empire-waist dresses, bonnets, gloves and parasols for the ladies; waistcoats, coats and top hats for the gentlemen.
"Our visitors become overwhelmed when trying on our replica costumes," Rogers said. "(They) love the romance of Jane's novels and the way in which they can relate to her character's dilemmas and issues – even today."
To celebrate the 200th anniversary of "Pride and Prejudice," the Centre is hosting an "International Readathon" on Monday, when dozens of actors, authors and Austen experts will read the book aloud in its entirety during a 12-hour period.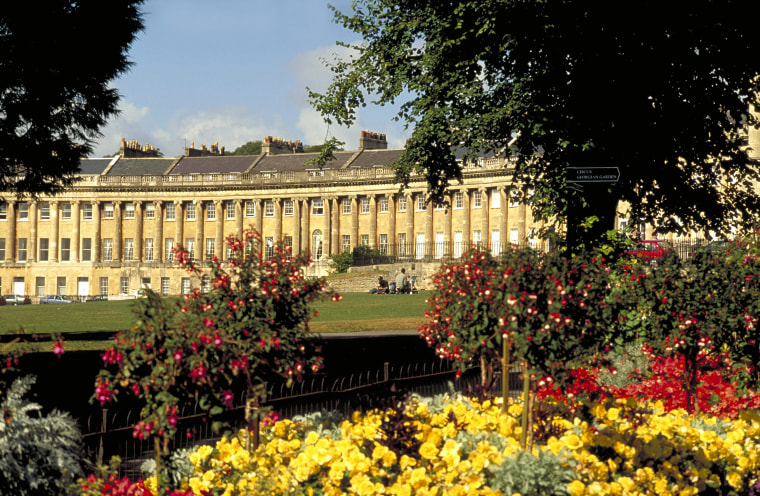 The city of Bath has put together a suggested itinerary for Austen fans, including taking a walk along the Royal Crescent, where the author often strolled, and enjoying afternoon tea in The Pump Room, which was a popular gathering spot during Austen's era.
If you'd like to dress up and party Austen-style, there's the Jane Austen Festival Regency Costumed Summer Ball on June 22, which features Regency dancing – the intricate choreography that requires ladies and gentlemen to form lines and circles, and twirl around and bow to each other.
"We hope to dance Mr. Beveridge's Maggot – a dance made popular by the BBC 1995 version of 'Pride and Prejudice,'" said organizer Jackie Herring.
The novel is also the theme of this year's Bath Jane Austen Festival, scheduled to take place Sept. 13-21, complete with a Mr. Darcy lookalike contest, a masked ball and workshops on how to perfect the Regency look.
Fans who want to stroll through grand estates and gardens featured in the novels should head to the Derbyshire region of England where many of the Austen movies and mini-series were filmed. The district maintains a list of all the locations used in the productions.
Pearson thinks U.S. visitors love the sites because they're so uniquely British.
"It's part of that fairly tale, in a way. Because (the U.S. is) such a young country comparatively, the fact that there are these gorgeous old manor houses and country houses – it really takes people away and it really catches Americans' imagination," Pearson said.
One such home is Chatsworth House, said to have inspired Pemberley, Mr. Darcy's estate in "Pride and Prejudice."
To see where Austen created some of her characters, visit her former home in Chawton, now transformed into Jane Austen's House Museum.
This is where the author spent the last eight years of her life and wrote "Mansfield Park," "Emma," and "Persuasion." To celebrate the 200th anniversary of "Pride and Prejudice," the museum is displaying first editions of the book, original illustrations and the table where Austen worked.
British tourism officials – who are still giddy about the Queen's Diamond Jubilee and all the other events that drew visitors to the region last year – are hoping Austen's legacy will continue the momentum in 2013.
"It's a great year to come over and experience all of the literary connections in the UK," Pearson said.