You really have to love what you do, or be exceedingly patient, to consider becoming a regional airline pilot.

Aviation consultant Kit Darby says regional airline co-pilots and pilots, in the lower ranks at least, don't make a living wage.
In fact, the mechanic at your local gas station, or even the taxi driver who drives along the streets of your town, sometimes taking trips of a longer duration than regional flights, may be pulling down more cash per hour than the bottom rungs of first officers, i.e. co-pilots, at regional airlines.
Most view their service on regional airlines as an apprenticeship or stepping-stone to a big payday at mainline airlines. The exception is the top ranks of the regional airline pilots, where captains with 15 years' experience can earn $100,000 to $110,000 per year, Darby says.
Co-pilots may earn less than $20 per hour flying turboprops for Mesa Airlines, and pilots with 10 years' experience make a little more than $73 per hour, on average, at U.S. regional airlines.
At the top ranks, a Republic Airlines pilot could make $119 per hour, and the maximum at the upper tier of regional pilots is just more than $100, on average.
Here are some of the hourly wage ranges for co-pilots and pilots, with varying levels of flying experience, at regional airlines: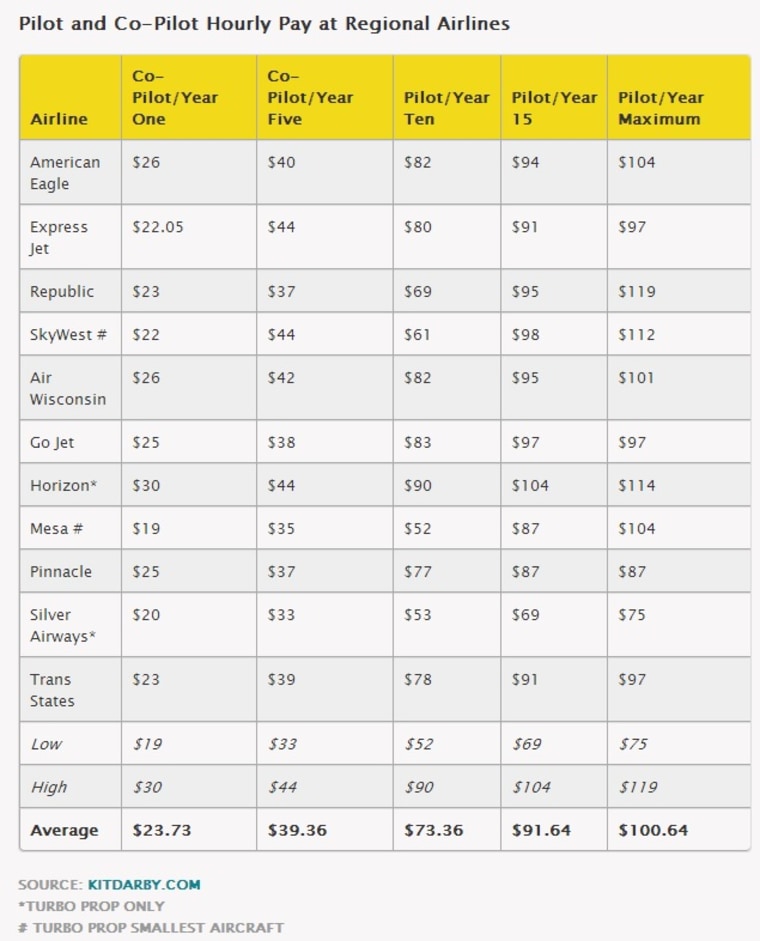 Saddled with debts from college and pilot training costs, regional airline pilots often endure an intense flight schedule of short hops from Atlanta to Macon, Ga., or from Phoenix to Flagstaff, Ariz., and get paid on an hourly basis.
A portrait of these hourly pay scales becomes even more pathetic when you consider that regional airline pilots, who are paid only from the time the airline leaves the gate to the time it arrives at the destination, only are on the clock on average about 21.5 hours per week.
For a first-year co-pilot at Republic Airlines, for example, that translates into gross weekly pay of a mere $495 per week.
For a pilot with 10 years' experience at SkyWest, the weekly gross paycheck might be around $1,312.
But, then you have to consider that these wages don't nearly reflect the hours that regional airline co-pilots and pilots have to put into the job.
Although they may only be on the clock 21.5 hours per week or 85 hours per month," pilots typically are away from base, and from their families, about 240 to 300 hours per month (or about 60 to 75 hours a week)," according to the Airline Pilots Association.
For the lowest paid pilot on Mesa Airlines, this imbalance works out to $8.50 an hour for a 60-hour work week.
"They have a minimum pay for time on duty at some airlines, like one hour of pay minimum for every two hours on duty, and one hour of pay for every 4-5 hours away from home," Darby says. "These rules are often not in effect at the smaller airlines, and are alway guaranteed by the larger major airlines' union contracts."
But there is cachet to being a pilot or first officer at a regional airline despite the strains of the job, and for most, the skimpy paychecks.
There is a lot of passion there.
"It is sort of like a paid sport for people who love it," Darby says.
If it isn't all about passion, then it revolves around moving up the ranks and getting a pilot job at a big airline.
Consider these co-pilot and pilot salaries at major airlines, as compiled by Future & Active Pilot Advisors: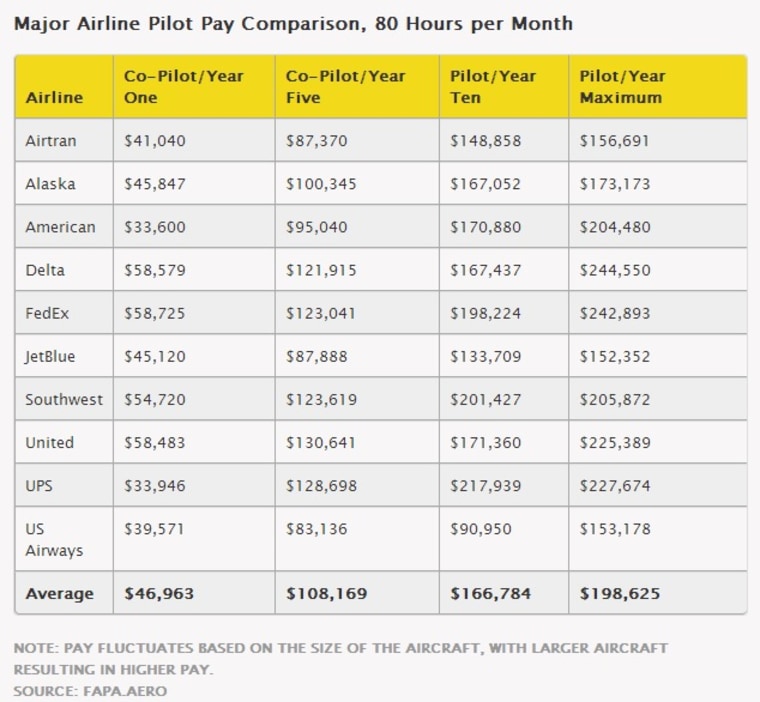 The average annual salary at the major airlines above at the most senior levels is just less than $200,000 annually.

Meanwile, the senior-most pilots at Delta, who fly B747s and B777s, earn around $245,000.
Working for 35 years and rising up the seniority ranks as a pilot at a major airline can mean career net pay and benefits of about $10 million, Darby says.
It's a great gig, if you can get it. And, many regional pilots labor for years in the trenches trying to get there.
Safety
Darby says that the relatively paltry salaries paid to first officers and some pilots at regional airlines have not led, though, to a meaningful safety gap between the regional and mainline airlines despite the fact that regional pilots have to perform so many more takeoffs and landings than their network airline counterparts.

After all, Darby says, despite the low pay of the first officers, there's always an experienced pilot in the cockpit.
The pilot has just as much invested in a safe flight as the passengers, Darby says, adding, "The pilot is at the front of the aircraft, and he's (or she's) highly motivated."
In the aftermath of the 2009 crash of Colgan Air flight 3407, which was flying as Continental Express and saw the death of 50 people, co-pilots starting this month were required to complete at least 1,500 hours of pilot training to fly commercially in order to obtain an Airline Transport Pilot (ATP) certificate.
And, that's up from the previous requirement of 250 hours of flight experience to obtain a commercial pilot certificate.
The NTSB report on the crash of Colgan Air flight 3407 found that inadequate pilot training and fatigue were secondary causes of the crash.
The more stringent requirements mean that regional airlines are scurrying to fill co-pilot and pilot positions — and the shortage comes precisely as major airlines, including Delta and United, are engaged in their first rounds of pilot hirings in several years.
In June, however, there were some job trims — not just for pilots — at regional airlines as mainline-airline partners cut back on their services in reaction to a spike in fuel prices.
But pilots at regional and mainline airlines are in demand. There will be a lot of pressure on these regional pilots' salaries, especially as they have to pay to add seven times the previous number of hours required in order to qualify for an ATP certificate.
More from Skift: