Everything has finally clicked into place. The dragons, monkeys, and ladybugs and thousands of other LEGO brick models are ready for their legions of fans to descend for the April 5th opening of LEGOLAND Hotel, the country's first hotel devoted to the hugely popular building block.
"The buzz surrounding this hotel is massive," said Suzanne Rowan Kelleher, managing editor at the family-travel site MiniTime.com.

As LEGOS do not actually make for a safe and practical building material outside the playroom, the three-story, 250-room hotel, which sits at the main entrance to the 28-acre LEGOLAND California theme park in Carlsbad, isn't actually made out of the construction toys.
But between the building's colorful brick-like façade and the animated, smoke-breathing, 400,000-brick welcome dragon at the entrance, "you'll definitely feel as if you're walking into a hotel made from LEGOS," said Julie Estrada, spokesperson for the LEGOLAND California Resort.

Once inside, it's definitely all about the bricks and the iconic LEGOS extras.
Behind the reception desk, which has lowered check-in counter where kids are issued their own special welcome packets, is a wall made from more than 6,000 different LEGO mini-figures. Large magnifying glasses in the wheels of a bicycle traveling back-and-forth across the wall make it possible to see each individual figure.
The lobby has a castle-themed play area, complete with a LEGO pirate ship, a blimp you can board and a LEGO-filled moat. And the restaurant, featuring a child-sized buffet station, is dotted with humorous vignettes showing LEGO chefs at work, a LEGO pasta machine and large models of LEGO foods, including LEGO spaghetti and a big bowl of LEGO ice-cream.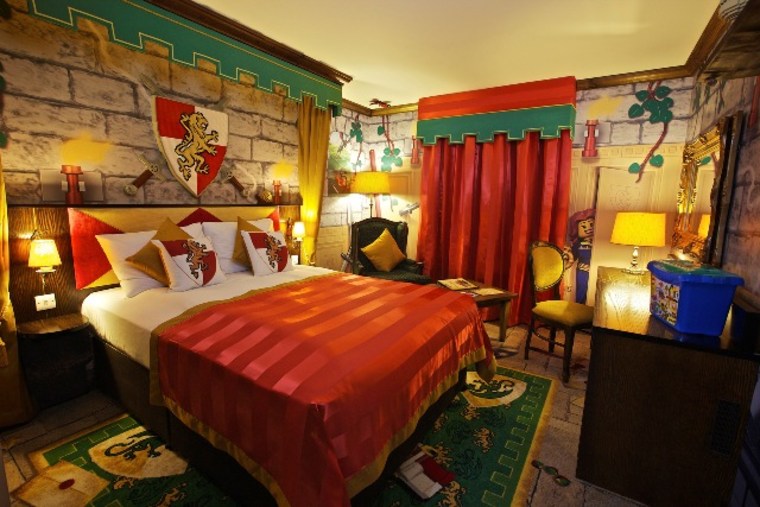 Guests rooms on the three floors, themed as Pirate, Adventure, or Kingdom, are reached via a "disco elevator" complete with pulsating lights, music and a rotating mirror ball. Each room has LEGO-themed wallpaper, at least eight LEGO models and a treasure chest filled with LEGO surprises that can only be unlocked after kids successfully complete a treasure hunt using clues found inside the room.
Premium rooms cost a bit extra and come with some extra LEGO-themed items and an extra LEGO gift inside the Treasure Chest.
As each room is also equipped with a bucket filled with LEGO bricks to play with on-site, and because many kids travel with their own LEGO supply, "we expect to see bricks attached to the dragonflies, scorpions, parrots and other models we've placed in the rooms," Ryan Ziegelbauer, one of 40 master model builders on the hotel project, told NBC News.
The 3,422 LEGO models built for the hotel, as well as the 27,000 models already in the adjacent LEGO theme-park, are all "LEGO-legal and made from standard bricks," said Ziegelbauer. "Which means you could make these same things at home."
That is, he admits, if you happen to have dozens of LEGO master model builders on your team and millions of LEGO bricks at your disposal.
"So many guests come in contact with the models and we have to design them to be strong," said Ziegelbauer. "One of the things we may do a bit differently is glue the pieces together. But we do it individually, and by hand."
LEGOLAND Hotel room rates currently start at $149 and, as with other theme park hotels, guests will get early entry to the park and have the opportunity to have breakfast with costumed characters.
"If your kids are really into LEGOS -- like both of my sons were a few years ago -- then a visit to the new LEGOLAND Hotel is going to have tremendous appeal" said Kelleher.
Find more by Harriet Baskas on StuckatTheAirport.com and follow her on Twitter at @hbaskas.